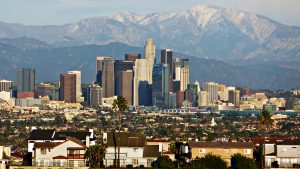 Known as the land of the stars, Los Angeles is the second largest city in America. It is the home of Hollywood, the well-known hub of international film industries.
With the famed Sunset Boulevard, Rodco Drive shopping, drives through Beverly Hills and bus tours of Bel Air, visitors can feel the magic of the stars who reside there. Additionally, there's extravagant outdoor opportunities for hiking through Griffith Park mountains, beaching it at Santa Monica Pier or surfing the Malibu waves.
The thriving tourism leads to a wide array of building types and construction projects. With fresh construction projects every day, Fast Partitions strives to supply the best quality commercial toilet partitions in Los Angeles.
KEY AREAS DESIGNING COMMERCIAL BATHROOMS
Whether it's a mall, school, hospital or other commercial business, be sure to utilize safe, effective planning and know that it will shape visitor opinions. When evaluating the appeal and functionality of a commercial restroom, narrow your attention to four primary categories: sinks, flooring, lighting and accessories.
Out of everything in the bathroom, sinks are the most used and perform the greatest variety of tasks. Choosing the right sink can be really fun. There are numerous artistic designs that will lend a modern tone to any commercial restroom. Don't be afraid to get creative with deeper square and oval shapes.
Tiled-floors are the most common for commercial restrooms as well as the easiest to clean. However, there's still a great variety to choose from as far as color, size and design. You want to create a unique and gorgeous feel, and flooring is a huge part of that. Pebble tile flooring is becoming more popular.
Choosing the right lighting system can really set the tone and create the right vibe. In addition to the structure style, it's also important to choose a good level of illumination Remember adjustable lighting is always an option, which could be used to set an evening or daytime mood.
Smaller elements can be used to enhance functionality and to improve the aesthetic appeal in any industry restroom. When considering the accessories, think intricate flushing systems, hand dryer varieties and toilet paper holders. Using a variety of accessories, you can add some pizzazz to an otherwise boring commercial bathroom.
SELLING THE BEST QUALITY TOILET PARTITIONS
Fast Partitions has developed affordable commercial bathroom urinal stalls. We provide fast shipping for toilet partitions in three quality materials: plastic, metal and stainless steel.
The solid plastic toilet partitions feature a 25-year manufacturing warranty. They are highly resistant to scratches, impacts, dramatic temperature changes and rust. Never sacrificing style for quality, we produce the plastic urinal screens in 14 different colors.
The powder coated metal stall partitions offer the best industry value, featuring galvanized steel, rust resistance and a gleaming consistent finish. Common cleaning chemicals won't stand a chance in messing with these dividers.
At the high end of urinal screens, we have produced stainless steel with a gleaming elegant finish. In addition to high-durability, this divider meets class A fire rating requirements, as well as environmental properties, providing LEED credit for exceptional recyclability. 
GET FREE LOCAL DELIVERY WITH FAST PARTITIONS
For schedule convenience and a happy wallet, Fast Partitions provides fast and free delivery. The FEDEX freight delivery works as a one streamlined network. FEDEX is regarded as the best international option for flexibility, reliability and cost-effectiveness.
In addition to stress-free delivery, Fast Partitions provides complete package deals on all partitions. This includes divider stalls, pilasters, doors, and all necessary installation hardware.
Local toilet partition deliveries extend to several other metro U.S. cities including Chicago, Houston, Nashville, Atlanta, Seattle, Dallas, and New York. Whether a school, church, office space, retail or other commercial building, we'll deliver.