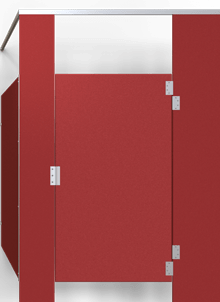 Bathroom Partitions For Commercial Restrooms
We Deliver Bathroom Stalls Fast!
Every Kit Includes:
All Hardware for Installation
Toilet Dividers, Pilasters and Doors
Free Commercial Freight Delivery
Bathroom Stalls & Partitions That Save You Money
Better materials, lower prices & responsive customer service is why builders choose Fast Partitions.
3-6 days Fast Delivery Nationwide
Easy Installation by Contractors & Plumbers
Exceptional Warranties
Unmatched Customer Service
All Partition Installation Hardware Included
Bathroom partition hardware like stall locks, door hinges, latches and brackets come with your order.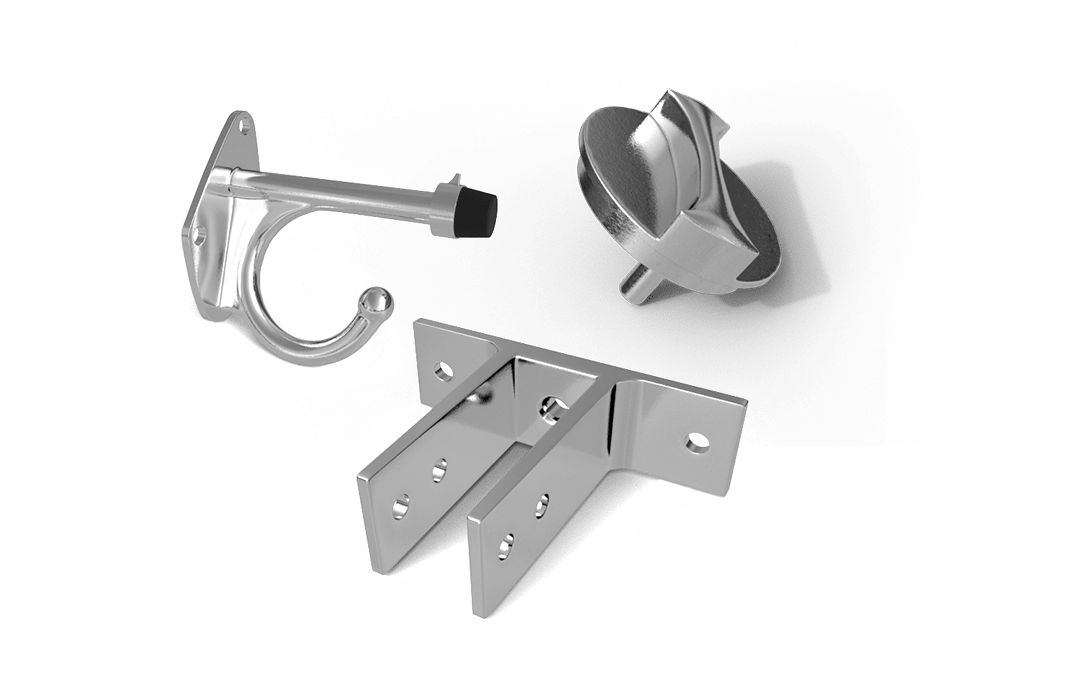 ADA Compliance
Make Your Bathroom Accessible
Let us know if you need help ensuring that your facility is accommodating for everyone, and we'll walk you through ADA requirements & help make sure that your bathroom meets them effortlessly.
Restroom Urinal Screens
High Quality Urinal Divider Partitions Delivered Fast
Our powder- coated steel urinal partition divider screen is made using rust resistant, galvanealed steel with a honeycomb support core. The panel is then powder coated for a gleaming finish.
The solid plastic dividers are made from 1 inch extruded solid HDPE plastic and are extremely durable.
Stainless steel is rust resistant and is made using a honeycomb support core and features a brushed finish.
Full Height Toilet Partitions
Restroom Privacy is Luxury
We are proud to offer the latest in high privacy toilet partitions from manufacturers like Hadrian and Bobrick. Sometimes referred to as European-style bathroom cubicle partitions or toilet compartments, these extended height bathroom dividers block sightlines and increase bathroom stall privacy.
Powder Coated Steel Bathroom Partitions
Exceptional Quality On Any Budget
Offering the cheapest priced material, quality construction, and a wide variety of colors to match any bathroom, metal bathroom dividers are the most popular material used for bathroom partition panels. For most buildings that don't see a lot of traffic, metal offers a great value for churches, restaurants and small businesses.
Featuring an enamel coating that resists pitting corrosion and green rust, powder coated metal is appropriate for any well maintained commercial building. Metal partitions are one of the most lightweight partitions on the market, rendering them easy and efficient to install. Minor damages such as scratches and defacement can be effortlessly repaired, while being environmentally responsible and largely fire and rust resistant.
Welded corners resist stress corrosion cracking and galvanic corrosion.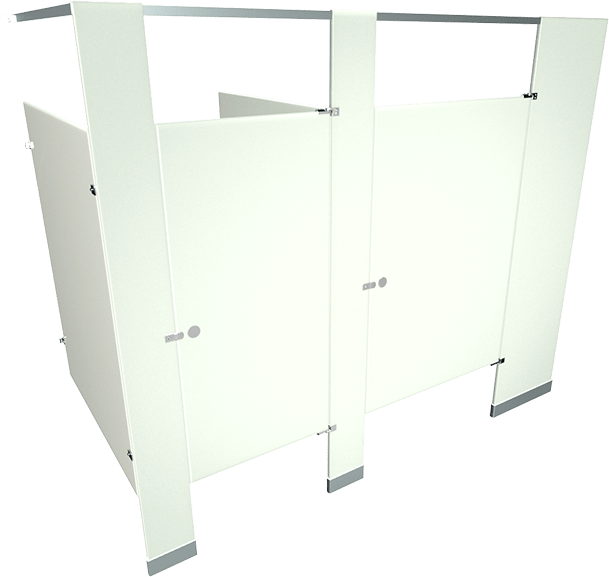 Laminate Partitions
When Luxury & Cleanliness Counts
Often featuring a wood veneer, high pressure laminate is a sandwich-structured composite material containing glued laminated timber. The plywood core is protected by the veneer from absorbing water and causing delamination – however HPL isn't intended for high moisture applications. For that, you should turn to phenolic which is nearly impossible to delaminate.
Architects and HVAC technicians love the addition of heat sinks to particle board room dividers to enhance security and fire-resistance rating. Particle board cores enhance soundproofing. We also recommend securely fixing HPL to concrete or stone walls.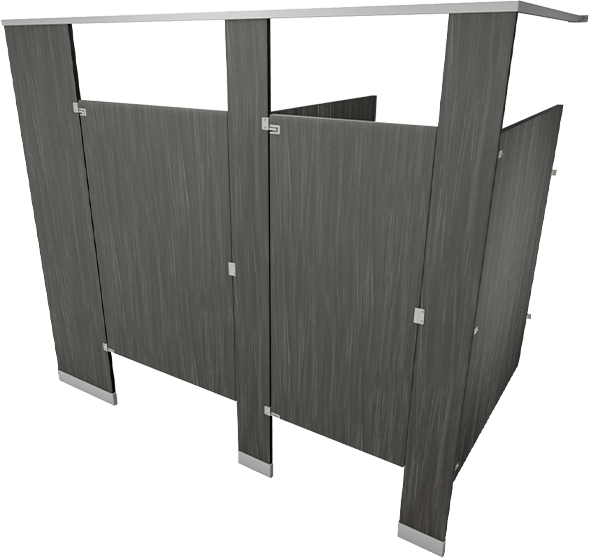 HDPE Solid Plastic Partitions
Extreme Durability In Demanding Environments
With an affordable material cost and high level of durability, plastic bathroom dividers are ideal in a wide range of building environments. These work particularly well with buildings in which there are large quantities of people, such as schools or restaurants. The durability and material quality of solid plastic bathroom partitions are manufactured to sustain the wear-and-tear of a high-volume environment, as well as hot, wet, dry or cold atmospheric conditions.
Along with being highly scratch and impact resistant, these partitions are widely offered with warranties to guarantee a longer life span. Additionally, unlike its metal counterpart, plastic restroom partitions will not need regular paint touch-ups and are less likely to absorb excessive odors that come with high amounts of traffic.
Produced from ethylene, high-density polyethylene is a thermoplastic polymer used for a variety of applications. HDPE is used for everything from Jerrycan fuel tanks to PVC piping and beyond. As opposed to blow molding, the material is solid throughout the entire panel.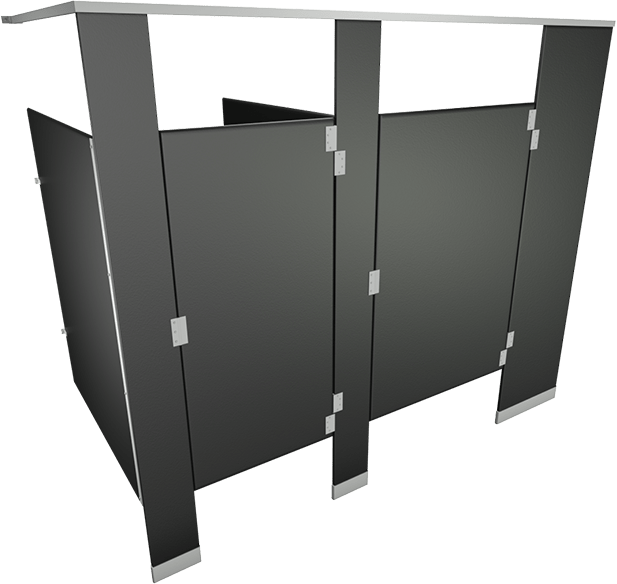 Phenolic Partitions
Extreme Durability In Demanding Environments
With an affordable material cost and high level of durability, plastic bathroom partitions are ideal in a wide range of building environments. These work particularly well with buildings in which there are large quantities of people, such as schools or restaurants. The durability and material quality of the plastic partitions are manufactured to sustain the wear-and-tear of a high-volume environment, as well as hot, wet, dry or cold atmospheric conditions.
Along with being highly scratch and impact resistant, these partitions are widely offered with warranties to guarantee a longer life span. Additionally, unlike its metal counterpart, plastic partitions will not need regular paint touch-ups and are less likely to absorb excessive odors that come with high amounts of traffic.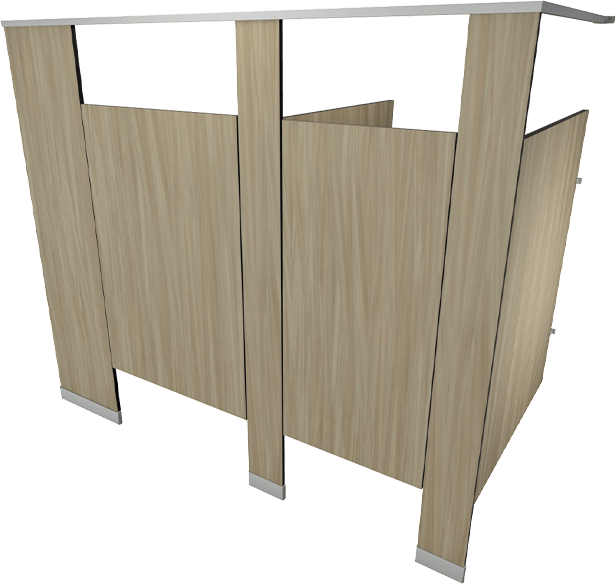 Stainless Steel Bathroom Dividers
When Luxury & Cleanliness Counts
One of the highest quality bathroom partition wall materials on the market, stainless steel bathroom stall dividers offer the durability of plastic with the sleek, high-end finish of metal.
Ideal for high profile installations and public restrooms alike, the material quality of stainless steel will keep walls and doors from chipping and are virtually unaffected by chemical cleaners. Stainless steel partitions also resist the spread of flames and smoke and promote a sanitary environment, making them perfect for commercial properties with high concentrations of people.
Stainless steel resists most cleaning acids, which could cause pitting corrosion on other surface finishings.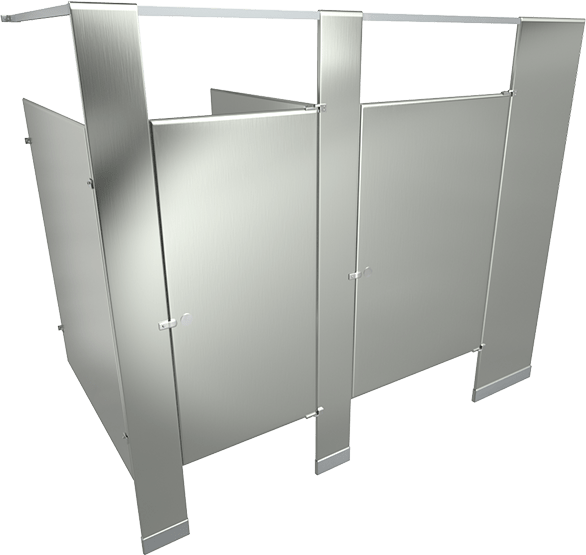 High Quality Shower Partitions
Unlimited Possibilities
Make your bathrooms compatible with an active lifestyle by offering showers, whether at the office, gym or school locker room, create privacy and function with premium shower partitions and changing stalls.
Frequently Asked Questions about Partitions
Which Bathroom Partition Material is Best?
Toilet partitions are most frequently made of one of the following materials:
High-Pressure Laminate
Powder Coated Steel
High-Density Polyethylene (Solid Plastic)
Phenolic Resin
Stainless Steel
While there isn't a single best bathroom partition material for every project, the best overall value for toilet partitions is solid HDPE plastic.
Why? Because they strike a good balance between price, looks, and durability.
It's not the most expensive but they are among the most durable. Solid plastic offers considerably more moisture and vandalism resistance than painted metal for not too much more money. Hadrian plastic partitions come with rust-resistant hardware out of the box. And while phenolic is more scratch-resistant, plastic doesn't come at the same premium phenolic does.
Other kinds of bathroom partitions exist but are extremely uncommon. The most popular type of bathroom partition is powder-coated metal. They are a common choice because they offer good durability to price ratio. They are prone to scratches but can be repaired with special touched-up kits. Other materials are more expensive but may offer longer warranties due to more durable materials. You may be surprised to find that plastic is one of the highest quality materials you can get for bathroom partitions. This is because plastic partitions are usually made of solid panels (as opposed to stainless and powder-coated metal which are hollow inside) which makes it extremely scratch and dent resistant. The most expensive material you can find is stainless steel. While it isn't as durable as solid plastic, it arguably has the best appearance of all the bathroom partition types.
What Are Bathroom Partitions?
Bathroom partitions (or bathroom stalls) are enclosures that provide privacy to occupants of public restrooms. They usually consist of 62″ deep metal panels secured to the floor by pilasters on either side of a 32" wide door. Partitions can also be headrail-braced to provide additional stability. Urinal partitions are individual panels secured to the wall for the purpose of blocking sight between urinals.
Bathroom partition kits include hardware components such as brackets, hinges and locking hardware. The material of choice depends on the user's durability and moisture-resistance requirements.
What Are the Standard Bathroom Stall Dimensions?
Standard bathroom stalls are typically 60" deep x 36" wide. Handicapped stalls are normally 60" deep x 60" wide with a minimum width of 32" for the door. However, the number of variations for bathroom stall configurations is nearly endless once additional factors are taken into account like wall tiling, plumbing fixtures, HVAC ventilation, etc.
How Much Do Bathroom Partitions Cost?
Because bathroom partitions are made to order, there is no consistent way to price them other than getting a quote from a distributor that takes your project's measurements and materials into account. When comparing prices for partitions, make sure that you have accurate measurements for your project and include all restrooms in your quote. Sometimes contractors will assume that if they double the cost of a single restroom it will give them an accurate price for two. However, due to bulk pricing and freight savings you'll get a much better deal if you add everything to the quote altogether.
You can get a quote from Fast Partitions instantly by using our proprietary quoting tool.
What About Fire Ratings?
When considering the fire-resistance ratings of your toilet partitions (class A, B, or C with A being the best), you'll want to keep in mind the type of fire resistance they are intended for.
The type of fire resistance partitions can have is called "passive structural fire protection." This is a fancy way of saying that it should slow the spread of fire through compartmentalization, allowing more time for occupants to evacuate the building.
Different types of bathroom partitions have different levels of fire resistance. One might think that metal is invulnerable to fire, but even metal partitions could theoretically emit toxic fumes from the paint or coating when exposed to fire. Fortunately, Hadrian brand bathroom partitions have been tested to ensure they do not emit any harmful fumes when exposed to fire.
What Are Phenolic Toilet Partitions?
Phenolic (or phenol-formaldehyde) resin is a product of the aromatic organic compound phenol and formaldehyde. As a resin, it can be combined with layers of paper and treated with heat and pressure to create an extremely durable and moldable material. The word "paper" may not inspire confidence in a material's durability. But phenolic is one of the most resilient materials you can choose for partitions. For reference, phenolic is the same type of material that billiard balls are made out of. Once the resin fully polymerizes with the paper substrate, the resulting material is virtually indestructible.
Is Toilet Partition Hardware Included?
We include all necessary hardware components for a complete installation.
U Brackets
F Brackets
H Brackets
Knobs
Hinges
Stopper-Keepers
Coathook Bumpers
Pilaster Shoes
Headrail End Caps
Headrail Brackets
Alcove Channels
Do You Offer Any Other Bathroom Partition Materials?
While the materials listed above are by far the most common, we do offer some specialized materials that may be better for certain applications.
Solid Color Reinforced Composite (SCRC)
Fiberglass-Reinforced Polyester (FRP)
Color-thru Phenolic
Opaque Enameled Glass
Corian Solid Surface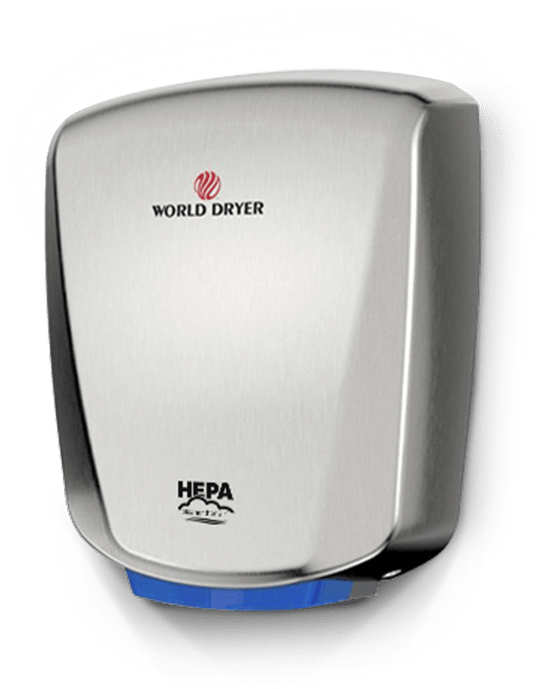 Need Bathroom
Accessories?
Commercial toilet paper holders, soap dispensers and other toilet accessories. Fast Accessories is your one stop shop for all things commercial bathroom accessories.
Shop Restroom Partitions with Confidence
OUR MISSION here at Fast Partitions is to service you, the contractor, building owner or handyman with high-quality bathroom partitions at an amazing value. While most companies impose minimum orders, we can help you order one bathroom stall or twenty. If you run into any issues, we have a large help center to provide you with how-to guides, detailed installation instructions, and anything else you might need to get the job done right.
We Only Use Quality Brands
Other online suppliers use cheap toilet partition brands that take shortcuts in manufacturing. From corner clips, cheap paint, and crappy packaging, other manufacturers take shortcuts that save them money but cost you in the long run. We stand behind Hadrian Toilet Partitions and their industry reputation for quality and exceptional warranties.
Complete Your Restroom Project with Accessories
There's more to a bathroom installation than toilets, pipes, and partitions. Add essential components like toilet paper dispensers, feminine hygiene disposal, ADA-compliant grab bars, and more to complete the project. Our comprehensive inventory and replacement parts are just a phone call away.
Large Inventory of Toilet Partition Parts
Bathroom stalls are a surprisingly customized product. Fortunately, we have a specialized team of experts who can help you assemble a full order that includes the parts and sizes you'll need at the job site with all the hardware for a complete installation.
Fast Commercial Freight Delivery on all orders.
We offer great prices on commercial restroom stalls, accessories, and hardware. All from brands that you can trust.

Fast Partitions is the leading wholesale distributor of Hadrian partitions. The materials Hadrian offers include:
Solid Plastic (HDPE)
Powder Coated Metal
Stainless Steel
You can't go wrong with Hadrian's quality. Their exceptional warranty speaks volumes about their durability and reliability.

Bobrick has a versatile selection of toilet partitions in addition to being the foremost leader in the commercial bathroom accessories market. Our Bobrick lines include the following partitions:
High-Pressure Plastic Laminate
Phenolic
Solid Color Reinforced Composite (SCRC)

Bradleycorp (formerly known as Bradley Mills) is a renowned manufacturer of washroom accessories as well as toilet divider walls in a variety of materials. Ask our representatives about their exciting line of opaque enameled glass toilet partitions for ultra high end applications.

ASI Accurate (the same company as Global Partitions) is a reliable and fast manufacturer of toilet stall walls and bathroom accessories. Get a quote for Accurate partitions from Fast Partitions today.
A Leading Bathroom Stall Distributor
Fast Partitions is the leading online source to buy toilet partitions & bathroom partitions made from high-quality powder-coated metal, solid plastic and other materials.
Our proprietary quoting tool allows contractors to quickly input project specifications to get a pricing estimate without the hassle of faxing layouts.
If you don't see what you need, our toilet partition experts can walk you through any questions or problems. Our effort to simplify lets us provide our customers with industry low prices and fast shipping times through our network of distribution warehouses delivering daily.
Customer Photos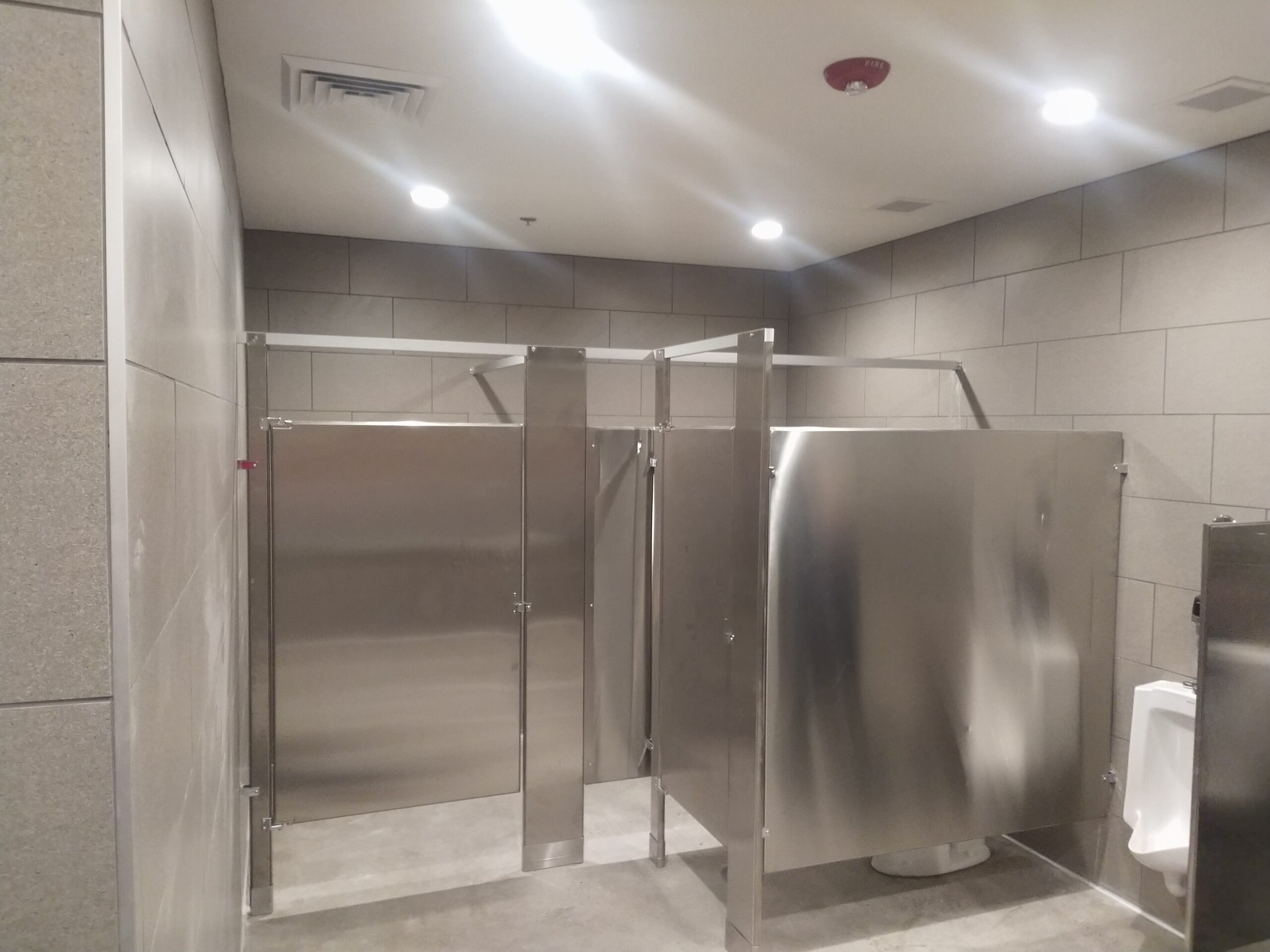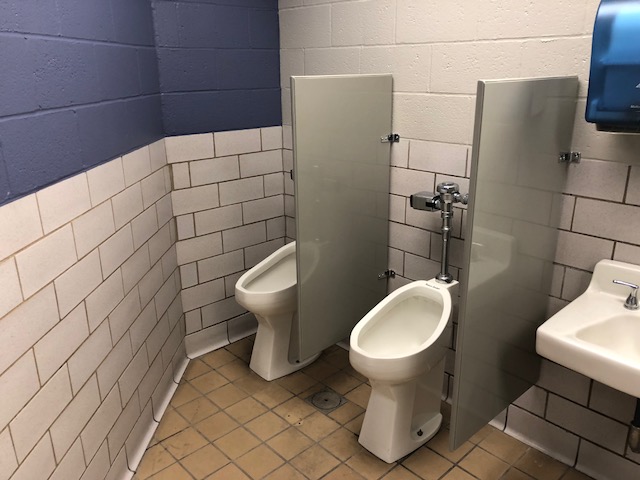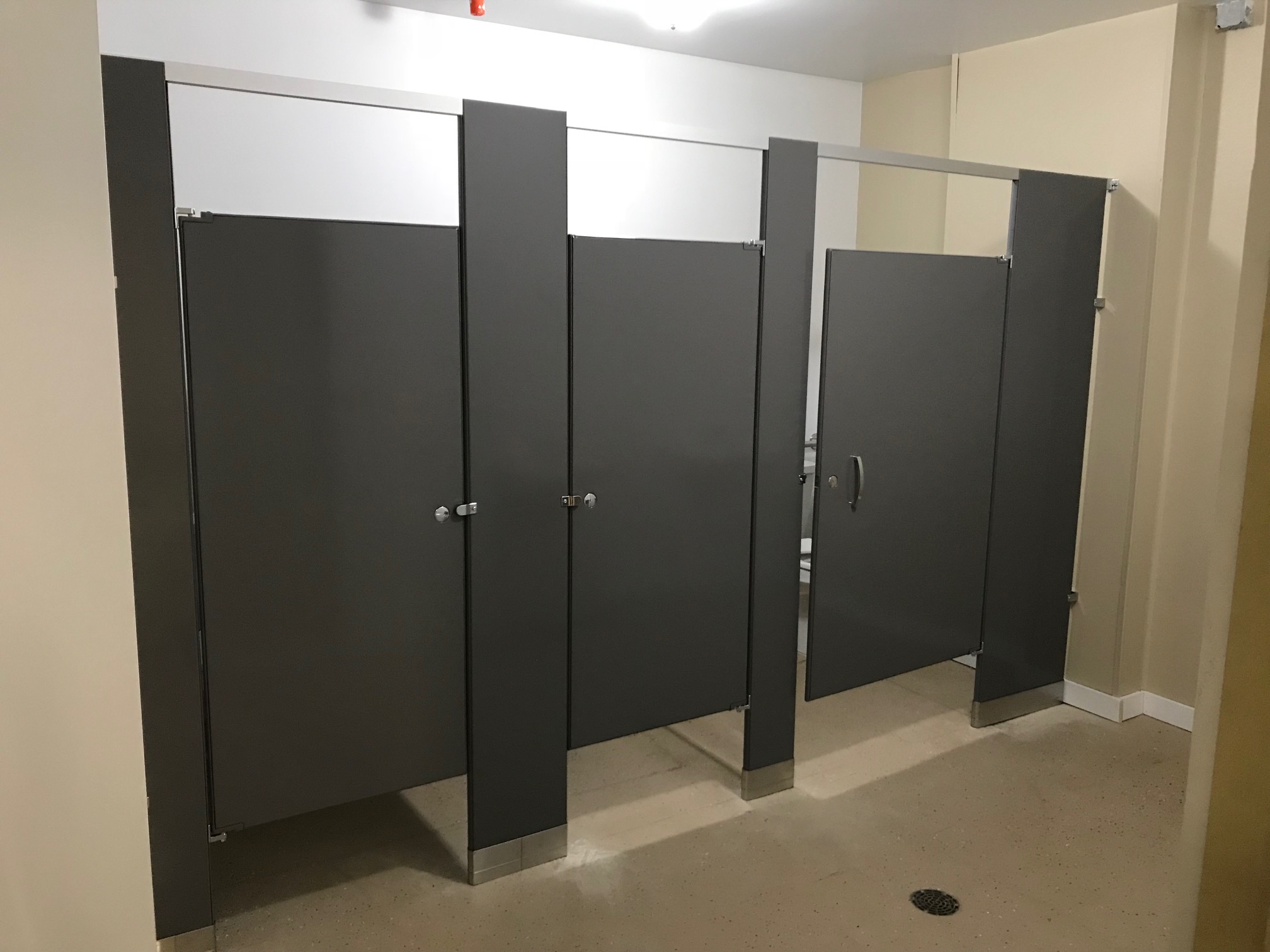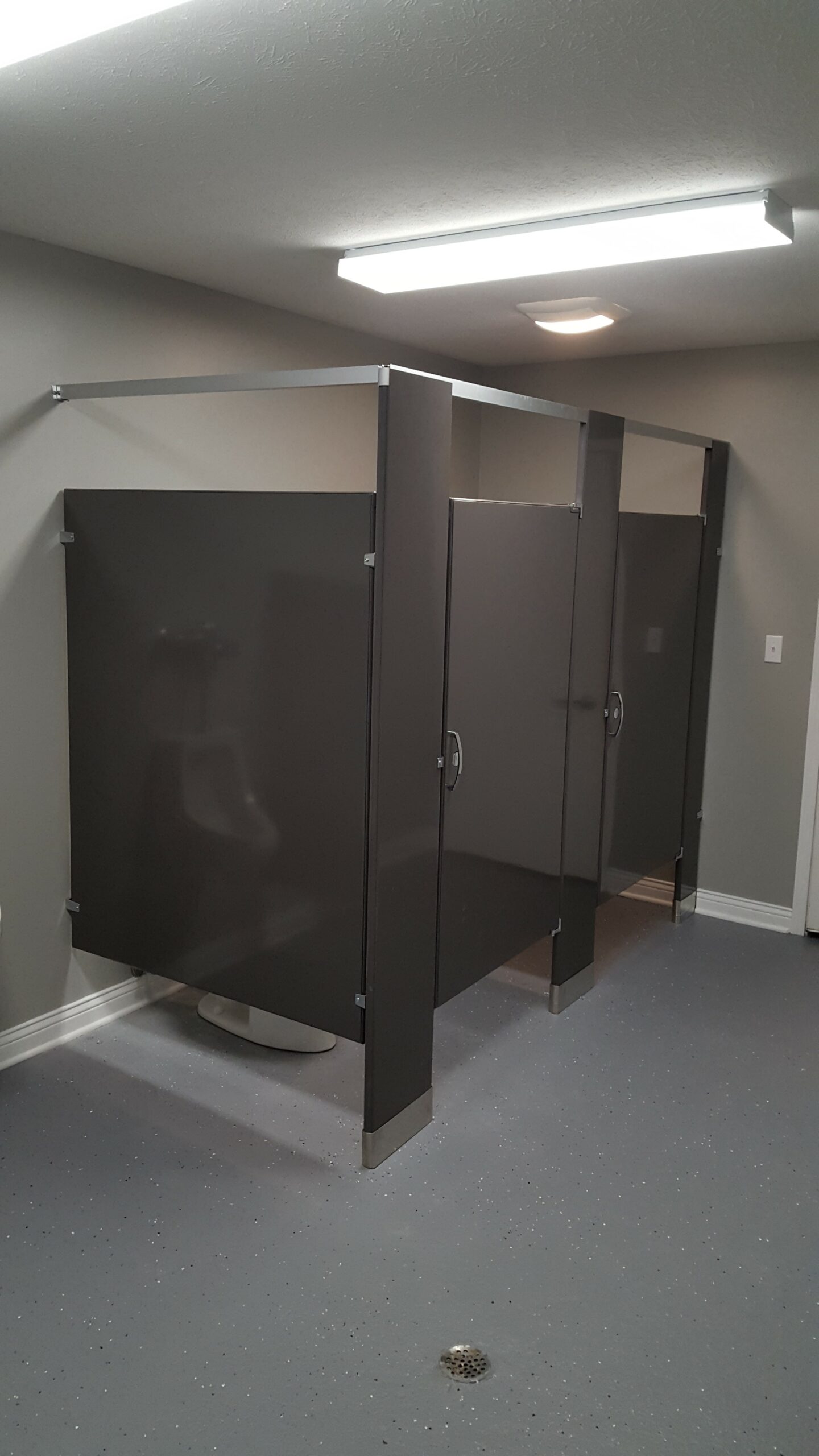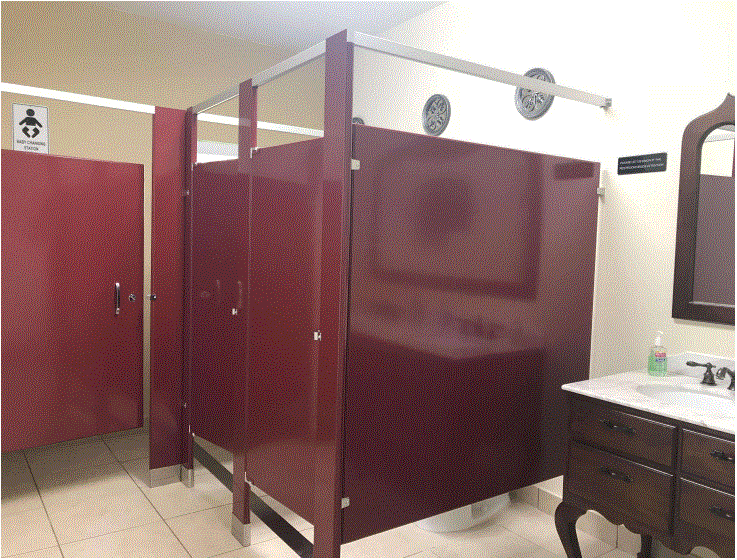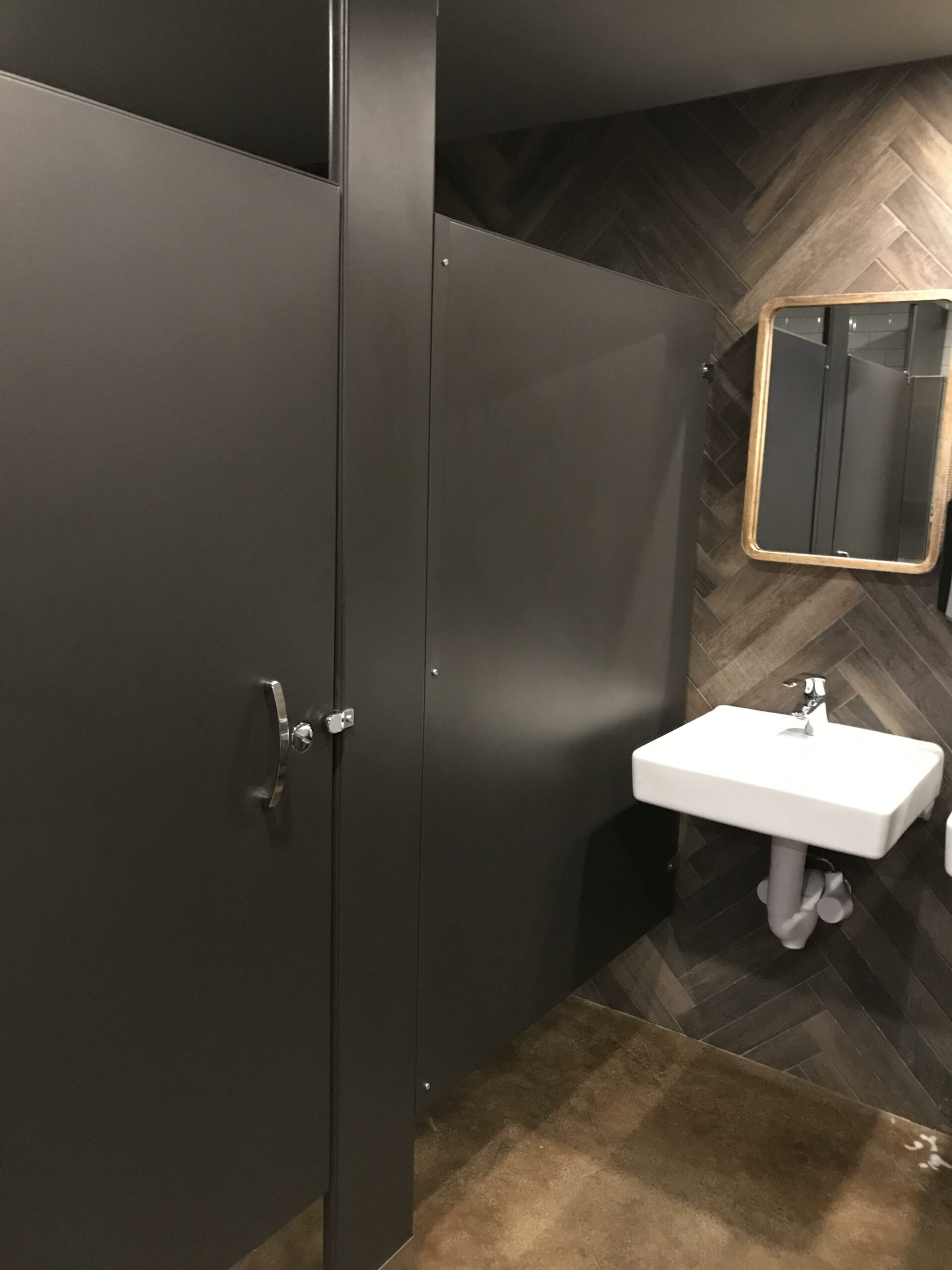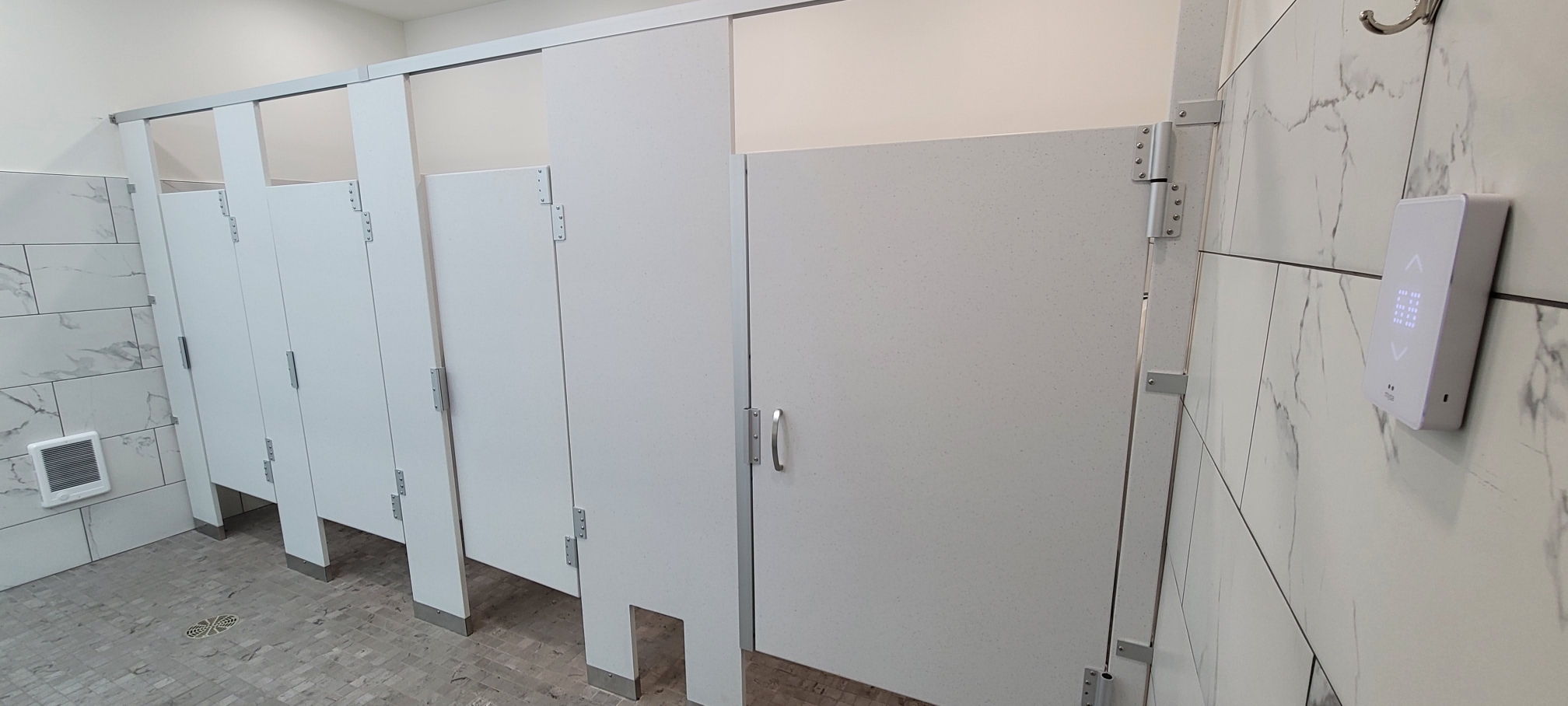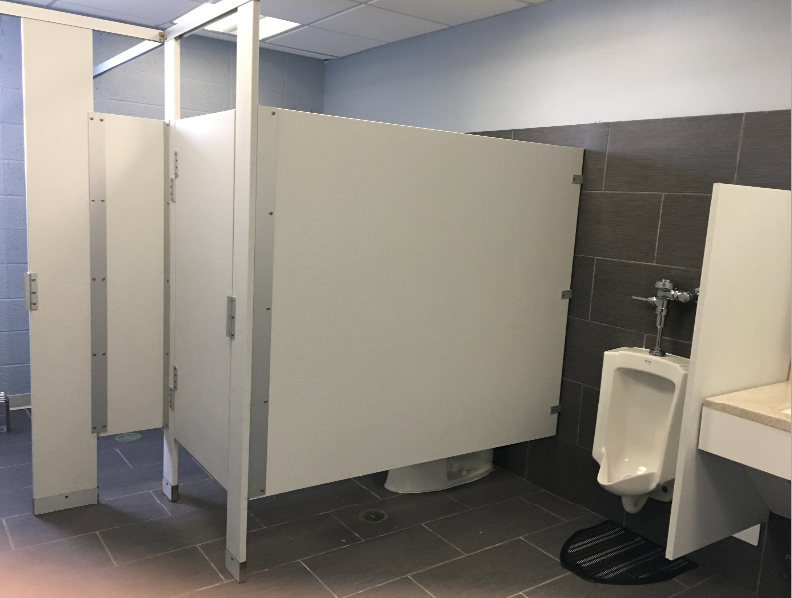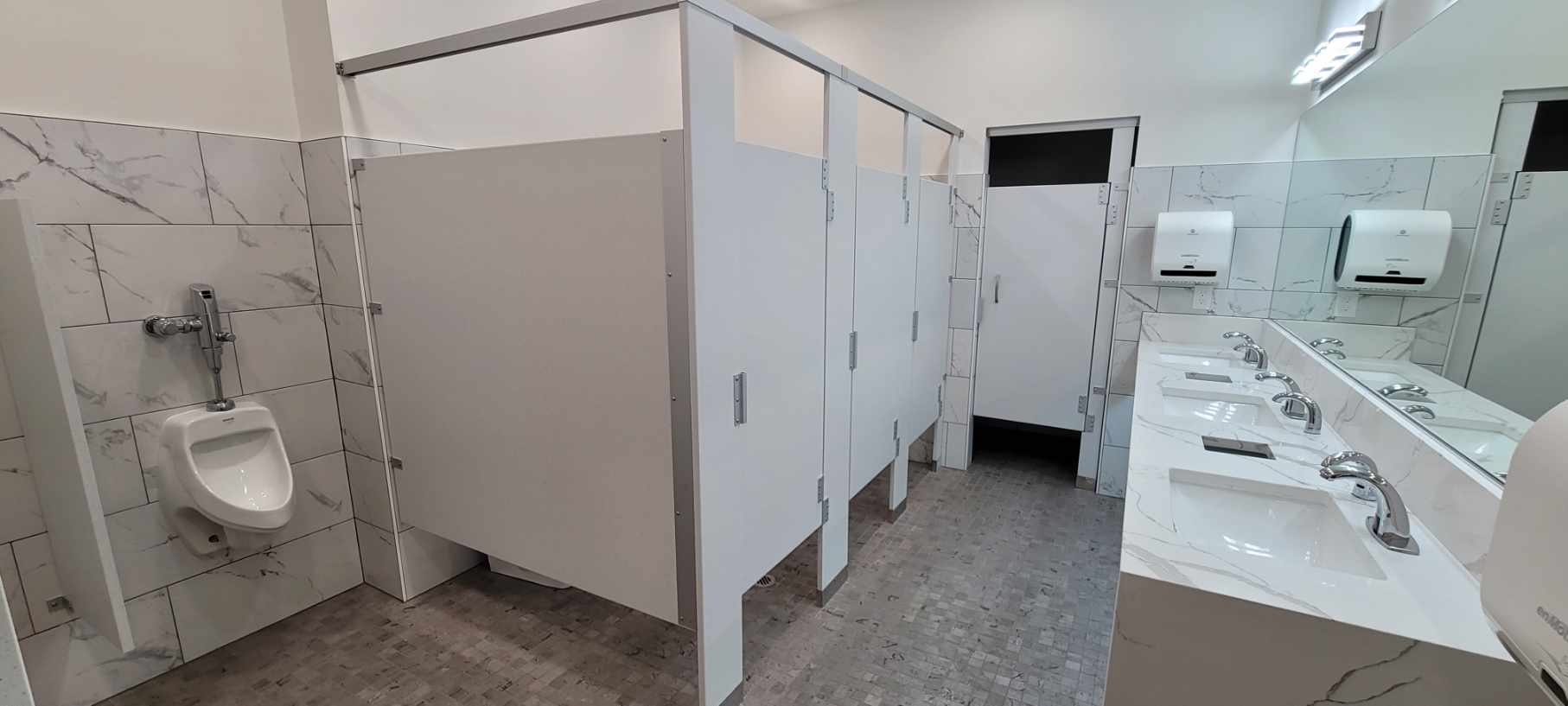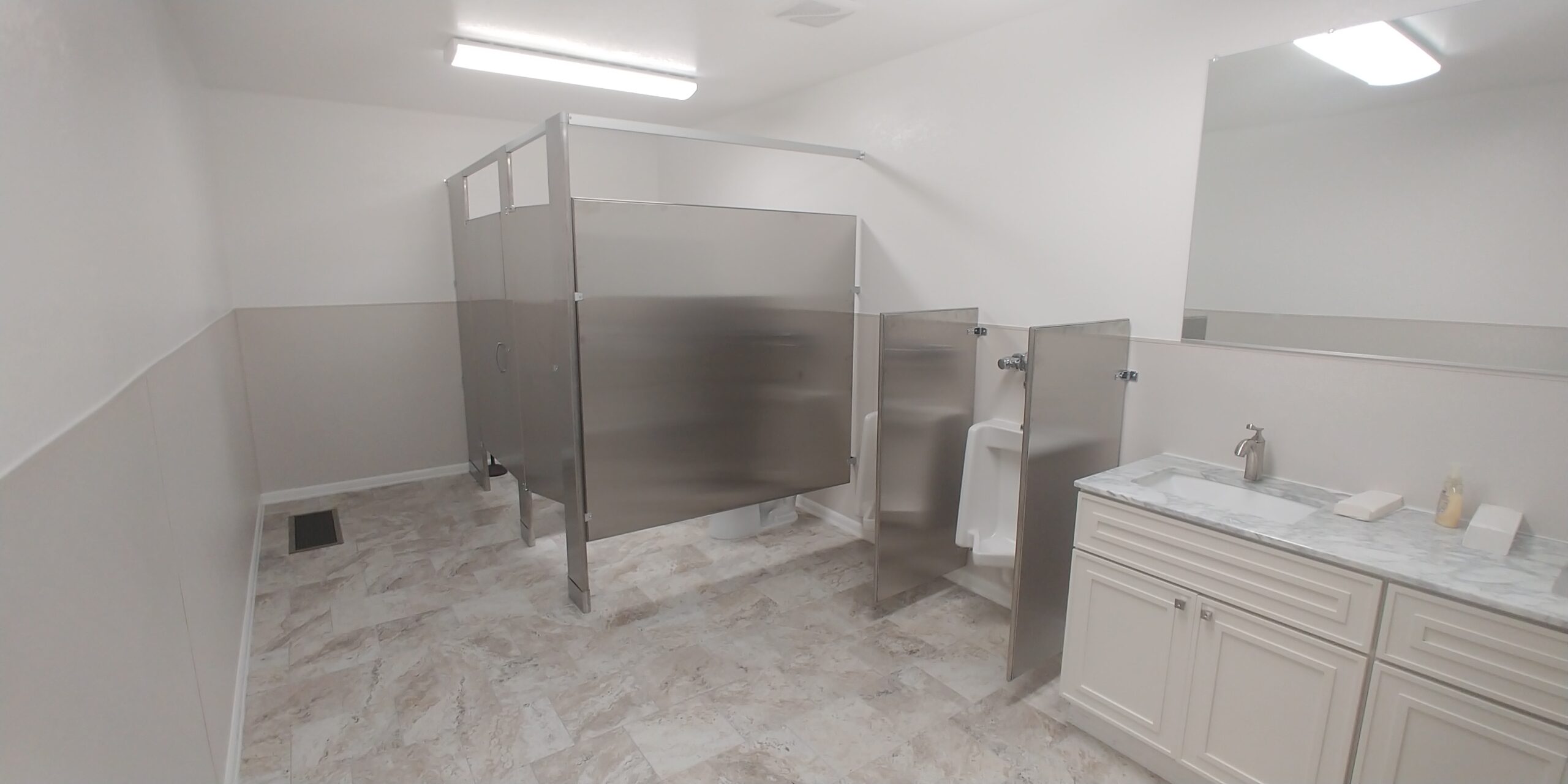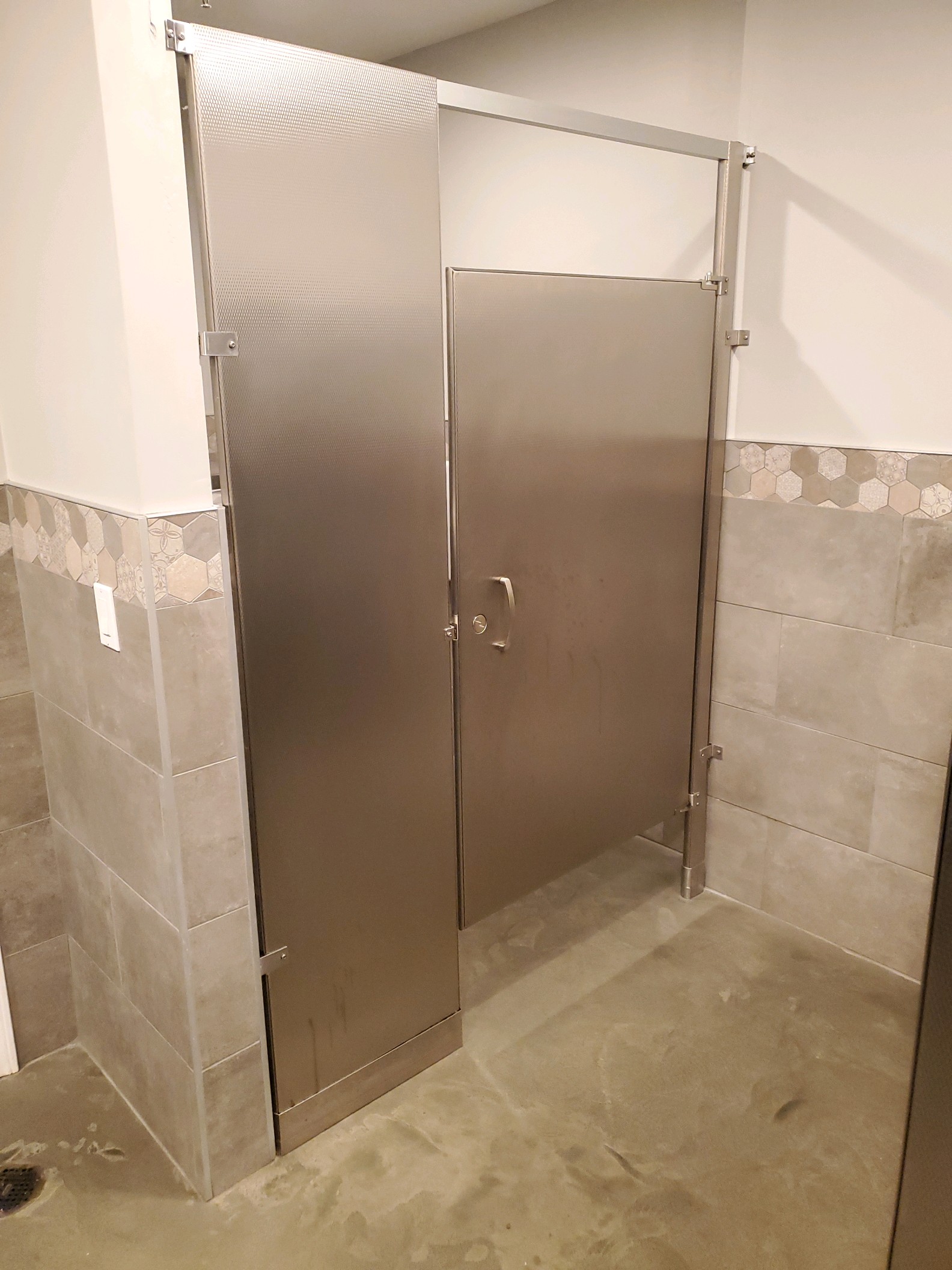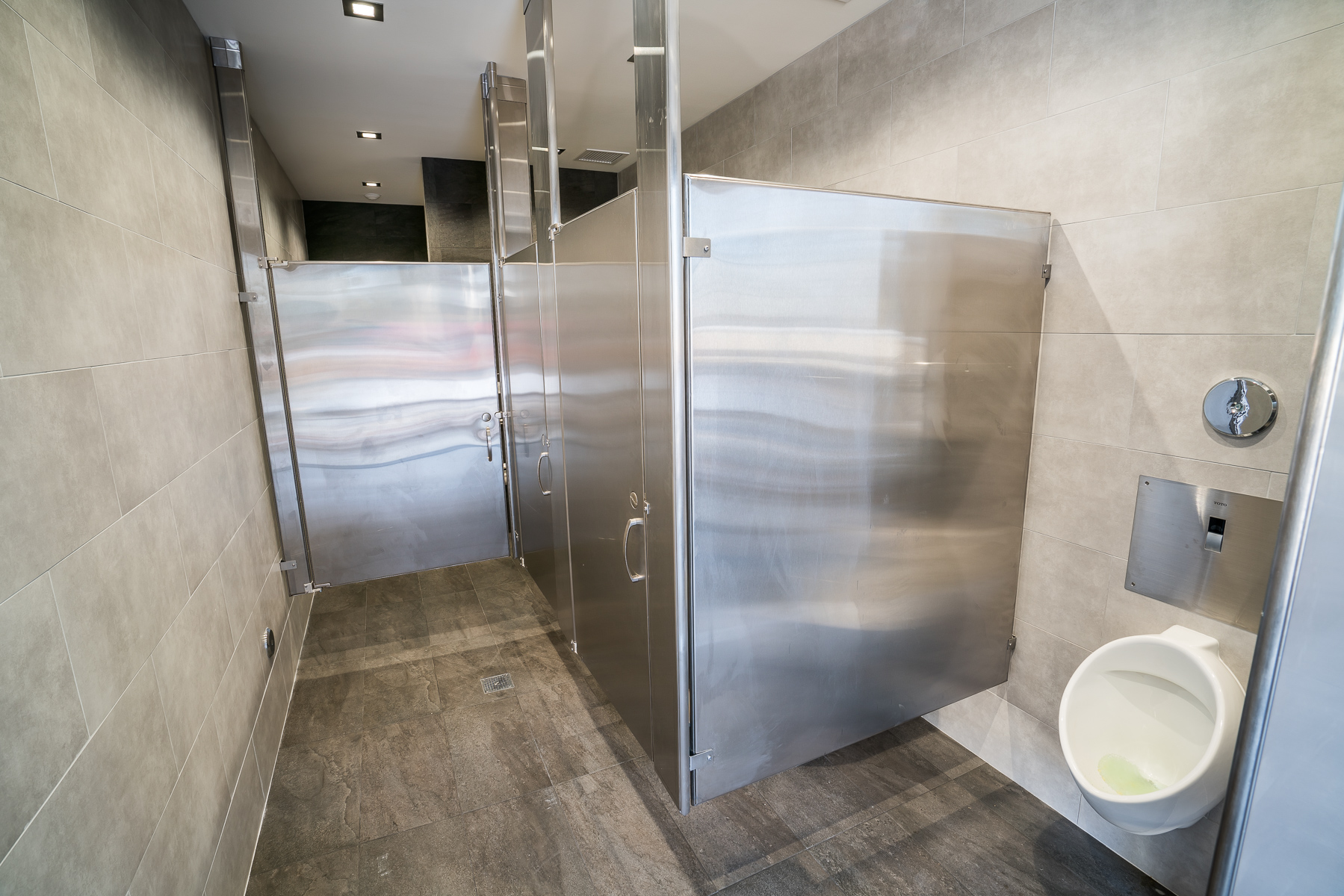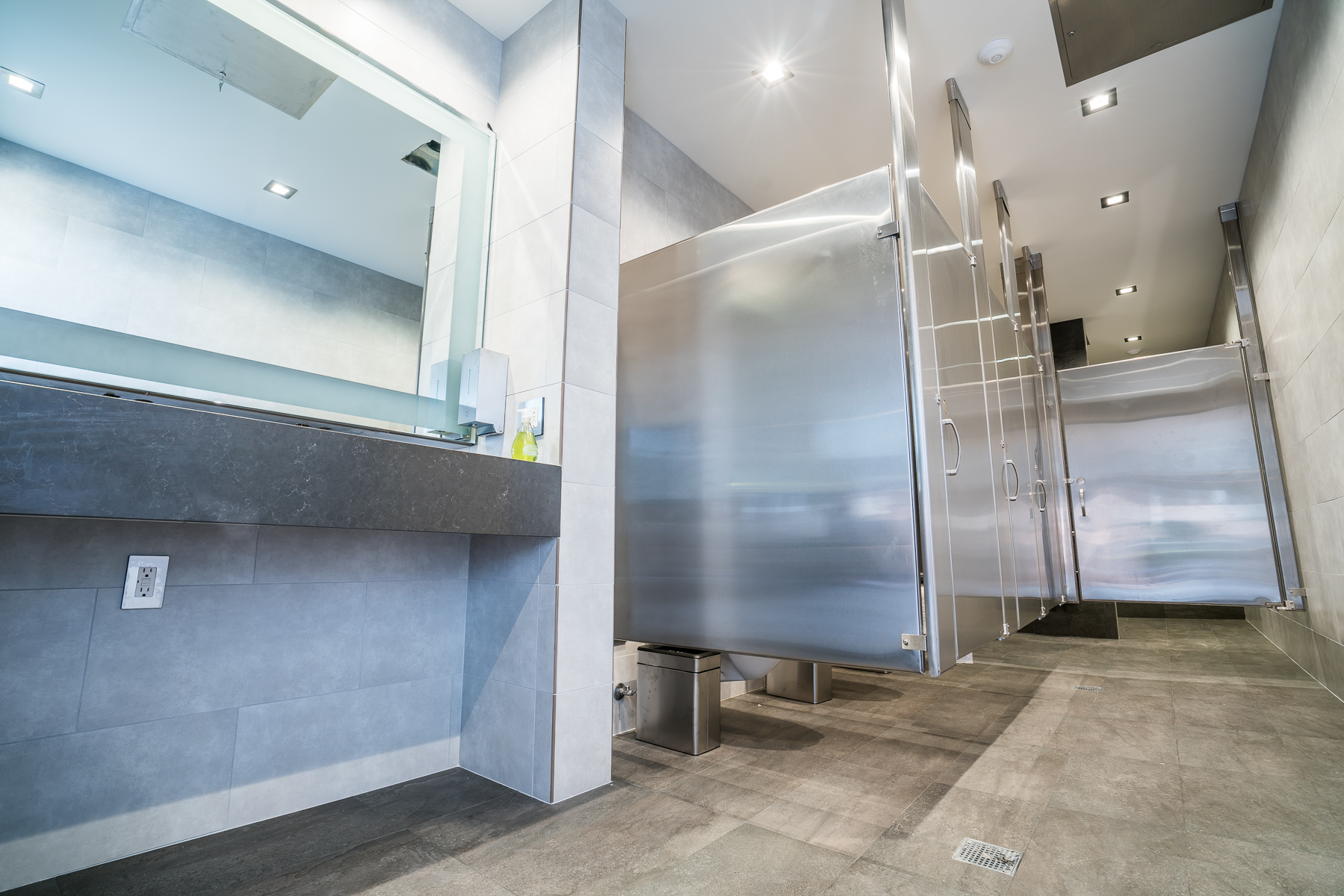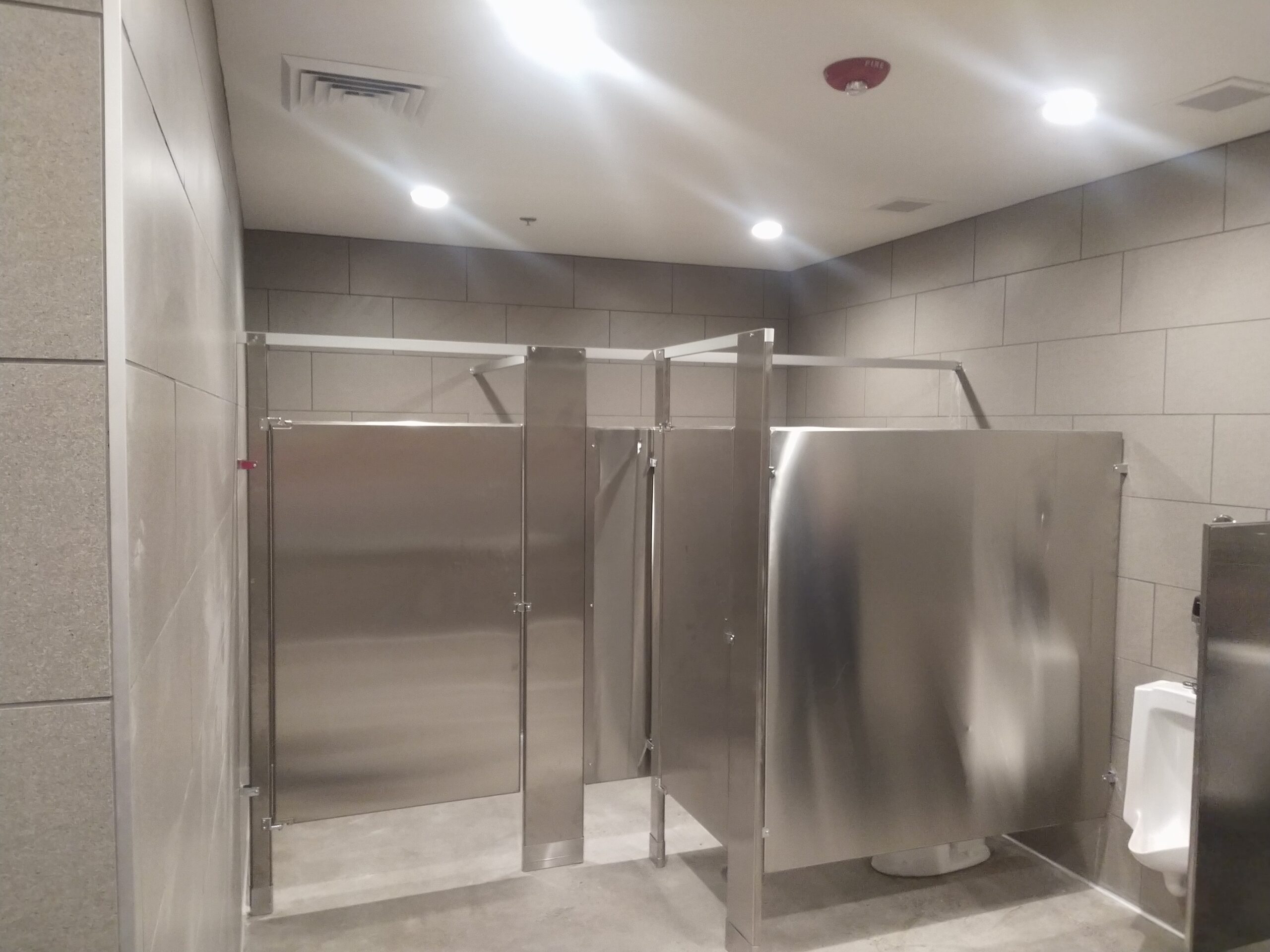 Church Restroom Stalls
A church bathroom stall favorite is plastic laminate or phenolic. Plastic laminate and phenolic offer a wide variety of veneers and church restroom partitions suitable for churches and places of worship.
Restaurant Bathroom Partitions
Nothing kills an appetite like a rusty, vandalized bathroom. Ask our reps about graffiti-resistant restroom bathroom partitions that take a beating and look great even with minimal maintenance
Gym
Toilet Partitions
Typically stainless steel, gym toilet partitions should make a great impression and be quick and easy to clean and maintain.
Bathroom Stalls for Hospitality
We offer a variety of great options for hotels, hospitals and other hospitality buildings.
Locker
Room Shower Partitions
Locker shower partitions need to be impervious to water. That's why we offer phenolic and HDPE partitions perfect for shower stalls.
Office Restroom Partitions
Office bathroom stalls are typically stainless steel but can also be plastic laminate due to lower traffic conditions in most office environments.
Public Restroom Partitions
Public restrooms are where durability counts the most. We offer FRP (fiberglass reinforced polyester) public restroom partitions which are second to none when durability is the most important factor.
Bar & Grill Bathroom Stalls
Solid plastic partitions are the best bang for buck and what we typically recommend to Bars & Grill venues.
School Bathroom Partitions
Bathroom stalls for schools are typically HDPE or powder coated metal and are intended to be tamper resistant. Our HDPE stalls come standard with stainless steel hardware and graffiti-resistant panels.
The Bathroom Stall Blog
Here's latest on what's happening in the Commercial Bathroom Partitions Industry