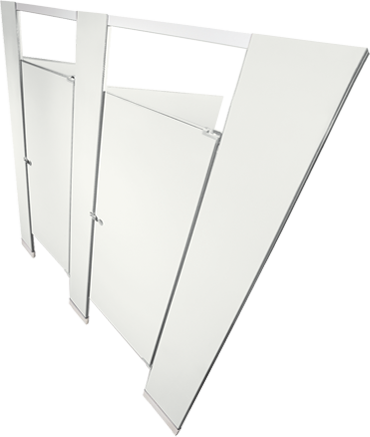 Instructions On How To Install Toilet Partitions
The following installation instructions are based on the most common unit arrangement. Other arrangements will be encountered, i.e. units contained between two walls or between two freestanding panels.
For dimensional information, refer to your plan layout and dimensional details. Note in particular the relationship of the panels to the pilasters (panels do not necessarily fall on the centerline of the pilaster).
Varying site conditions can affect the installation process. To effect a rigid and level installation, it is important for installers to be aware of and compensate for uneven floor and wall conditions
It is the distributor's responsibility to supply end-users with maintenance and warranty information.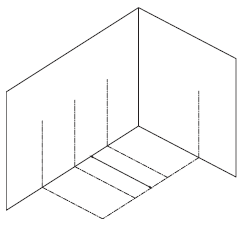 1. Establish Floor Bracket Locations
Establish front centerline by taking the overall compartment dimension and deducting 16 mm (5/8").
Use final layout drawings to determine locations.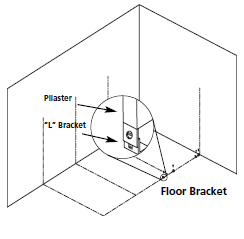 2. Fasten Floor Brackets
Drill holes for floor brackets 22mm (7/8") in
from edge of pilaster locations as indicated
on layout drawing.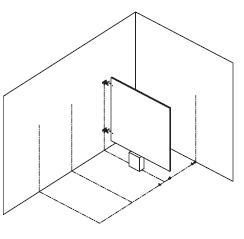 3. Erect Panel
Using your centerline locations, fasten 2
panel brackets to wall. Bracket centers
should be 457mm (18") and 1626mm (64")
from floor.
Rest panel on 318mm (12.5") block and
position in brackets, leaving 13mm (1/2")
clearance between wall and panel. Drill
one hole through top bracket and fasten.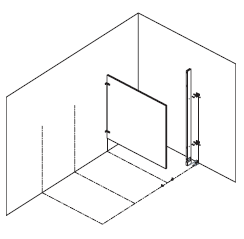 4. Erect Wall Pilaster
Fasten 2 "F" brackets to wall at centerline.
Bracket centers should be 457mm (18")
and 1626mm (64") from floor.
Slide shoe onto pilaster*. Position pilaster in
wall brackets and over floor brackets.
Install floor bracket hardware and leveling
device, plumb pilaster, and tighten.
Attach pilaster to wall brackets.
* See step 7 regarding shoe fit.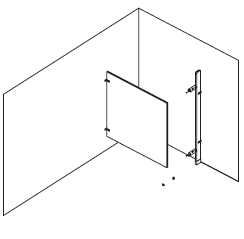 5. Prepare Pilaster For Door
Fasten upper and lower hinges to wall
pilaster.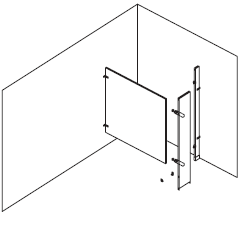 6. Fasten "U" Brackets To Pilaster
Place next pilaster on floor brackets and
mark center line of panel on the back.
Mark bracket centers at 457mm (18") and
1626mm (64") from floor. Using the
brackets as templates, mark drill holes.
Remove pilaster from floor brackets and
fasten "U" brackets.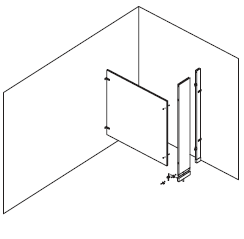 7. Erect Pilaster
For a better pilaster shoe fit, ensure that the front and back edges of the shoe are parallel to each other. If they are not, then apply hand pressure to the back seam of the shoe until the front and back edges are parallel. Slide shoe onto pilaster.
Insert leveling device and position pilaster on floor brackets (do NOT tighten yet) with "U" brackets engaging panel.
Drill one hole through top bracket and fasten.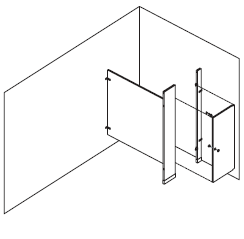 8. Prepare Door For Hanging
Install female cam in the door.
Install latch, and coat hook/bumper.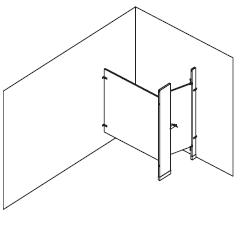 9. Hang Door
Insert male cam into bottom hinge and
lower door onto it. Install threaded upper
hinge pin. To set doors at the required
angle, loosen the nut of the male cam
assembly, set door at required angle, and
tighten nut.
Fasten Stop & Keeper on pilaster, ensuring
it lines up with latch.
At this stage, you may want to pre-install
headrail (without fastening) to assist in
lining up/spacing pilasters.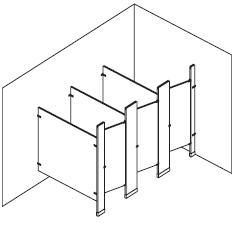 10. Erect Remaining Compartments
Ensure all pilasters are fastened to floor
brackets, add all remaining fasteners and
repeat steps 3-10 (as necessary) for all
remaining compartments.
Note: Hadrian recommends installing one
compartment (including door) at a time.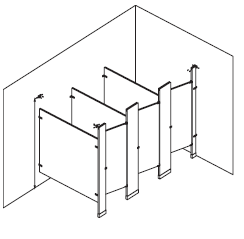 11. Secure Headrail Bra ckets
Fasten headrail brackets to wall
approximately 2070mm (81.5") above the
floor (some adjustment may be necessary
due to varying floor conditions).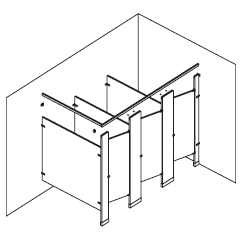 12. Place Headrail
Place headrail into tops of pilasters and
slide into headrail brackets.
Fasten headrail to pilasters (screws on
inside of compartment) and to headrail
wall brackets. Install headrail end cap if
required.
Adjust leveling devices to level all
compartment components and tighten.
Drill all remaining panel holes and fasten
to brackets.