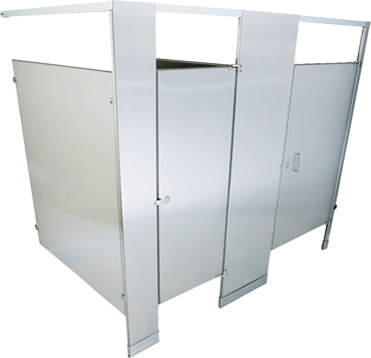 Stainless Steel Toilet Partitions
Pricing: From $700-$900 Per Stall

Toilet Partitions Delivered Fast
Build A Quote
Our Kit Includes:
Bathroom Stall Divider panels, Pilasters & Doors
All Necessary Installation Mounting hardware
Freight Shipping To A Commercial Address
Stainless steel bathroom partitions offer a modern style and gleaming elegant finish to compliment any higher end commercial restroom. Offering the durability and environmental properties comparable to plastic, stainless steel toilet partitions meet class A fire rating requirements, while also providing LEED credit for its exceptional recyclability.
Stainless Steel Toilet Partition Features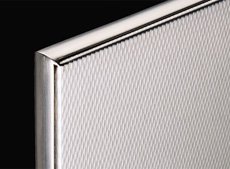 Craftsmanship in Every Corner
Hadrian's trademark corners are unmatched for their clean, attractive appearance. The superior strength of Hadrian's full corner weld creates a hygienic seal and prevents parts from loosening and detaching.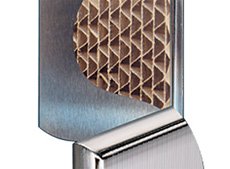 Full Vertical Core
Doors, panels and pilasters are structurally reinforced with 0.5" (13mm) cell vertical honeycomb bonded from top to bottom and edge to edge throughout their entire core. The honeycomb reinforcement enhances strength, sound absorption and overall impact resistance.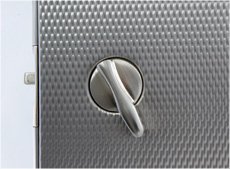 Barrier-Free Latch
Hadrian's exclusive thumbturn lever conforms to American Disability Act and Canadian barrier-free requirements. It can be activated with a short, easy movement and without finger-grip application.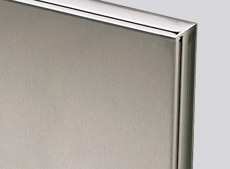 Locking Bar Edge Moulding
All components are tack welded and interlocked under tension with a roll-formed oval crown locking bar for continuous bonding and a permanent, hygienic seal.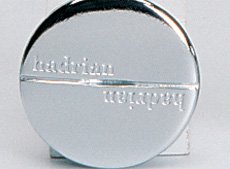 Emergency Access
Both standard and barrier-free latch designs allow access from the exterior in case of emergency. The design is minimal for appearance, easy cleaning and resistance to vandalism. The "Hadrian" name assists maintenance staff in locating the source for replacement parts.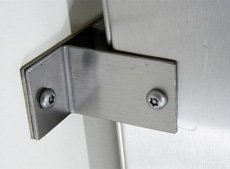 Stainless Steel Brackets
Hadrian's #4 brush finished stamped stainless steel brackets extend the look and performance of stainless steel to the details of the installation.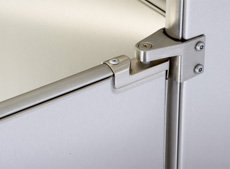 Stainless Steel Wrap-Around Hinges
#4 brushed stainless steel wrap-around hinges offer durability and flawless performance.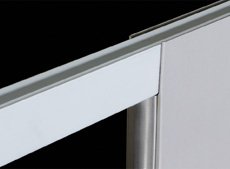 Anti-Grip Headrail
Available in a standard anodized finish or brush finish to complement the look of stainless steel, Hadrian's double-ridge, anti-grip headrail design deters boisterous activity and consequent damage, while still offering a smooth track for shower curtain hooks.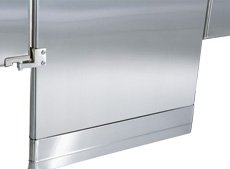 Shoes
Pilaster shoes are available in both polished and #4 brushed stainless steel finishes.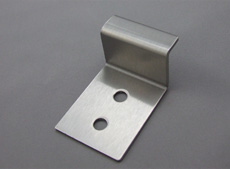 Coat Hook
Hadrian offers a flat coat hook with a #4 brushed finish.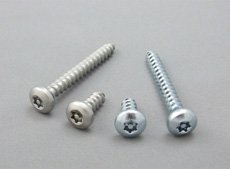 Fasteners
Available in chrome or stainless steel, fasteners are theft-proof 6-lobe security head screws to deter vandalism. Standard chrome hardware is also available for stainless steel toilet partitions..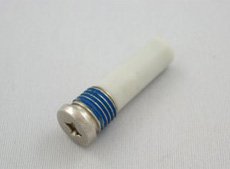 Metal Hinge Pin with Nylon Sleeve
The metal core of Hadrian's upper hinge pin provides sturdy support while the self-lubricating nylon sleeve ensures smooth, quiet operation. The threaded pin can be easily removed and reinserted if necessary.
Additional Information
Colors Charts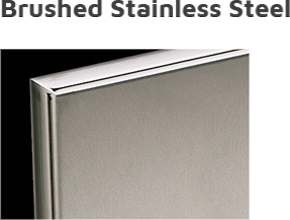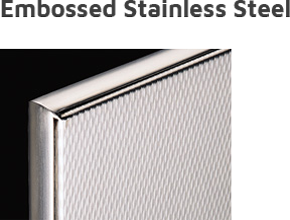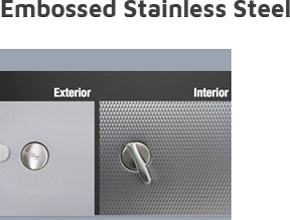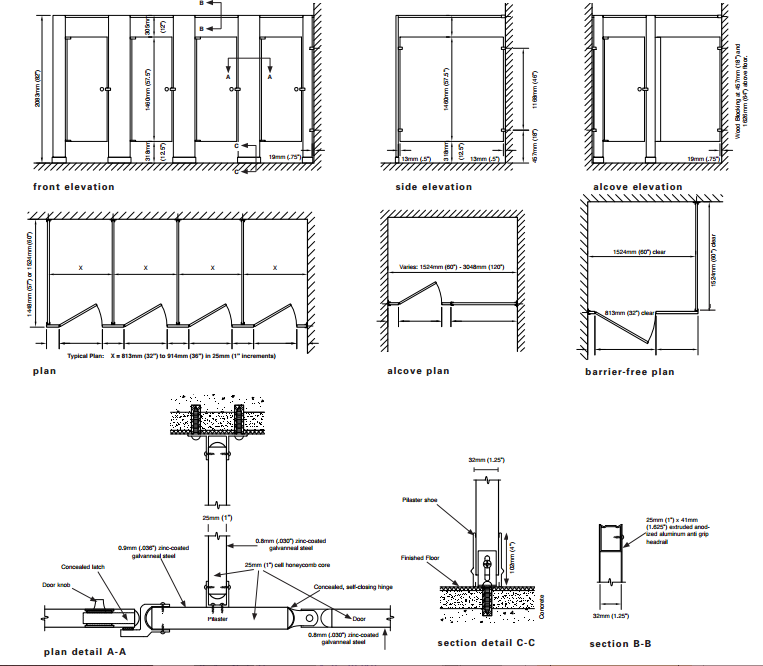 Construction
Doors, Panels and Pilasters shall be constructed of two sheets of panel flatness type 304, #4 brushed finish stainless steel, laminated under pressure to a "Verticel" (1/2") honeycomb core for impact resistance, rigidity and sound deadening. Formed edges to be welded together and interlocked, under tension, with a roll-formed oval crown stainless steel locking bar, mitred, welded and ground smooth at the corners. Honeycomb to be of virgin, long fiber paper with a maximum 12.5mm (1/2") cell size.
Doors
Shall be 1460mm (57.5") high and 25mm (1") thick with cover sheets not less than 0.8mm (.030").
Panels
Shall be 1460mm (57.5") high and 25mm (1") thick with cover sheets not less than 0.8mm (.030").
Pilasters
Headrail braced pilasters shall be 32mm (1.25") thick with cover sheets not less than 0.9mm (.036").
Headrail
Shall be 25mm (1") by 41mm (1.625") extruded anodized aluminum with double-ridge anti-grip design. Wall thickness to be 1.5mm (0.060") and shall be securely attached to wall and pilasters with manufacturer's fittings in such a way as to make a strong and rigid installation. All joints in headrails shall be made at pilaster
Hardware & Fittings
All panel and pilaster brackets and all door hardware shall be chrome plated zinc die castings, standard. Fasteners are 12 x 1-3/4" and 12 x 5/8" TR-27 6-lobe security screws. Toilet partition doors shall be equipped with a gravity type hinge mounted on the lower pilaster hinge bracket. Door hinges shall be the wrap around type and adjustable to permit the door to come to rest at any position when not latched. Each door to be fitted with a combined coat hook and bumper and a concealed latch, with face mortised flush with edge strip of door The combined stop and keeper shall have a 19mm (0.75") diameter bumper locked in place. Threaded door top hinge pin shall have a metal core and self lubricating nylon sleeve to ensure smooth, quiet operation. Pilaster shoes shall be a welded one-piece design made from polished stainless steel. Two-piece shoes that can disassemble when kicked are unacceptable. 1) Stainless Steel Hardware Upcharge Option: – All pilaster, panel and screen brackets are stamped Stainless Steel, #4 brushed finish. – All door wrap around hinge brackets are cast Stainless Steel, #4 brushed finish. – All 12 x 1-3/4" & 12 x 5/8" TR-27 6-lobe security screws are stainless steel, #4 brushed finish. – All pilaster shoes are stainless steel, #4 brushed finish. – All inner, barrier free inner, outer, door pulls, stop and keepers, coat hooks and door castings are standard zinc die castings, #4 brushed finish. – All other components not outlined here are standard Hadrian Toilet Partition hardware items. 2) #4 Brushed Aluminum Upcharge Option: – Extruded aluminum headrail, alcove channels, continuous "no sightline" stop and hinge filler available in #4 brushed finish as an option.
Finish
Type 304, #4 brushed finish.