ASI MoistureGuard Standard Quick Ship Colors
Mission White 1010

Almond 4000

Sand 4010

Khaki Brown 4040

Taupe 9096

Green Slate 5093

Crisp Linen 1150

Green Slate 5093

Neutral Glace 1130

Western Suede 4110

Burgundy 5450

Casual Linen 4538

Natural Tigris 4611

Stepping Stone 9570

Natural Canvas 4410

Satin Stainless 5030

Tungsten EV 4801

Carrara Bianco 1096

Burnt Strand 5107

Windswept Bronze 9292

Gray Linen 3750

Earthen Warp 4580

Afternoon Nap 9120

Smoke 8450

Autumn Indian 9150

Navy Blue 7450

Spectrum Blue 5051

Brittany Blue 7010

Navy Graphix 7318

Silver Gray 3000

Dov Gray 3010

Folkstone Celesta 3300

Canyon Zephyr 3713

Vapor Strandz 5039

Windswept Pewter 3849

Storm Solidz 3542

Graphite Graphix 3020

Rustic Slate 5088

Smoke Quarstone 3350

Graphite 2150

Black 2000

Maple 9918

Cherry 9954

Mahogany 9939

Ebony 9500

Asian Night 9550

Weathered Ash 9842

Reclaimed Denim Fiber 5271
Bobrick HPL Standard Colors
Designer White D354-60

White Carrara 4924-38

Antique White 1572-60

Natural Almond D30-60

Beige 1530-60

Grey 1500-60

Satin Stainless 4830K-18

Platinum D315-60

Desert Zephyr 4841-60

Natural Canvas 7022-58

Grey Nebula 4622-60

Pewter Mesh 4878-38

Evening Tigris 4674-60

Natural Tigris 4669-60

Wheat Strand 6212-58

Slate Grey D91-60

Shadow D96-60

Tungsten EV 4814-60

Spiced Zephyr 4859-60

Windswept Bronze 4794-60

Burnt Strand 6307-58

Graphite Nebula 4623-60

Green Tigris 4667-60

Chestnut Woodline 5884-58

Chocolate Warp 5881-58

Navy Grafix 7018-58

Brittany Blue D321-60

Smokey Brown Pear 5488-58

Figured Mahogany 7040A-60

Xanadu 7945K-38*

Spectrum Blue 851-58

Hollyberry D307-60

Basalt Slate 3690-58

Black 1595-60

Honey Annigre 913

Executive Mahogany 920

Spanish Mahogany 921

American Cherry 925

Canadian Maple 926

Renaissance Cherry 953

Brown Annigre 974

Amber Bamboo 975

Tropical Zebrawood 976

Bog Oak 977

American Walnut 978

Teak 980

Modern Makore 981

Golden Oak 983

Ashened Oak 985

Prairie Oak 986

Australian Eucalyptus 988

Smoked Eucalyptus 989

American Elm 991

Cabinetry Walnut 992

Gallery Walnut 994

Blond Sycamore 995

Coastal Eucalyptus 997

Vintage Limba 998

Natural Eucalyptus 999
What is plastic laminate?
HPL (high-pressure laminate) partitions are made from a particle board core covered by a decorative surface protected by a protective melamine overlay. 
We carry plastic laminate toilet partitions featuring wear-resistant engineered surfaces manufactured by trusted industry names like Wilsonart and Formica. 
What is plastic laminate made of?
Laminated plastics consist of polymer-matrix composites. They're made by impregnating a special form of decorative kraft paper with thermosetting resins (usually melamine or phenolic resin) and polymerizing under heat and pressure, forming a polymer-matrix composite. "High pressure" refers to the force introduced during the production process. These pressure levels typically reach 1,200 to 2,000 psi. 
How Do You Cut Plastic Laminate?
Plastic laminate can be cut to size, if necessary. 
To get a nice clean edge, you'll want to take the following steps:
Double-check your measurements and draw a cut line.
Lightly score the line with a utility knife.
Use a table saw to cut 1/4" or less of the material carefully. This cuts all the way through the laminate itself but doesn't completely cut through the particle board core. The reason for starting with a partial cut is to cleanly cut the laminate without chipping.
ASI MoistureGuard Laminate overhead-braced standard configuration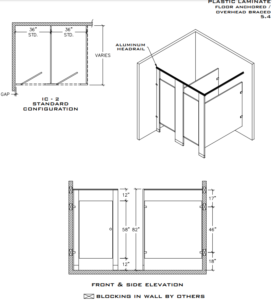 ASI Plastic Laminate Partitions with Floor Anchored/Overhead Braced Mounting Style
Part 1 – General 1.01 Work Included A. The toilet partitions shall be plastic laminate with floor anchored/overhead braced mounting style as manufactured by ASI Accurate Partitions, Burr Ridge, Illinois. B. Furnish all labor and materials necessary for completion of work in this section as shown in the approved drawings and specified herein. 1.02 Related Work – Specified elsewhere shall include accessories and anchorage/blocking for attachment of partitions. Part 2 – Product 2.01 Doors, Panels and Urinal Screens – Shall have a finished thickness of 1" with decorative plastic laminate is applied to 7/8" thick particleboard. 2.02 Pilasters – Shall have a finished thickness of 1" with decorative plastic laminate applied to 7/8" thick particleboard 2.03 Material – Doors, panels, pilasters and urinal screens shall be fabricated from 45-pound density, resin impregnated 7/8" thick particle board. Decorative plastic laminate shall be applied to the particleboard with a non-toxic, water resistant adhesive under high pressure. All components shall be edge banded prior to face lamination to ensure moisture run-off and vandal resistance. 2.04 Finish – All components shall have faces and edges covered with a decorative, vertical grade (.50 thickness) laminate. 2.05 Color – will be selected from Accurate's full range of standard designer colors. 2.06 Door Hardware – Shall be Accurate gravity cam-action hinge that permits door to return to a pre-set position when not locked. Hinge, strike and keeper shall be chrome plated Zamac to resist corrosion and through bolted with tamper resistant barrel nuts and shoulder screws. Cam-action hinge shall allow emergency access by lifting the door from the bottom. 2.07 Mounting Hardware – Chrome plated Zamac stirrup brackets shall be secured to walls and pilasters with stainless steel tamper resistant fasteners. Panels shall be through bolted with tamper resistant barrel nuts and shoulder screws. 2.08 Construction Design – Partitions shall be anchored to the floor by a 1-piece, 3" high, stainless steel anchor trim with bottom plate through which concrete anchors are driven into the floor. Pilaster is leveled with machine screw threaded into an insert in bottom of pilaster and is fastened to anchor trim with tamper resistant stainless fasteners. Aluminum headrail with anti-grip profile shall provide overhead bracing and span all partitions and brace the end pilaster to the back wall. Part 3 – Execution 3.01 Installation – Shall be installed in accordance to the Accurate installation instructions with compartments rigid, straight and plumb. Doors and panels shall be mounted 12" above the finished floor. 3.02 Warranty – ASI Accurate Partitions guarantees its plastic laminate partitions, properly maintained, against discoloration or delamination for 2 YEARS from the date of receipt by the customer. If material is found defective during that period, the material shall be replaced free of charge. No credits or allowances shall be issued for any labor or expenses relating to the replacement of components covered under the warranty plan.