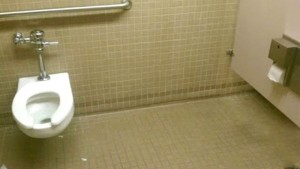 Bathrooms can be intense, especially in commercial businesses. There is a series of stalls with minimal spacial privacy and even less noise isolation. The plastic, metal or steel stall dividers have one job: protect users from onlookers.
However, when you don't take time to install them properly… bad things happen. Whether it was a first-time operation, the measuring stick was a bit off, or the installer was in a bit of a rush, the result is still the same: Mission Incomplete. Here are a few examples of such failures: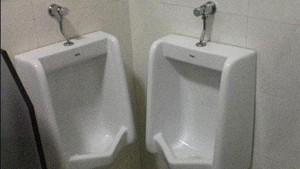 URINAL BUDDIES
If you're like most men, I'm sure you typically head to the bathroom in pairs. You ask your buddy at the restaurant if he also needs a bathroom break. Then you skip hand in hand to the facility. At this point, you're both more than delighted to see a duo urinal corner, right?
Wrong. Unlike most women who enjoy chatting and sharing make-up tips in the restroom, men commonly prefer to make this visit alone. Perhaps this handyman has a skewed view of the male population. Or maybe this project wasn't well thought out. Regardless of the causation, this photo is real. While these two urinals will never serve the dual usage for which may have been intended, they do provide excellent entertainment value.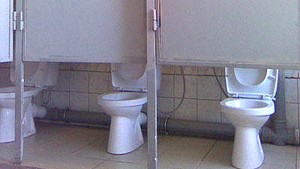 PEEK-A-BOO STALLS
When you look at this photo, the childhood game "peak-a-boo" may come to mind. While it's all well and good for 5-year-olds to goof off, adults may not feel the same when it comes to their restroom privacy. While the image is comedic, its actuality will cause numerous issues for the business owner. This stall failure is a peeping tom paradise.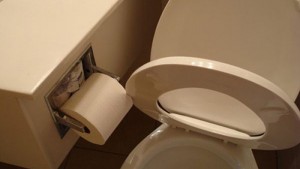 THE JIG-SAW PAPER PUZZLE
Hopefully all of the visitors are of a slender build, or else they're not fitting here. Aside from the obvious issue of a toilet paper stopper, just imagine how tiny this potty space must be. There are two ways to view this image. Either it's the result of measuring error or perhaps the designer wishes to engage users in a jig-saw puzzle. In this scenario, each guest gets the privilege of problem solving.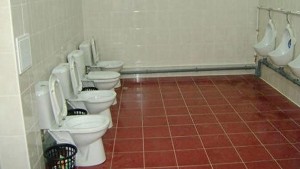 THE PRISONER LINE-UP
When it comes to selling a product or service, customer service is key. Many business tycoons will often use the phrase, "Customer is King." Establishing good report and loyalty with your guests begins with properly caring for their most basic needs.
This facility manager must not have gotten the memo. This prison-like scenario could be avoided with some excellent toilet partitions. Fast Partitions has developed affordable commercial bathroom stalls. We provide commercial toilet partitions in three quality materials: plastic, metal and stainless steel.
For schedule convenience and a happy wallet, Fast Partitions provides fast and free delivery. In addition to stress-free local delivery, we provide complete package deals on all partitions. This includes divider stalls, pilasters, doors, and all necessary installation hardware.
THERE SHOULD BE A STALL HERE
There should be a stall here. Following through with details will not only increase environment morale but also will improve privacy, safety, happiness, and ultimately company sales. Your coworkers, team members and potential clients are likely to utilize the facilities. Save everyone's rear end and buy quality bathroom partitions.
Ensure Safety Guidelines are Maintained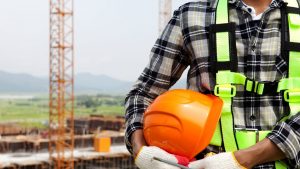 Construction work is dangerous. The industry accounts for one in every five worker deaths, responsible for 20.6% of private industry fatalities. Over half of the injuries are caused by human error.
Kicking into the new year, the Occupational Safety and Health Administration has released a fresh set of guidelines to prevent further loss of quality life.
The strongest push for implementing safety shows in a significant increase in fine penalties. Starting August 1 workplace safety regulations fines will be increased by 78%.
The most serious violation fines have increased from $7,000 to $12,471. On top of that, willfully repeated violation fines will move from $70,000 to $124,709.
That civil penalties should provide a "credible deterrent that influences behavior far and wide" has become the ruling belief.
CONSTRUCTION INDUSTRY INJURY STATISTICS
Swinging cranes, heavy supplies, and loud noises don't exactly paint a picture of safety. In addition to the obvious dangers, there are invisible threats such as handling electricity or maneuvering hazardous materials. Every project site presents an extremely high-risk environment.
While construction industries are crucial to economic growth, there remains an excessive amount of inefficiency.
For laborers with a 45-year career, there's a 1-in-200 chance of death. Recent OSHA studies provide a breakdown of top causes for the looming death rate. The following are known as the "Fatal Four" in construction:
Falls – 40%
Electrocutions – 8.2%
Struck by objects – 8.1%
Caught-in-betweens – 4.3%
One in ten construction workers are injured each year. Several injury statistics are quite surprising. For example, while falls comprise the top 40% of construction injury, standard fall protection is also the most violated of OSHA rules.
If death rates weren't scary enough, workers who stay in for over 40 years have a 75% chance of incurring a disabling injury.
Working in construction is deadly, and most occupational incidents result from human error. A startling 60% of all incidents happen within a new recruit's first year. This statistic screams of needed reform in construction training.
Safety can be improved and human error largely eradicated with safer methods of situation rehearsals such as developing immersive reality technologies.
SAFETY AND BENEFITS FOR EMPLOYERS
OSHA is the main federal agency in charge of enforcing health and safety legislation. Now they're cracking down on the businesses who don't follow safety regulations.
Most companies will prioritize safety not only for ethical morals, but also for pure profit reasoning. If employers can enforce safety regulations, preventing a few unnecessary incidents here and there, they would save a great deal of money.
Aside from worker compensation and hospital bills, there's court costs and labor loss to be avoided.
While the industry safety conversation is running, safety experts have expressed the need for increased education. Instead of punishing those who mess up, they suggest placing more effort into training them the right way.
While there are mixed opinions across the board, the focus on safety will benefit construction crews. With exciting immersive reality trends for safety training, the dangerous world of construction has great potential to be revolutionized.