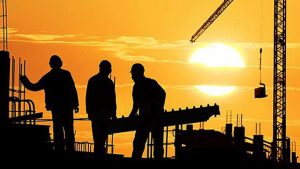 As we break into the beginning of a new year, many fresh and exciting construction trends will color the industry. Across the board, from restaurant construction to senior home development, future trends will influence the outcomes. The developing trends will drive commercial construction this year.
Throughout 2016, as predicted, there was slow and steady construction growth. Cranes were raised, drills were buzzing and workers sweating to create a brighter economic atmosphere. The US Census Bureau reported $972.2 construction dollars spent throughout the first 10 months. That's a 4.5% increase from 2015, which was a $930.7 expenditure for the same period of time.
The growth has been so tremendous that economists wonder whether it can be sustained. Residential construction has continued a steady rise. There was strong growth in the multi-family developments. The growing home ownership could be the saving grace, propelling further development.
RESIDENTIAL TRENDS FROM 2016
Throughout all the construction projects, the need for housing grows. Despite economic growth, affordability has significantly decreased for several U.S. metro cities such as Dallas, Houston and Los Angeles. In the Los Angeles metro area, over 60% of renters spend 30% of their income on housing and over 30% now pay more than 50% of earnings on rent. LA has become the second least affordable of the 11 metro cities surveyed.
City planners can help with big picture success and future preparedness. To combat the affordability gap, several urbanization trends may be utilized. In order to build smarter cities, urban planners must think in terms of growth. Project managers need to set aside their egos and coordinate. Four key housing trends show great potential:
Single Occupancy Micro Units
If built in convenient locations near public-transit and everyday services and activities, micro-apartments can provide a significantly cheaper option for downtown living. Housing with 150-400 square feet are considered micro-units. According to the AAA, these residents could be saving $8,946 annually without needing a car. Not only is this housing situation more affordable, but also it creates more community sense with the shared amenities.
While this type of living may more attractive to more of a "niche" market, it does create more affordable living space downtown. There are current developments designed for Nashville by the Nashville Civic Design Center. In doing so, Nashville's urbanization will begin to resemble some of the more metro cities such as Chicago and New York.
Slender Core Space
With slender and compact high-rises, the Vancouver skyline presents an excellent example of cost reduction through design efficiency. Developers created practical and affordable high-rises primarily through smaller floor plates and tighter core space.
The small floor plates increase the separation between buildings, allowing extra city space for more towers. Additionally, the repetition of floor layouts for each level exponentially magnifies the space and cost savings.
The tighter core layouts include only the bare necessitates for safety. Using fire-rated trash shoots and recycling, scissor stairs and direct elevator to corridor entrances, they eliminated unnecessary hall space. See layout comparisons, which illustrate the significant spatial advantages.
Prefabrication Builds
Prefabrication is known as the process of building structures offsite and then transporting the complete products. It's also referred to as "modular construction," using "modules." The Khaleej Times refers to it as a "win-win strategy."
All of the building components can be manufactured offsite into a complete piece. This includes columns, beams, core design, wall panels and slabs, staircases, windows, doors and entire bathroom partitions. All of this is done using a separate place, a controlled setting and the calm found away from noisy construction sites.
Land Usage
Due to potential free market space value, land-use regulations have made consumer housing increasingly expensive in U.S. metro cities. One such restriction specifies a minimum-lot size required for building. However, with efficient designs for slimmer buildings, perhaps this rule could be readjusted.
California's Legislative Analyst's Office suggests denser apartment buildings as a primary solution to reduce housing, which remains the highest in the nation. With desirable climate leading to pricey land, every square foot counts.
IMMERSIVE REALITY DEVELOPMENTS OF 2016
The use of immersive reality has exploded throughout 2016. Well-known corporations are placing huge investments in its development. ABI Research experts predict it will balloon into a $100-billion-dollar industry by 2020.
The exciting technology can be broken down into three distinct categories: Mixed Reality (MR), Augmented Reality (AR), and Virtual Reality (VR). The Microsoft's HoloLens is a great, recent example of mixed reality, which is a split combination of reality and the virtual world. Augmented reality uses "markers" to add pieces of virtual information within the known world. And then there's virtual reality which fully immerses users into an alternate world.
Whether you're creating safer training scenarios, developing project blueprints, working out technical issues or showing off a completed project, immersive technologies will take construction to a new level of efficiency and effectiveness. Though immersive devices are still very early in commercial development stages, experts and industry leaders are grasping on. Because when you can change the way you see the world, you can change the world you see.
CONSTRUCTION PREDICTIONS FOR 2017
Developing construction firms should take note. Not only could safety be significantly improved through enhanced off-site training scenarios, but also the production and display of projects can be stream-lined. Designers, contractors and construction managers will be able to make better decisions, earlier on. While there's a high ticket price, VR, AR, and MR are here to stay.
Throughout all the past and present trends, builders are looking for better, more efficient and more profitable ways to complete their projects. With smart city designs and great immersive reality potential, the future is bright. Throughout all the variations, one common thread remains. Construction agencies will strive to create exceptional experiences through the end products.