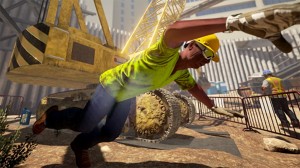 Not only does it stimulate a fresh rush for the gaming industry, but also virtual reality technology will likely revolutionize safety training in the dangerous world of construction.
One in every five worker deaths happen in the construction industry. Over half of the injuries caused are a result of human error, because there's never been a safe way to train for ultra-hazardous situations… until now.
The immersive reality presents impressive potential for significant safety improvement. Imagine having the ability to rehearse extremely dangerous situations without any risk. Imagine designing buildings and walking through them… before they're built.
THE DANGERS OF CONSTRUCTION INDUSTRY GIGS
Swinging cranes, heavy supplies, and loud noises don't exactly paint a picture of safety. In addition to the obvious dangers, there are invisible threats such as handling electricity or maneuvering hazardous materials. Every project site presents an extremely high-risk environment. Until now, there have never been effective ways to bring down that huge rate of human error.
While construction industries are crucial to economic growth, there remains an excessive amount of inefficiency. For laborers with a 45-year career, there's a 1-in-200 chance of death. Recent OSHA studies provide a breakdown of top causes for the looming death rate. The following are known as the "Fatal Four" in construction:
Falls – 40%
Electrocutions – 8.2%
Struck by objects – 8.1%
Caught-in-betweens – 4.3%
One in ten construction workers are injured each year. Several injury statistics are quite surprising. For example, while falls comprise the top 40% of construction injury, standard fall protection is also the most violated of OSHA rules. If death rates weren't scary enough, workers who stay in for over 40 years have a 75% chance of incurring a disabling injury.
Working in construction is deadly, and most occupational incidents result from human error. A startling 60% of all incidents happen within a new recruit's first year. This statistic screams of needed reform in construction training. Safety can be improved and human error largely eradicated with safer methods of situation rehearsals.
VIRTUAL REALITY MEETS CONSTRUCTION TRAINING
An intervention has been needed to combat the alarming lack of industry safety. The invent of virtual reality is that solution. It gives field workers the opportunity to practice complex and risky operations without fear of destruction. Electrical hazard cognition is a primary example because it's invisible. Electricity raining has always been a struggle, evident in the high electrocution rates.
With the immersive technology users can see, hear and interact within an alternate environment. In this way trainees have the ability to practice highly-dangerous situations with zero risk. Virtual reality allows object manipulation, engagement with artificial intelligence along with perceptual and behavioral assessments, all within the safe and forgiving alternate reality.
Construction learning programs can be designed to help trainees recognize complex situations while building knowledge and skills of correct procedures. Developing training programs include modules for safety and hazard lectures, hazard identification games and student assessment evaluations. As VR designs advance, engineers' ability to predict and provide rehearsal for dangerous scenarios will grow.
Similar to computer gaming, the sophisticated software recreates environments with multiple theatre modes, which can be used for training scenarios. Users enjoy movement through space and interactive environments. There are 180-degree iDomes for individual training and 360-degree modes for group scenarios.
THE FUTURE OF VIRTUAL REALITY
Virtual reality will significantly lift training barriers. It presents high hopes for a more efficient industry.  Experts predict the technology will become as common in construction as hammers and nails. Construction workers can enjoy perfect safety as they develop structural skills in VR training. Throughout the year, experts predict the technology will explode throughout with countless new uses and adaptions.
Companies such as Facebook, Google and Microsoft are constantly exploring new ways to fully utilize it. Emerging headsets, interactive hand controllers and movement sensors will revolutionize the entire construction process. Designers, contractors and contractors will be able to make better decisions, earlier on.