Creating Your Own Unique and Luxurious Bathroom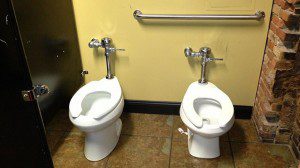 When building a business, every detail must be considered. From the glasses you use to the font on a menu, everything affects the eating experience of your customers. Like every commercial bathroom, a company's bathroom should be appealing to customers. A bad experience with the john can totally destroy a restaurant's image.
In a bid to help business owners build appealing bathrooms, we put together a list of things to look for when designing your commercial bathroom. By following these simple tips, your customers' bathroom break will be a memorable one.
1.  Keep it Clean
Other than a poor meal, nothing ruins a restaurant experience like a crappy and dirty bathroom. From the customer's perspective, it looks bad. They'll likely consider, "If the bathroom is like this, then how untidy will the kitchen be?" Not the thoughts you want running through your guests' minds.
Commercial bathrooms are expected to be flashy to some extent. One of the joys of leaving the home is not having to clean up after yourself. Restaurant customers are already in this mindset with others preparing their food and clearing their dishes.
Ensure an excellent customer experience and image by making sure things like damaged urinal partitions are replaced and stall partitions are kept in pristine condition. Creating a maintenance schedule will go a long way in making your washroom sparkle.
2.  Be Creative
Some commercial bathrooms are selfie hotspots because of the creativity they wield. Uniqueness is an artistic creation of creativity. Anyone can do it. A unique bathroom will be so astonishing that customers can't help but talk about it. Take, for example, the Portland's Ground Kontrol adorned their bathroom with a Pacman Mosaic and neon lighting. Who would forget that quickly? Appealing bathrooms usually an innovative edge that makes them memorable.
3.  Light it Up
It's an awkward experience stepping into a restroom blasting with white fluorescent lights like an interrogation room. Customers are there to freshen up and be at ease. Grant your guests a more pleasant and comfy experience by fixing simple fixture and soft lighting. These make the bathroom more tranquil and peaceful.
4.  Let the Music Play
Honestly speaking, most people don't like using restaurant bathrooms. Make guest's experience a little less frustrating by introducing music into the flow of things. Not sure what to play? For a start, you'll want to avoid anything too rocky – it should be a calming experience.
5.  Stay on the Theme
If your restaurant or business has a general aesthetic or theme, extending the consistency to your bathroom will be of great advantage. Using Charleston Distilling Co. in North Carolina as a case study. They create bit whiskey barrels to house their washrooms. The concept won them an award.
You don't need giant commercial bathrooms. You could create something extraordinary from restroom partitions. Restroom partitions are nice ways to style your bathroom to suit your restaurant's theme.
6.  Understand Your Customers
For restaurants, one of the best ways to connect with your customers is by following the community trend. A matching example is Habana Outpost in Brooklyn, which plays to the community sensibilities. The café knows that its guests are all about the environment and they played this down to the toilets. The toilet flushes with rainwater that is accumulated in a large outdoor tank.  If you are a bar that plays and have rock lovers as quests, why not decorate the wall of your bathroom with some rock stars. This keeps the vibe flowing.
Incorporating Luxurious Technologies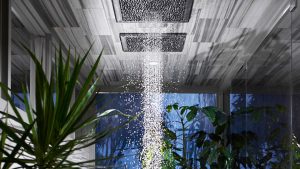 As the world around you modernizes, why not make some comforting changes to your home? While public restrooms and commercial bathrooms with toilet partitions may have limited accouterments, in your home, the bathroom is the  ultimate place of peace and comfort. The bathroom gives you much-needed alone time to refresh and rejuvenate.
With the technological advances available, why not have a little fun and make your personal life more luxurious? Check out these exciting innovative bathroom additions that will take your morning experience to the next level.
All- Inclusive, High-Tech Toilet
When it comes to pampering, what better place than your toilet? This tech-savvy potty has all the extra perks that you never knew you always wanted. When the winter months roll in and your bare skin in exposed, the last thing you want to sit on is a cold toilet seat.
Well, say goodbye to that uncomfortable experience. We solved that problem and more. With this MH Connect+ Toilet by Toto, you'll enjoy a heated seat, warm water washing and warm air drying, pre-misting system, automatic deodorizer, night light, user memory and even a personal remote control!
In addition to all that, you don't even have to clean it! This high-tech toilet utilizes a self-cleaning electrolyzed water and disinfectant to wash up before and after each use. Say goodbye to your Cinderella days scrubbing dirty toilets on your hands and knees.
Dance-In-The-Rain Shower Ceiling Panel
Dancing in the rain has always been a romantic gesture in our minds. It doesn't happen often and typically we're too worried about our nice clothes getting wet to enjoy the sentiment. Say goodbye to all that nonsense and enjoy the romance in the comfort of your own shower!
In efforts to make our lives more magical, the Real Rain Shower by Kohler pours "rain" all over you at a slow-building pace through 775 nozzles. There's a reservoir that literally holds water in your ceiling.
The "Real Rain Shower" is a 19"x19" ceiling-mounted panel that flows water at two gallons per minute. The drops are meant to imitate a rain shower in both size and intensity. Enjoy the pitter-patter of a warm shower storm and bring back the sentimental magic.
Sing-In-The-Rain Shower head Speaker
If you're passionate about your karaoke shower time, this is the bathroom tech addition for you. Singing in the rain was never easier than with this Moxie Wireless Speaker Showerhead by Kohler. The technology used for your Bluetooth wireless speaker meets a shower head base in this wonderful design.
With 60 angled nozzles this shower head pushes out water at 2.5 gallons per minute. If you need to recharge or reposition the speaker element, this water-resistant piece can easily pop out and back in. The battery-life will play up to seven hours of music from the Bluetooth connection of your smartphone, tablet or computer from up to 32 feet away.
Cozy Toes NuHeat Floor Heater
On a chilly morning in a Chicago bathroom, you creep out of your bed and tip-toe barefooted to the bathroom shower. It's freezing and from the tips of your toes, you're shivering. Shiver no more, with a Nuheat Signature Thermostat and Shower Floor Heating System.
This is the first Wi-Fi enabled floor heater that solves the bathroom floor shivers. It has a 3.5" screen with 320×480 pixels. The touchscreen thermostat works with tile and stone flooring, heating up to 82 degrees Fahrenheit. Like the shower head speaker, the floor heater will also connect to your mobile smart phone or web browser.
Drawing Inspiration From Ultra Luxury Bathrooms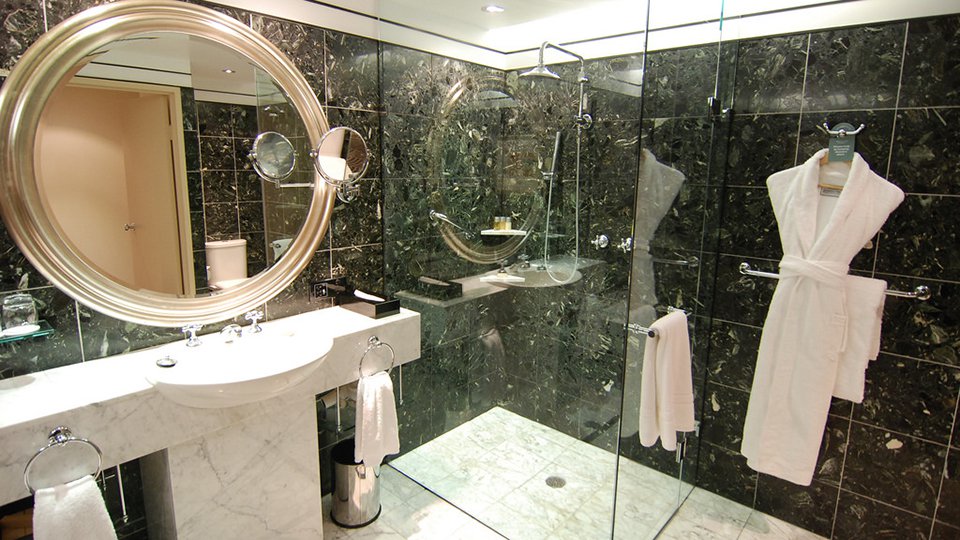 Do you want to enjoy a luxurious lifestyle? If you've ever visited a hotel bathroom (most of us), you likely felt pampered and spoiled by the luxurious design.
What makes a hotel luxurious go beyond the aesthetics and hospitality? Underlying high-tech gadgets are paving the way in the hotels and can be found in the rooms and restrooms of your high-end, 5-star hotels.
Surprising Luxury Bathroom Features
Many hotels build commercial bathrooms that are go outside of the box and exceed customers' expectations. Great hotels go great lengths to impress their guests. They want them to come back. More and more leading hotels are implementing fun and fascinating tech gadgets to their room and commercial bathrooms. This makes what would be an ordinary experience, rather exciting for visitors.
We present you with the best gadgets you'll likely find in the luxurious bathrooms of your most-enjoyed hotels. These cool gadgets set the tone of your stay and make you want to come back.
Check these out for some fun and great ideas that you could even try in your own restroom!
Automatic Heating and Cooling
Many 5-star hotels have installed body temperature detection systems in their commercial bathrooms. Once you step into the shower, the temperature system adjusts to find the perfect and comfortable settings for your body. It runs on automatic control, so you don't have to adjust it manually.
Smart Glass
Can a shower glass be smart? Yes! With a simple switch, a transparent shower glass wall becomes opaque. Just the fun of trying it to check the effect leaves a memorable experience. It provides you with the privacy you deserve.
Heated Floors That Warm Your Feet ( and heart)
This tech gadget will make you forget your hotel slippers when you visit a luxurious hotel bathroom. A heated bathroom will make you forget and escape that chilly first step into a bathroom. As usual, a five-star hotel bathroom sets it to a comfortable level. It is rather warm and inviting, making you more relaxed.
In-Mirror TV
Who could have thought it possible to watch a movie or show on a mirror while soaked away in the bathtub in any commercial bathroom? Well, with the futuristic TV screens that are integrated into mirrors, you can watch anything in the mirror. The TV is totally invisible when it is turned off, allowing guest the complete mirror function. This tech is an out-of-this world idea for maximum bathroom enjoyment.
Heated Toilet Seats
Luxurious bathrooms in Japan where the first to implement the heated toilet seats and bidet toilets. If you've never used it before, it might sound stupid, but after the first trial, you would definitely love it. This water spraying bidet toilets and heated toilet seats are common in Tokyo but trust me, American 5-star hotels have it too.
You don't get to spoil yourself lavishly in luxurious hotels all the time, but when the chance comes, enjoy it to the fullest. Discover the finest tech gadgets and features that will make you forget your stress. For hotels that want to attain the luxurious status, it's time to go off the wall and impress their guests.