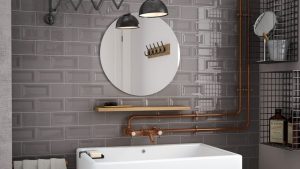 Many people dream of a bathroom with maximum comfort that befits their personal style. However, many settle for less because the budget for such is a nightmare. You can make your dream a reality without spending more than you budget.
The solution is bathroom remodeling. A mid range bathroom remodel is a great investment. Instead of thinking of a new bathroom, why not remodel? You will be glad and joyous that you updated your bathroom.
Here is how to get the bathroom of your dream without straining your pocket:
HAVE A PLAN AND STICK TO IT
Bathroom remodeling leaves no room for improvisation. Before you proceed, think careful about how you will utilize the space, the materials and features you want and most importantly, your budget.
It is that you spend up to six months planning and evaluating before beginning work. Doing this, you have a perfect picture and guideline for your decisions. Once the process begins, stick to the plan, no room for mind changing. Alterations to the initial plan will only add costs and make you spend more than you budgeted. If you are poor at planning, hire a designer. A professional designer will make sure installers and contractors work in an orderly fashion.
STICK TO THE OLD FOOTPRINT
Sticking to the same footprint and installing new plumbing fittings near existing plumbing pipes, save you demolition and reconstruction costs. The dust and debris produced during the remodeling will be reduced too.
PRIORITIZE LIGHTING
While multiple shower heads and heated floors are fabulous additions to a bathroom remodel, few features make a bathroom satisfying than beautiful lightning. Funny enough, lighting installation cost only a fraction of the price of other amenities.
If you plan to shop for bulbs, then you have to pay attention to lumens. Lumens is the amount of light you get from a lightning bulb i.e. the brightness. For this bathroom task, the lightning research center recommends:
Toilet – 45 lumens
Sink – 450 lumens
Vanity – 1,680 lumens
CONSIDER VENTILATION
Bathroom ventilation is vital for removing excess humidity that makes bathroom slippery, fogs mirrors and enhances the growth of mold and mildew. Mold control and humidity are important for maintaining a healthy bathroom. Mold remediation is costly plus it can cost you your cabinets and painted finishes.
STORAGE IS ESSENTIAL

Bathroom storage is usually a challenge because many don't think about it until the toilet, sink, and shower are installed. After these installations, there is little space left for storing toilet paper, towels and body products. Here are tips to create storage space;
THINK VERTICALLY: The upper wall space in bathrooms are often underutilized. Spaces between walls create are potential storage spaces for holding soaps and toiletries. Fit overhead helves to use the blank wall space.
MOVEABLE STORAGE: Inexpensive baskets set on the floor are trendy towel holders. You can also install floor-stand coat racks to hold wet towels, clothes, and bathrobes.
Plan the Re-design of Your Bathroom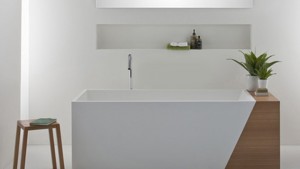 As summer comes to a close, we'll slowly migrate indoors to escape the fall breeze. Preparing for winter hibernation, home improvements and renovations become more appealing. A home should be both functional and relaxing, a place of production and peace. Bathrooms are especially important in serving these dual roles. In the mornings, the washroom is a place of power and presentation. Improving your bathroom can be a powerful staging tool to impress potential buyers!
Daily preparation requires multiple bathroom functionalities. However, as the sun sets, the space should also accommodate your need for comfort and de-stressing. Here are some handy ideas for creating the perfect bathroom ambiance for your home.
Design A Beautiful Space
Focus on designing an inviting atmosphere by choosing joyful furnishings and furniture. Give the space an open feel by utilizing the square footage smartly. Consider a fitted vanity cabinet above the sink. Many manufacturing companies will provide a custom fit for your specific dimensions. See fitted bathroom furniture for large and compact options with a broad range in style designs. Whether you're looking for a look of luxury, nature, bold, modern, warmth or more distinctive feels, let your imagination run wild because options are available. The right furniture can provide serene organization for all of your daily needs.
Choosing the right commercial wood or metal door can increase noise privacy and add decorative effects. Consider the wooden residential doors which come in 14 finishes and color varieties. Notice how each color makes you feel in relation to what you want out of your bathroom time.  Utilizing the earth tone colors for doors and natural stone tile for floors will help to create a Zen-like atmosphere.
Explore the many options for an upgraded bathroom by varying your mirror design. With LED lighting see yourself more clearly for shining hygiene and cultivated elegance. There are also several options to consider for size, frames and the number of mirrors on the wall. For the instant feel of a larger space with depth, hang mirrors at an angle to reflect each other.
Using only transparent curtains works well for adding a large-space feel and additional lighting. As a bonus, drops of water are contained better with this material type. For an old-timey feel of luxury, look into freestanding bathtubs. The trend is resurfacing into modern home design. These standalone tubs are perfect for long soaks with aromatherapy salts and oils. Light a few candles for enhanced design and ambiance.
Installing heated towel railings is another great idea that serves both practical and decorative purposes. For minimum cost and effort, you could add these heating rails to provide constantly cozy towels. With chrome and other modern finishes, the heating design can also serve as a decorative focal point. Your guests will be thrilled with the additional convenience of warm towels.
While you're focused on the temperature and feel, heated flooring has dropped in price and become much easier to install. Provide more at-home comfort and say goodbye to the cold floors. For further, more complex and accommodating bathroom designs, checkout the layout possibilities for multiple installments.
Remember, the restroom should serve functionally and purposefully in meeting all of your daily needs and desires. Take the time to explore the above options to design the right space for you.
Get Creative With Storage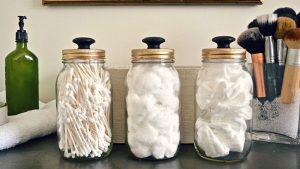 It's nearly time for spring cleaning, and you've been avoiding the bathroom. There's clutter and disorganization that you just don't want to mess with.
If your bathroom is small and cramped, it's especially easy to get overwhelmed by all the little knick knacks that won't fit anywhere. Spring cleaning can be much simpler if all the personal little items have a home.
Whether your bathroom has built in storage or not, there are plenty of creative and adorable ways to utilize every square inch of space. Before that cluttered stress builds into a headache, check out these fun ideas for a tension-free spring cleaning.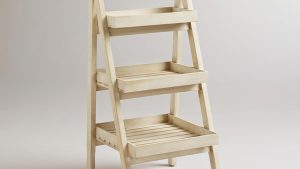 Storage Ladder
This nifty piece of furniture provides various-sized shelves for a variety of convenient storage options. You can fill each shelf with a basket for towel and toilet paper storage. It would fit great along a narrow wall between the bathtub and the toilet. Additionally, it could easily double for storage in any other room of the house.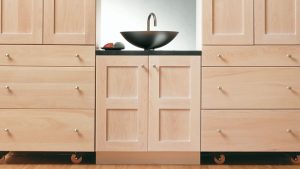 Additional Cabinets
Check out the measurements of the space in your bathroom if additional cabinets sound good to you. Whether it's below the sink, above the counter, or on a side wall there's a cabinet that can fit. Once you have the needed measurements, it's simple to search online through various styles, wood types and designs.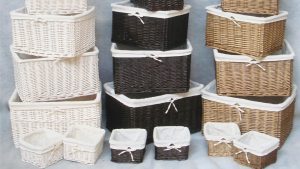 Wicker Baskets
Stack them beside your sink, by the toilet or tub. They're both elegant and convenient. There are endless styles and designs to choose from as well as sizes. They provide easy, out-of-the-way access to needed toiletries. A large woven basket also works great below a wall-hung sink.
Peg Rail
When there are shared bathroom spaces, towels and other bathroom items can get messy. Consider drilling some holes for a metal or wooden peg rail. It will provide a great towel drying option and works great for additional shelving space above.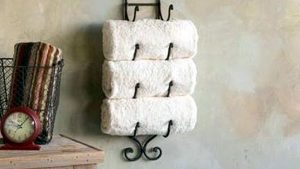 Towel Tower
There are a several options and variations for this depending on the open wall space and existing furniture options. Two great tower options for clean rolled or folder towels are utilizing a stacked on the wall or cubed cubby holders along a cabinet.
Recycled Decorations
Try using a recycled wine crate or wired milk carton. You can always use a coat of stain to match it to your current bathroom furniture tones. By reusing these types of vintage pieces, you'll create an eco-friendly, contemporary bathroom. Not to mention adorable storage options.
Hanging Shelves
Anywhere that there's wall space, there's also storage space. When your bathroom is cramped and you want to keep the flooring clear, try the wall. You can create storage with hanging baskets, quirky shelves, or simple towel hooks anywhere.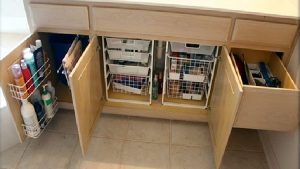 Inside Job
When you're searching for space that doesn't exist, try rethinking the cabinet space you already have. There's likely additional space that could be utilized with a bit of creativity. Try installing cabinet organizers. From jewelry separators to lotion and body cream shelving, there are tons of options. Clear off your counter and create little homes for your toiletries.
Keep Working on Your Renovation Game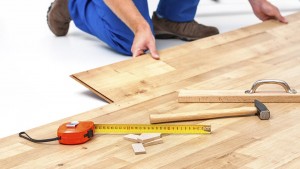 The kitchen feels out of date, the bathroom needs fresh flooring and the living room feels too small: you're itching to rip stuff out and get right to work. However, before delving into bigger renovation projects set up a clear game plan.
Here are some tips to help smooth the process along to an excellent, timely finished product:
Budget First
Make sure you do your homework ahead of time and look for the best prices for each part. Go crazy with window shopping, free quotes and cost-comparisons. Nothing is worse than a half-finished project because you ran out of funds. Also, tack on an additional 20% for the inevitable issues and fees.
Research More
Clip magazine photos, get estimates, find designers you love, tour shops, explore latest trends and create a mental or physical vision board. Especially if you plan to hire contractors and laborers, it's important to have a clear image of your expectations. If the project feels overwhelming, consider hiring a reputable designer to help guide you through it.
Establish a Timeline
If you're considering a bit project, it's helpful to establish the projected start and finish dates. For projects like your kitchen or bathroom, sequencing and deadlines comes more into play. If you are hiring additional workers, it will be important to give them projected dates.
Be Realistic
While the gorgeous gourmet kitchen or marble bathroom may be calling your name, it's important to keep your dream within your budget, resources and existing home potential. However, if it's your childhood dream to have an extravagant design, consider moving the process along in stages of manageable bites.
Pare Down
Now that you've committed to renovating your house, it's time to clear out the junk from the past. Additionally, the space will naturally become crowded with the supplies, tools and working bodies. There's no sense in having a stack of old coffee mugs or digging through mismatched Tupperware. Put it in a box, behind closed doors and out of the way. Then later on you can sort through Goodwill and trash options.
Get Advice
Even if you can't afford to have a designer carry you through the process, it's worth the time and effort to at least get professional advice. At the very least, show your plans to close friends and family who may have experience with past renovations. Their objective viewpoint may save you thousands of dollars, even if it's just helping you understand that you don't actually need the six-foot bath.
Ask for Help
Call your friends, family or neighbors who may have hidden skills, helping hands or moral support. Whether it's a load of laundry, an extra shower or a place to sleep, most people are happy to help. Don't be afraid to reach out. It's also a good idea to give neighbors a heads up about noisy projects.
Safeguard Kids and Pets
Even small construction areas can be really dangerous for young ones and furry friends. Power tools, hazardous materials, saws and other sharp objects lying around could easily lead to an unwanted emergency. Know where they're at all times and stay on hyper alert so they don't drift in danger zones unnoticed.
Stay Future-Focused
Trends are always changing, and you don't want to need a fresh renovation two years later. Instead, seek high-quality, classic designs that won't grow stale. Consider black and white for a consistently modern look or earthy tones if you enjoy the rustic look. Don't forget you can always change styles with colorful pillows and accent pieces.
Have Fun
At the end of the day, you're transforming your space into something more enjoyable and livable. Don't let the details stress you out and take the fun out of the project. Keep the vision clear in your mind and focus on the enjoying the results.