What to Consider Before Choosing a Material for Commercial Bathroom Stalls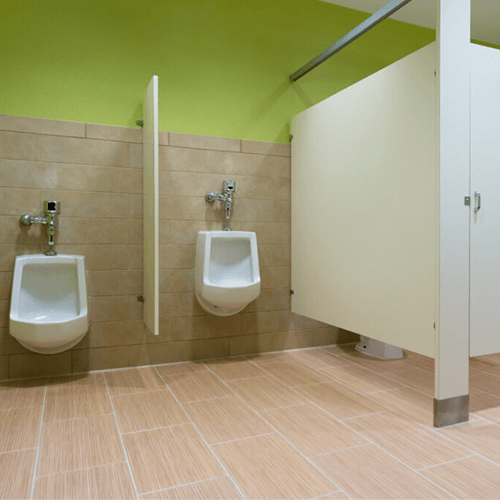 When designing your commercial bathroom, bathroom stall materials are often overlooked. For many people, the only purpose of these dividers is to create privacy, making aesthetics the primary factor. However, it's a good idea to evaluate the differences between all bathroom partition materials before you pick a design.
Each material has its own strengths and weaknesses, making some materials better suited to your needs.
What Are Bathroom Stalls Made From?
There are many bathroom partition materials to choose from, which can make it challenging to decide which option is right for you. Because your bathroom is unique, you must understand your project's goals before moving forward.
The most common bathroom stall materials include the following:
Powder coated steel
Plastic laminate
Solid plastic
Phenolic core
Stainless steel
Below, we'll explore some of the benefits and drawbacks of various materials.
What to Consider When Choosing Your Commercial Bathroom Stall Material
Choosing your bathroom stall material can be much easier when you consider your goals for your bathroom spaces. Some of the factors you'll want to think through include:
Durability and Strength
When designing a bathroom, you want a sturdy bathroom partition that will hold up against any stress placed on it over a period of several years. A high-quality material will be able to withstand scratches, dents, or other impactful hazards.
Stainless steel bathroom stalls are visually pleasing but may be less resistant to dents and scratches than solid plastic. However, stainless steel partitions resist fire and smoke, helping them maintain a high-quality appearance.
Fire Classification
In the United States, fire safety and construction standards are regulated by the National Fire Protection Association (NFPA). Following their standards is crucial to ensure the safety of your patrons.
Fire outbreaks are more common than you might expect in commercial bathrooms, so following fire regulations is crucial. Stainless steel and powder-coated steel are both fire-resistant materials, which can help you to protect your investment.
Required Maintenance
Stainless steel bathroom partitions can be sanitized using many different chemical cleaners. This helps prevent damage and promotes a hygienic bathroom environment, regardless of the amount of traffic that may come through.
Solid plastic bathroom partitions are also ideal for high-traffic areas, such as schools. Plastic materials are highly resistant to scratching and can withstand hot, cold, wet, and dry environments. They are more durable than other materials, giving them a longer lifespan.
Cost
Bathroom partition prices vary greatly based on the material. For example, powder-coated steel requires more maintenance and the lifespan is low. In contrast, phenolic HPL panels are more expensive but require minimal maintenance and are highly durable.
Divider Thickness
Commercial bathroom stalls must be thick enough to provide adequate privacy. Depending on the material you choose, the thickness can range from half an inch to one inch thick. Investing in thicker partitions is ideal for businesses because it creates a more comfortable environment and a safer bathroom experience.
It's important to note that the thickness of the partition may influence how many stalls can fit inside your commercial bathroom.
Hardware Options
The hardware you choose is crucial to producing high-quality bathroom partitions. Your hardware should be strong, clean, and attractive.
Privacy
Any bathroom stall must have the ability to provide privacy. A private bathroom will have reliable locks and enough space between partitions, helping your patrons feel more comfortable using the facilities.
Space You Have
Depending on the overall size of your space, you may have to be a little creative with your layout. After all, you'll want to ensure you have enough room to accommodate all of the traffic moving through your commercial bathroom facilities.
You may need to choose smaller partitions if your space is limited. This is often the case in older buildings with a smaller footprint.
After determining how much space you have and what fits within your budget, you can choose the number of stalls that will fill your commercial bathroom.
Choose the Best Bathroom Partitions for Your Business
At Fast Partitions, we sell high-quality bathroom stalls that will fit your budget and any commercial space. Contact us today to learn more about our materials or to schedule an installation.