What Are the Strongest Toilet Partition Mounting Styles for High-Use Restrooms?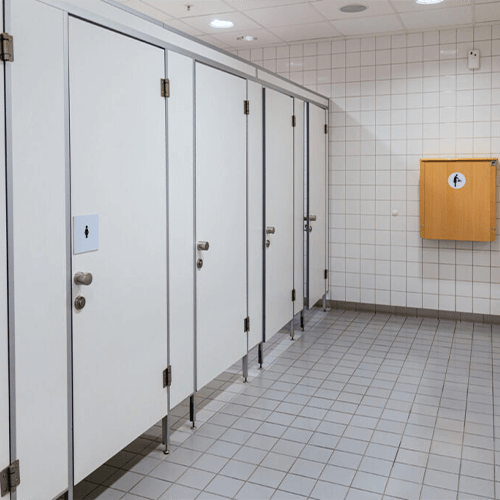 Whether for a public bathroom in a retail environment or in an office, you need your bathroom stalls to be durable and reliable. A lot of how well your toilet partitions fare comes down to the mounting style. Which one is right for your toilet partitions?
There's no single answer to that question. Your partitions need a toe clearance of at least 9 inches above the floor to meet Americans With Disabilities Act (ADA) requirements regarding mounting style. However, all partition designs incorporate this requirement regardless of mounting style.
The four most common types you'll see in public washrooms are:
Floor anchored
Ceiling hung
Floor to ceiling
Headrail braced
Each presents a unique style and has its own installation and hardware requirements. You can make the right choice for your toilet partitions by carefully evaluating the pros and cons of each mounting style.
Floor-Anchored Toilet Partitions
Floor-anchored toilet partitions are some of the most common choices. They're a simple and straightforward option that meets all of the requirements for bathroom stalls. Installation, in particular, is very straightforward and fast, minimizing any downtime to your facilities.
This mounting style attaches to the floor and walls without any headrails or ceiling anchors. This can make them a bit less rigid than other options, but they are still strong and sturdy.
The lack of rigidity can cause slight wobbling. This is something you wouldn't want for an ADA-compliant stall with a grab bar. However, this issue is avoided as most ADA stalls are placed at the end of a row, and the grab bar is firmly installed on the wall.
Ceiling-Hung Toilet Partitions
Ceiling-hung toilet partitions are another option that many establishments choose. Instead of being attached to the floor, these partitions are anchored to the ceiling and walls. This leaves a completely open space in the clearance of the partitions.
Many establishments choose ceiling-hung toilet partitions for their style. It can make a washroom seem to be more luxurious overall. The lack of any floor attachments also makes mopping and cleaning floors much easier.
Ceiling-hung partitions depend on the ceiling for strength; therefore, the type of ceiling determines how solid they are. Not every type of ceiling is suitable for this installation, but it's a great choice whenever it's viable.
Floor-to-Ceiling Toilet Partitions
Floor-to-ceiling partitions provide maximum strength. They attach to the floor, ceiling, and walls to provide a very rigid construction. However, they also require more intensive installation than other options.
If you want your facility's bathroom stalls to last as long as possible and stand up to anything, this is the choice for you. A little extra time spent during installation will go a long way to ensuring that no reasonable amount of rough treatment will damage your stalls.
Headrail-Braced Toilet Partitions
Headrail-braced is another mounting style that delivers exceptional strength. However, it also reduces installation requirements, making them more suitable for a wider range of situations.
These bathroom partitions attach to the floor and walls, much like floor-anchored partitions. However, they have an additional headrail that runs along the top of all partitions and is attached to the wall at either end.
The headrail provides increased rigidity and stability without having to anchor stalls to the ceiling. This means it's suitable for washrooms with any ceiling type, and you won't have to carry out the exact room height measurements necessary for floor-to-ceiling partitions.
Which Partition Style Is Right for Your Facility?
If you have high-use facilities, then your two primary concerns are going to be cleaning and maintenance. Ceiling-hung toilet partitions are an attractive choice due to how easy cleaning the floor will be. In high-traffic facilities, this can have a major impact.
However, going for maximum durability is another consideration. Floor-to-ceiling delivers the best in strength to make sure that your stalls last. If your ceiling type isn't suitable, headrail-braced partitions provide a great alternative.
Toilet Partitions in Any Mounting Style
Fast Partitions provides toilet partitions in a wide range of designs, mounting styles, and finishes, along with hardware and other accessories. You can find the perfect stalls for your facility by reaching out for your quote today.