The Ultimate Guide to Laminate Toilet Partitions by Fast Partitions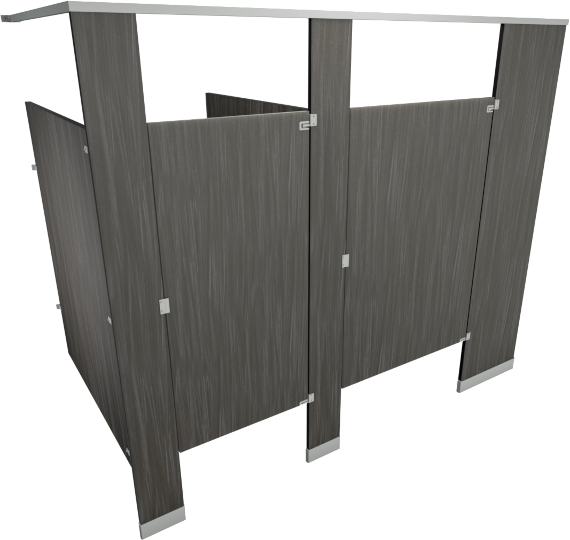 When it comes to restroom facilities in commercial spaces, aesthetics, durability, and functionality are of utmost importance. Fast Partitions offers a comprehensive range of Laminate Toilet Partitions that not only meet but exceed these expectations. In this blog post, we'll delve into the world of laminate toilet partitions, exploring their features, benefits, and the wide array of options available from Fast Partitions.
Why Choose Laminate Toilet Partitions?
Laminate Toilet Partitions, often referred to as High-Pressure Laminate (HPL) partitions, are an excellent choice for a variety of commercial settings. They provide an attractive and cost-effective solution for creating private restroom spaces in offices, churches, schools, and more. Here's why they are an exceptional choice:
Value-Focused Pricing: Fast Partitions' HPL toilet partitions offer a wood-grain style without breaking the bank. This cost-effectiveness makes them a popular choice for budget-conscious projects.
Versatile Color and Pattern Options: With a vast selection of colors and patterns available, you can customize your restroom space to match your interior decor or branding. Whether you're aiming for a classic, modern, or unique look, there's an option for you.
High-End Features: These HPL partitions are equipped with advanced features that enhance both functionality and aesthetics.
The Most Advanced Toilet Partition Features
Their range of laminate toilet partitions includes products from industry leaders such as ASI (Accurate Partitions) and Bobrick. Let's explore some of the outstanding features:
1. ASI MoistureGuard Laminate:
Fast Partitions offers ASI MoistureGuard laminate, which comes with an industry-leading 5-year warranty. This laminate boasts seamless beveled edges and enhanced moisture resistance compared to standard laminates. It's an excellent choice for restrooms where water exposure is a concern.
2. ASI Standard Laminate:
If you're looking for a wide range of color options, ASI's standard legacy laminate is your go-to choice. You'll find one of the broadest color palettes available in the market. This allows for extensive customization to match your design preferences.
3. Bobrick AccentSeries HPL:
AccentSeries HPL from Bobrick features a stainless steel edge trim that not only adds a premium aesthetic to the laminate partitions but also acts as a heat sink, protecting the panel and door edges. This combination of form and function is a win-win for your restroom.
4. Bobrick MetroSeries HPL:
Fast Partitions offers Bobrick's MetroSeries HPL partitions, which are a remarkable 20% lighter than traditional metal partitions. This reduced weight makes installation and maintenance easier while still providing durability and strength.
5. Bobrick ClassicSeries HPL:
Exclusive to Special-Lite, Bobrick's ClassicSeries HPL includes pilaster shoes that are anodized after fabrication, ensuring supreme corrosion resistance. This feature is crucial in high-traffic restrooms.
6. Bobrick TrimLineSeries HPL:
Fast Partitions presents Bobrick's TrimLineSeries HPL, one of Bobrick's premium lines. These partitions come with a 5-year warranty, stainless edging, and steel-core stiles, ensuring their longevity and durability.
7. Bobrick DesignerSeries HPL:
Bobrick's DesignerSeries HPL incorporates steel-core stiles for added strength and structural rigidity. These partitions are a perfect choice for high-traffic areas where durability is paramount.
Additional Information
Fast Partitions provides a wealth of additional information to assist you in selecting the perfect laminate toilet partitions for your project. Their resources include color charts, elevations, and specifications, allowing you to make informed decisions about the color, design, and features that best fit your space.
What Is Plastic Laminate?
Plastic laminate, also known as High-Pressure Laminate (HPL), is a composite material used in toilet partitions. It consists of a particle board core covered by a decorative surface protected by a melamine overlay. This protective layer ensures the durability of the laminate, making it suitable for high-traffic restrooms.
What Is Plastic Laminate Made Of?
Plastic laminate is made from a polymer-matrix composite. It begins with a decorative kraft paper that is impregnated with thermosetting resins, typically melamine or phenolic resin. This impregnated paper is then polymerized under high pressure and heat, resulting in a durable, wear-resistant material. The term "high pressure" refers to the intense force applied during the production process, typically between 1,200 to 2,000 psi, ensuring a strong and robust final product.
Fast Partitions offers a wide selection of laminate toilet partitions that combine affordability, durability, and customization. With a spectrum of color and pattern choices, as well as a range of high-end features, these partitions are an excellent choice for creating stylish and functional restroom spaces in commercial settings. Whether you prioritize moisture resistance, a vast color palette, or premium aesthetics, Fast Partitions has the solution that fits your needs.