The Advantages of Floor-Mounted Bathroom Partitions for Your Commercial Restroom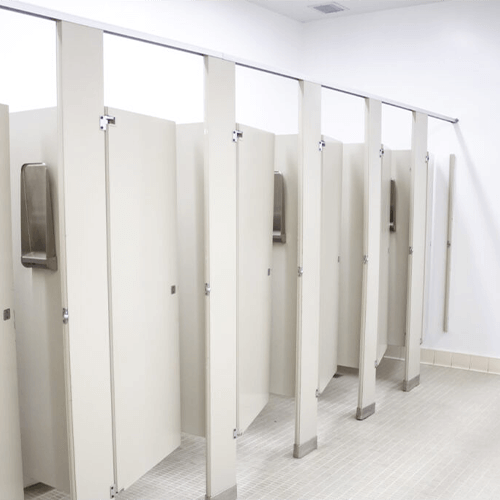 When designing a commercial restroom, the choice of bathroom partitions is an important consideration. Not only do partitions offer privacy to users, but they can also impact the overall aesthetics and functionality of the space. One option that has become increasingly popular in recent years is floor-mounted bathroom partitions. Here are some advantages of floor-mounted partitions and why they may be the best choice for your commercial restroom.
Durability
One of the main advantages of floor-mounted bathroom partitions is their durability. These partitions are designed to withstand heavy use and can last for many years without needing replacement or repair. They are secured directly to the floor, which provides stability and prevents them from shifting or wobbling over time. This means that they can withstand the wear and tear of frequent use in a commercial environment.
Privacy
Privacy is a crucial consideration in commercial restroom design, and floor-mounted partitions offer superior privacy compared to other types of partitions. Because they are mounted directly to the floor, there is minimal space between the partition and the floor, which helps to prevent any visual or auditory intrusion from adjacent stalls. This can make users feel more comfortable and at ease in the restroom, which can lead to a better overall experience.
Customization
Floor-mounted bathroom partitions are highly customizable and can be tailored to match the overall decor of your restroom. They are available in a wide range of materials, finishes, and colors, which allows you to create a unique look that fits your brand or aesthetic. Customization options include everything from the material of the partitions to the color of the hardware and the style of the doors. This level of customization can help to create a cohesive look throughout your restroom and can even enhance the overall ambiance of the space.
Accessibility
Floor-mounted bathroom partitions are an excellent choice for restrooms that need to be accessible to users with disabilities. They offer ample space and maneuverability for wheelchairs, walkers, and other mobility devices, and can be designed to comply with ADA requirements. Additionally, they provide a stable and secure surface for users to grab onto when they need to steady themselves.
Maintenance
Floor-mounted bathroom partitions are easy to maintain and keep clean. Because they are secured directly to the floor, there are fewer crevices or gaps where dirt and debris can accumulate. This makes them easy to wipe down with a damp cloth and helps to prevent the buildup of bacteria and germs. They are also less likely to be damaged or vandalized since they are mounted directly to the floor, making them a low-maintenance option for your commercial restroom.
Versatility
Floor-mounted bathroom partitions are versatile and can be used in a wide range of commercial settings, including offices, schools, restaurants, and retail spaces. They can be configured in a variety of ways to accommodate different layouts and user needs, and can be designed to provide privacy without sacrificing space. This flexibility allows you to create a restroom that is functional and meets the needs of your users.
Choose the Right Partitions
Floor-mounted bathroom partitions offer several advantages over other types of partitions and are an ideal choice for commercial restrooms that require a high level of functionality and user comfort. When selecting partitions for your commercial restroom, consider the advantages of floor-mounted options, and work with a trusted partner who can help guide you through the selection and installation process. Contact Fast Partitions today for more information and to choose the right partitions for your business.