Key Considerations Before Ordering Commercial Bathroom Stalls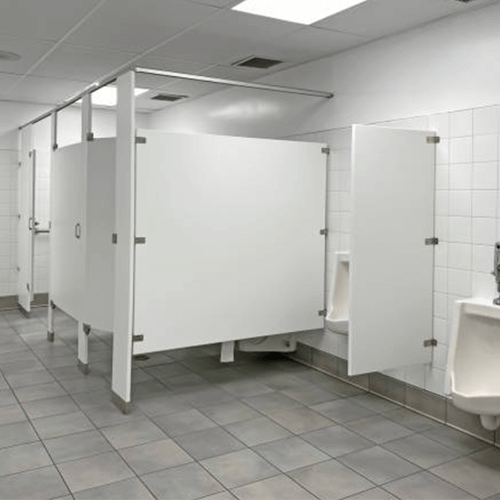 When it comes to designing or updating commercial bathrooms, selecting the right bathroom stalls is a critical decision. To ensure you choose the best products that meet your needs, it's important to ask specific questions about commercial bathroom stalls. In this blog post, we will explore five essential questions to consider before ordering commercial bathroom stalls.
What Is the Layout of Your Bathroom?
The layout of your bathroom plays a significant role in determining the type of stalls that will work best. Some stall designs are more suitable for specific layouts, so it's crucial to choose options that align with your bathroom's configuration. If you're planning to change the layout of your bathroom, ensure that the stalls you select are compatible with the new design.
How Many Stalls and Urinals Do You Need?
Determining the number of stalls and urinals required is essential for planning the size and type of stalls and partitions. The quantity of stalls will impact the overall layout and functionality of your bathroom. While urinals typically do not have stalls, including partitions can enhance privacy and create clear separations. Decide on the number of stalls and urinals upfront to ensure you select the appropriate products for your bathroom needs.
What Types of Materials Are Best?
The choice of materials for your stalls and partitions is crucial as it affects their long-term durability, cost, and overall aesthetic appeal. Consider different options and evaluate their pros and cons. Common materials used for commercial bathroom stalls include powder-coated steel, solid plastic, stainless steel, and phenolic. Carefully weigh the factors that matter most to your project, such as durability, resistance to moisture or vandalism, and ease of maintenance.
What Color Scheme Fits Your Bathroom?
The color scheme of your bathroom significantly impacts its overall look and ambiance. Take the time to consider a color that complements other elements in the space, creating a cohesive and visually appealing environment. While some opt for neutral colors, investing in a thoughtful color decision can enhance the overall aesthetics and make a lasting impression.
How Will the Installation be Handled?
Understanding how the installation process will be handled is crucial when ordering stalls and partitions. Determine if you will require a bathroom contractor or if you will handle the installation yourself. Clarify the installation process early on to ensure proper planning and coordination.
Selecting the right commercial bathroom stalls requires thoughtful consideration and informed decision-making. By asking the right questions, such as understanding the layout, determining the quantity of stalls and urinals needed, evaluating material options, considering color schemes, and planning for installation, you can ensure a successful bathroom renovation or upgrade. Contact Fast Partitions today to explore our range of options and create a superior bathroom experience for your business.