How to Choose the Best Color for New Toilet Partitions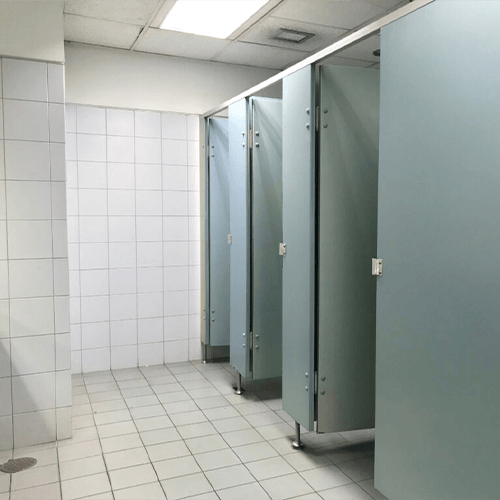 When it comes to selecting a color for your new toilet partitions, there are several factors you should take into consideration. For example, how much traffic do your facilities typically receive throughout the day? How will the new color fit in with the rest of your room design? How does it influence the surrounding space?
These questions are crucial to determining which color best fits your restroom. To help, we've put together this guide on how to choose the best color for new toilet partitions.
Toilet Partition Materials
Before deciding on a color, you must ensure that the toilet partitions you're looking at are well-made. That means taking a closer look at the materials they're constructed from. Examples of toilet partition materials include plastic, laminate, and metal.
Your decision will ultimately be influenced by other factors that are specific to your business. With that in mind, here's an overview of some of the materials you'll frequently find in public restrooms.
Powder-coated metal partitions are affordable and provide excellent craftsmanship and durability. They're easy to install and repair and are typically resistant to fire and rust. They're also an environmentally friendly choice if you're trying to keep things green.
Even better, powder-coated metal partitions are available in many shades, so finding one that suits your chosen color scheme shouldn't be too difficult.
Laminate Partitions
Laminate partitions come in a broad range of colors, offering nearly limitless design possibilities. They're resilient and resistant to moisture and corrosion, so you can be sure they'll last a long time.
Laminate partitions are also known for their varying finishes, which gives you another element to play with when deciding on a color scheme. For example, you could select a wooden or metallic finish to get the look of a material other than laminate without paying the associated cost.
HDPE Solid Plastic Partitions
HDPE is a type of durable polyethylene plastic that's ideal for wet, humid environments. Since it's solid throughout its construction, you won't have to worry about mold growing under the surface where you can't reach it.
Phenolic Partitions
Phenolic partitions are also available in a variety of colors and textures. They're easy to clean and maintain and are reasonably strong. And unlike many of their counterparts, they offer a degree of fire resistance.
With that being said, their layered design makes them somewhat susceptible to mold, so make sure you install them in a well-ventilated area with good humidity control, no matter what color you choose.
Stainless Steel Partitions
Stainless steel partitions are among the most popular design choices around the country these days. In addition to fitting in with just about any bathroom design, they're also extremely durable, resilient, and easy to clean. This combination of attributes makes them ideal for just about any restroom.
What's more, stainless steel partitions are available in a wide variety of colors.
When it comes to selecting a color for your partitions, darker hues are often better for high-traffic areas because they serve to camouflage dirt, grime, graffiti, and wear that would be visible on lighter-colored surfaces. As such, they'll keep your restroom looking better for longer.
On Color
It never hurts to consider color psychology when deciding on a color for your new toilet partitions.
This fascinating area of study is concerned with how different colors affect peoples' moods. One popular example is the tendency for fast food restaurants to use the color red because it's thought to stimulate the appetite. Here are some others:
White evokes cleanliness and purity
Black evokes sleekness, mystery, and intrigue
Blue evokes peacefulness and tranquility
Green evokes freshness, nature, and abundance
By studying color psychology, you can choose a color scheme that's inviting to your guests and sets them at ease while they use your facilities.
Consider Your Current Color Scheme
Before you finalize your design, consider the colors that are already present throughout your facility, including those in the restroom. Doing so can help you lock in a final choice.
For example, if your restroom is decked out predominantly in neutral shades, you could pick a complementary neutral color for your partitions to convey a feeling of calm serenity.
Looking to Add Some Color to Your Restroom?
When you're ready to order your new toilet partitions, Fast Partitions is ready to help. Contact us today to get started.