Step 1:
Once you've reached the Fast Partitions home page, click on the bright red button that says "Get A Quote Now." This button will take you directly to the interactive partition selection process.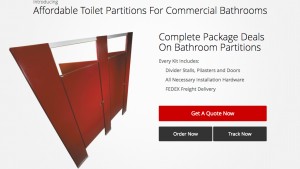 Step 2:
Select the material that best suits your needs and budget. The main options are metal, at $275-$450 per stall; plastic, at $450-$700 per stall; and stainless steel, at $700-$900 per stall.
The powder-coated metal toilet partitions offer the best value in the industry. They feature high quality galvanized steel, rust resistance and a gleaming consistent finish which shines through common cleaning chemicals.
The solid plastic toilet partitions are perfect for high traffic restrooms such as schools. They feature a 25-year manufacturing warranty and are highly resistant to scratches, impacts, dramatic temperature changes and rust. Made with the most durable, damage-resistant plastic and produced in 14 different colors, you won't have to sacrifice style for durability.
At the high end, the stainless steel toilet partitions offer a modern style with a gleaming elegant finish. This style features high-durability, meeting class A fire rating requirements, as well as environmental properties, providing LEED credit for exceptional recyclability.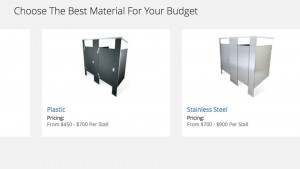 Step 3:
Next you will be directed to identify the number of stalls you need for your first bathroom. You may choose as many as you like from each of these three categories: large or ADA handicap stalls, regular stalls or urinal screens.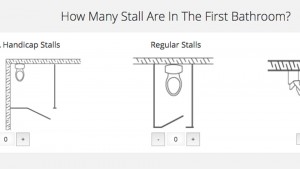 Step 4:
After choosing your selection, a variety of layout plans will instantly be generated for you to choose from. With a basic one ADA handicap stall and two regular stalls, you may choose from five potential layouts.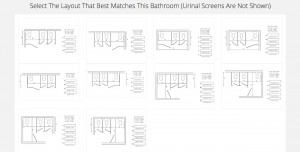 Step 5:
Once you have selected a layout, you may choose to add another bathroom. If not, you may click, "I'm Done. Add Shipping Info." You will then be prompted to fill in your zip code for delivery purposes. From there type in your email address, and we'll send you a quote within minutes.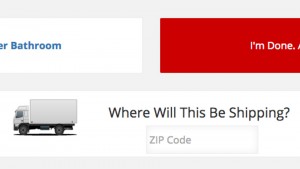 If you get stumped with a question or need additional information, feel free to peruse the website or contact one of our friendly sales representatives at 1877-296-8862.