Fast Partitions Clears Up 5 Myths About Bathroom Stalls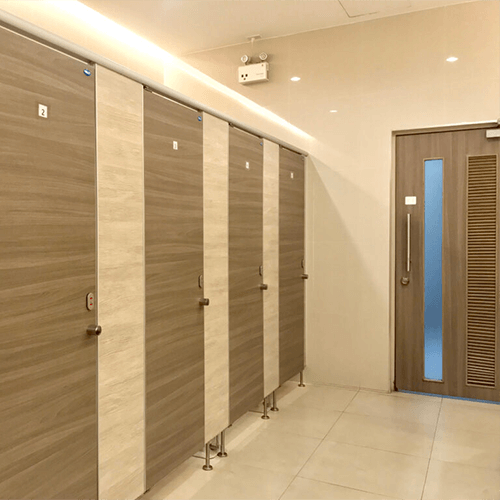 Chances are that you've encountered many different bathroom stalls in your life. Whether in a retail environment or the workplace, they're the go-to choice for any high-traffic washroom. However, many building owners have some misconceptions about the design, installation, and function of bathroom stalls.
Don't fall for these five myths about bathroom stalls:
Myth 1: Bathroom Stalls Require Custom Installation
When deciding on options for their bathrooms, many building owners are unaware of what really goes into installing bathroom stalls. In fact, installation can be very straightforward and fast, especially if you choose the right type of stall.
Bathroom stalls consist of panels, pilasters, and doors. The pilasters are the thin pieces that attach to the floor or ceiling, and the panels are the exterior and dividing walls for the stalls. These components are held together with simple brackets, all with pre-drilled holes that make installation a piece of cake.
Concerned about difficulty anchoring pilasters to the ceiling? You can simply choose floor-anchored bathroom stalls. These attach to the floor and the walls, which makes for a more straightforward installation.
Myth 2: Stalls Don't Come in Many Varieties
When choosing stalls for your building, there's actually a wide range of options. This is particularly true when it comes to the materials and finishes used for panels, pilasters, and doors.
Stainless steel, powder-coated, and plastics are all common choices. Stainless steel is strong, corrosion-resistant, and durable. It also presents a distinct style and is available in a variety of surface finishes.
Powder-coated stalls can be a more affordable option that is still durable and looks great. Instead of paint, powder coating provides longer-lasting and more even protection. Both solid and laminated plastics are options as well, with many colors and finishes available.
Myth 3: It's a Major Hassle to Measure for Bathroom Stalls
In any commercial renovation project, it's vital to make sure that your measurements are accurate. However, this can sometimes be a challenge if you're taking advantage of convenient and affordable online ordering.
With bathroom stalls, taking measurements is actually very straightforward. You only need to take a few simple measurements to order and install bathroom stalls. If you're going with floor-to-ceiling partitions, you'll also need to measure that height. However, that isn't the case for all styles.
If you're choosing floor-anchored, ceiling-hung, or headrail-braced stalls, then you don't need a precise floor-to-ceiling measurement. This eliminates the most difficult measurement to take accurately when working with a simple tape measure.
Myth 4: Dealing with ADA Requirements Is a Challenge
If your building is publicly accessible or a workplace, then you likely have to comply with the American Disabilities Act (ADA). The ADA has certain requirements for bathroom stalls that you'll have to meet, but that isn't as hard as it sounds.
The most important details are the size of the stall. They must be at least 60 inches across and 59 inches deep. The door must be 32 inches wide and must swing outward, unlike most other bathroom stall doors. They'll also need nine inches of toe clearance, but this is standard for most regular stalls anyway.
Of course, you don't really have to worry about those details. When you order your bathroom stalls, you'll simply indicate where your required ADA stall will be, and the professionals will handle the order for you.
Myth 5: Bathrooms Stalls Are Flimsy
Some people might think that bathroom stalls are flimsy and prone to wobbling or even breaking. However, they can be very sturdy when installed properly. Bathroom stalls are designed to remain rigid, with carefully designed mounting hardware.
For improved stability, you can choose floor-to-ceiling or headrail-braced options. These provide stability at both the top and bottom of the stall partitions. If you aren't sure about ceiling anchoring, you can choose headrail-braced for easy installation.
The material is also a big factor here. Stainless steel delivers exceptional strength, while powder-coated and plastic options are also strong enough to stand up to long-term use.
Let the Experts Handle Your Bathroom Stalls
If you are interested in installing bathroom stalls for your business, the experienced, knowledgeable team at Fast Partitions can provide you with the perfect bathroom stall solution for your needs. Get your quote today to find out more.