Elevate Your Restroom Experience with Bradley's Lucent Series Glass Bathroom Stalls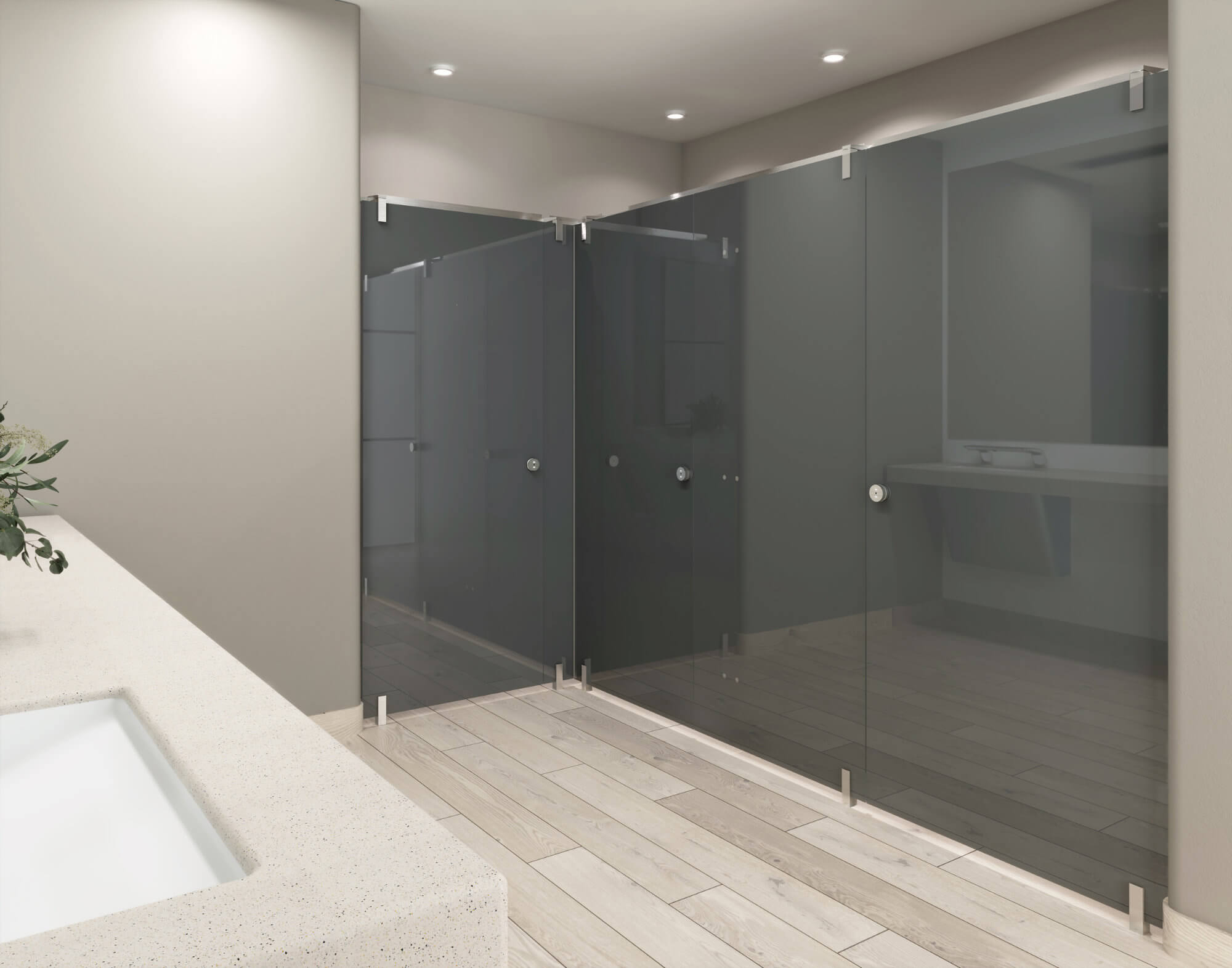 When it comes to creating a sophisticated and upscale restroom experience, every detail matters. From the choice of materials to the design aesthetics, the elements you choose contribute to the overall ambiance of the space. Fast Partitions provides Bradley's Lucent Series Glass Bathroom Stalls to stand out as the epitome of luxury and functionality, offering a seamless blend of modern design and durability. In this blog post, we'll delve into the exceptional features of the Lucent Series and explore why it is the top choice for high-end applications in various commercial settings.
Elegant Design and Exclusive Features:
At the heart of the Lucent Series is the enameled tempered glass that transforms restroom partitions into pieces of architectural beauty. The glass not only brings in natural light but also creates an open, airy, and elegant atmosphere, making it an ideal choice for high-end hotels, restaurants, and office buildings. The modern minimalist design adds a touch of sophistication, ensuring that these partitions seamlessly integrate into upscale environments.
One standout feature of the Lucent Series is its exclusive door hinge and hardware operation. The 180° gravity slow-close hinge ensures a quiet and maintenance-free experience, eliminating the need for constant adjustments. This hinge, designed for optimal functionality rather than just finger protection, adds to the overall premium feel of the partitions. For those seeking additional options, there is also an available hydraulic hinge, providing even more flexibility in design and usage.
Durability Without Compromise:
While the Lucent Series exudes elegance, it doesn't compromise on durability. The partitions are crafted from tempered glass, known for its strength and safety. This glass is not only resistant to breakage but also easy to clean and graffiti-resistant, ensuring a pristine appearance even in high-traffic areas. The vitreous enamel paint adds an extra layer of protection, making the partitions scratch-resistant and designed to withstand the wear and tear of commercial use.
Maintenance-Free Operation:
Facility managers will appreciate the maintenance-free operation of the Lucent Series. The gravity slow-close hinge not only ensures a quiet closing but also minimizes the need for constant adjustments. This feature is particularly valuable in busy commercial spaces where restroom maintenance is a regular concern. The flush surface construction adds to the ease of maintenance, creating a seamless and easily cleanable surface.
Architectural Beauty in Commercial Bathrooms:
The Lucent Series doesn't just offer functionality; it adds a distinct architectural beauty to commercial bathrooms. The opaque glass partitions, reflective and visually stunning, contribute to an open and airy aesthetic. The carefully polished smooth edges enhance safety and appearance, making these partitions not only practical but also a visual delight.
Customization Options:
Bradley understands that every architectural vision is unique. Therefore, the Lucent Series offers a range of customization options. In addition to nine elegant standard colors, virtually any RAL custom color can be achieved, allowing you to match the partitions precisely to your design vision.
Bradley's Lucent Series Glass Bathroom Stalls redefine restroom aesthetics, combining elegance, durability, and functionality seamlessly. Whether you're managing a high-end hotel, restaurant, or office building, these partitions elevate the restroom experience for both facility managers and patrons. The Lucent Series is a testament to Bradley's commitment to providing top-of-the-line solutions that not only meet but exceed expectations. Transform your commercial restroom into a sanctuary of unparalleled sophistication – contact a representative today and discover the endless possibilities awaiting with the Lucent Series Glass Bathroom Stalls from Fast Partitions. Elevate your space, redefine expectations, and make every restroom visit an experience to remember.