Elevate Your Commercial Bathroom with Sleek, Heavy-Duty Stainless Steel Partitions from Fast Partitions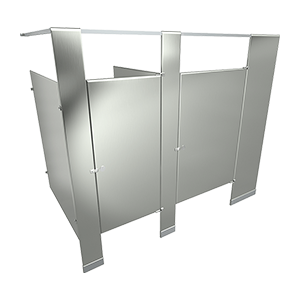 Commercial bathrooms see a lot of traffic and require facilities that can stand the test of time. At Fast Partitions, we offer stainless steel bathroom partitions that provide unmatched durability along with a modern, stylish aesthetic.
Stainless steel partitions not only look great but also offer important advantages like fire resistance, low maintenance, and exceptional hygiene. Constructed entirely from high-grade stainless steel, these partitions meet class A fire rating standards for improved safety. Their non-porous surface also resists bacteria growth and simplifies cleaning routines in high-traffic restrooms.
When you choose stainless steel bathroom partitions from Fast Partitions, you'll benefit from rapid turnaround times on top-notch products delivered directly to your commercial site. Our partition kits include durable stainless steel divider panels, pilasters, and doors, plus all the necessary mounting hardware for quick DIY installation.
With their brushed stainless steel finish, these partitions lend an upscale look perfect for hotels, restaurants, offices, and more. Their graffiti-resistant surface retains its original sheen for years, providing a reliable return on investment.
Stainless steel partitions aren't just visually appealing either - they are engineered to outlast traditional plastic and powder coated metal partitions. Seamless welded corners add structural strength while a reinforced honeycomb interior panel lends exceptional rigidity.
These sturdy partitions also incorporate convenient features like ADA-compliant thumb turn levers, emergency access latches, and anti-grip headrails. Choose from polished or brushed finish pilaster shoes and coat hooks to complete the refined look.
When you select stainless steel bathroom partitions from Fast Partitions, you gain the following advantages:
Contemporary style perfect for modern commercial spaces
Superior durability against wear, stains, and corrosion
Easy cleaning and disinfecting for improved hygiene
Class A fire rating for added safety
Non-porous surface that resists mold, mildew, and bacteria
Graffiti-resistant finish stays looking new for years
Reinforced door panels offer maximum rigidity
ADA-compliant levers for easy accessibility
Rapid shipping ensures quick project turnaround
For contractors and builders, stainless steel partitions are a go-to choice to elevate commercial bathrooms with unparalleled quality. You'll benefit from straightforward installation and unmatched longevity that keeps maintenance costs down. Compared to plastic laminate or powder coated metal partitions, stainless steel delivers benefits to satisfy both owners and users for years to come.
At Fast Partitions, our stainless steel bathroom partitions check every box:
Withstand heavy traffic and rigors of public use
Resist corrosion, bacteria, and typical wear and tear
Provide easiest cleaning and maintenance
Offer the most stylish, modern aesthetic
Meet ADA accessibility guidelines
Provide greatest durability for long-term savings
Trust Fast Partitions as your source for premium stainless steel bathroom partitions at the most competitive prices around. Contact us today to request a quote and get your order delivered in record time!