Creating a Private and Secure Environment with Commercial Bathroom Partitions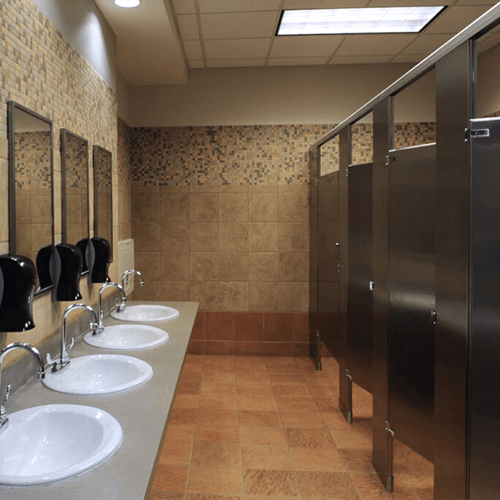 Commercial restrooms are a necessary component of any public or commercial space, but without the right partitions, they can be a source of discomfort for customers and employees. The lack of privacy and security in public restrooms can create anxiety and inconvenience. This is why it is essential to ensure that the restroom is designed with privacy and security in mind. One way to achieve this is through the use of properly installed commercial bathroom partitions.
Bathroom partitions are used to create separate compartments in restrooms, providing users with privacy and personal space. They are available in a variety of materials, colors, and designs, making them a versatile choice for any type of commercial or public restroom.
Privacy
Privacy is a top priority for most individuals when using public restrooms. Commercial bathroom partitions can help to create a more private environment, which can increase user comfort and satisfaction. Partitions create individual compartments, which offer a sense of privacy and security to the user. They also provide an excellent solution for restrooms with multiple users as they eliminate the need for communal areas.
Partitions can be customized to fit the needs of the restroom. They can be made from materials such as plastic laminate, solid plastic, stainless steel, or powder-coated steel. The color and design can also be customized to match the decor of the restroom. The result is a private and comfortable environment that enhances the overall user experience.
Security
Commercial bathroom partitions also provide enhanced security for users. The individual compartments created by partitions prevent unauthorized access to the restroom, which is particularly important in spaces where security is a concern. Additionally, some partition materials, such as solid plastic, are resistant to graffiti and damage, making them a durable and secure option for restrooms.
Maximizing Space
Commercial bathroom partitions can also help to maximize space in the restroom. They can be used to create separate areas for toilets, urinals, and sinks, which can increase the functionality and efficiency of the space. Additionally, the partitions can be customized to fit the unique layout and design of the restroom, making them a versatile option for any space.
Maintenance
Finally, commercial bathroom partitions are easy to maintain and clean, which makes them a practical choice for high-traffic restrooms. Most partitions are made from durable and easy-to-clean materials, which can withstand heavy use and are resistant to damage. This makes them a low-maintenance option for any commercial or public restroom.
Commercial bathroom partitions should provide users with a sense of privacy and security, while also maximizing the functionality and efficiency of the space. Contact Fast Partitions today to invest in high-quality partitions that can improve the user experience, increase security, and ensure the longevity and durability of the restroom.