Creating a Modern Look with Bradley's Designer Series Toilet Partitions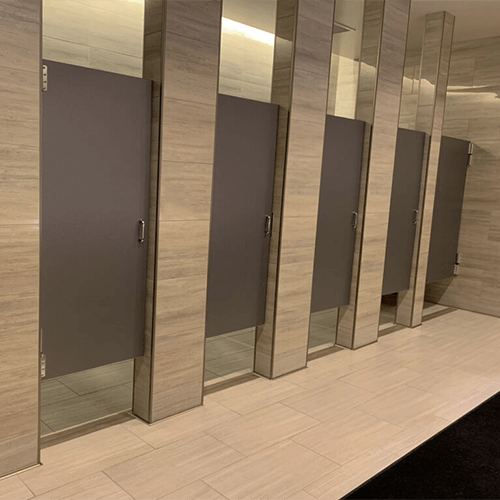 When it comes to designing commercial restrooms, toilet partitions are an essential component. Not only do they provide privacy and functionality, but they also contribute to the overall aesthetic of the space. Bradley, a leading manufacturer of commercial restroom solutions, offers a wide range of toilet partitions, including their Designer Series line, which offers a modern and stylish look to any commercial restroom.
Bradley's Designer Series toilet partitions are designed to enhance the look and feel of any commercial restroom. With sleek lines and minimalist design, these partitions can transform a drab and outdated space into a modern and sophisticated one. The Designer Series is available in a range of materials, including stainless steel, powder-coated steel, and phenolic, ensuring that there is an option to suit any design style and budget.
One of the key features of Bradley's Designer Series toilet partitions is the ease of customization. With a variety of design options available, including different colors, finishes, and hardware choices, these partitions can be tailored to meet the unique design needs of any commercial space. The company even offers custom engraving and digital printing options, allowing for further personalization and branding opportunities.
In addition to their aesthetic appeal, Bradley's Designer Series toilet partitions are also designed to be durable and long-lasting. Made from high-quality materials and featuring robust hardware, these partitions can withstand heavy use and abuse, ensuring they are a sound investment for any commercial restroom. The partitions are also easy to clean and maintain, which can save time and money for building owners and facility managers.
Another key benefit of Bradley's Designer Series toilet partitions is their versatility. Available in a range of configurations, including floor-mounted, ceiling-hung, and floor-to-ceiling options, these partitions can be used in a variety of restroom layouts. They can also be installed in both new and existing buildings, making them a flexible solution for commercial restroom design and renovation projects.
Bradley's Designer Series toilet partitions also offer several features that enhance user comfort and privacy. The partitions are available in both standard and ADA-compliant sizes, ensuring that everyone can use the restroom comfortably and safely. Additionally, the partitions can be equipped with a range of accessories, including coat hooks, shelves, and sanitary napkin disposals, providing added convenience and functionality.
Overall, Bradley's Designer Series toilet partitions offer a stylish and functional solution for any commercial restroom design project. With a variety of customization options, durability, and versatility, these partitions can elevate the look and feel of any space while providing the necessary privacy and functionality for users. Whether you're designing a new commercial restroom or renovating an existing one, Bradley's Designer Series toilet partitions are a smart and stylish choice. Contact Fast Partitions today for more information.