Solid Plastic vs. Stainless Steel vs Powder Coated Metal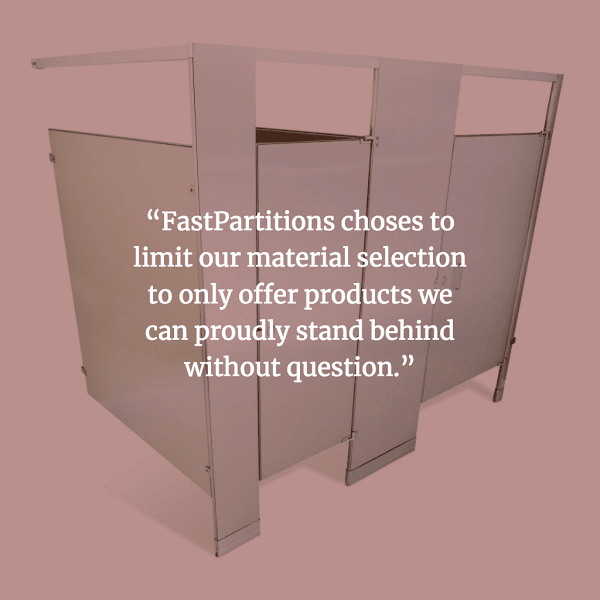 When building a public or commercial bathroom, the partition material is typically one of the most overlooked elements. At first sight, the only purpose of toilet partitions is to provide privacy, making the visual appeal the only thing you must consider. By default, the majority of our customers choose stainless steel partitions, but are you confident this is the best bathroom partition material for the job?
When evaluating the differences and advantages of potential bathroom partitions, you should also consider each material's advantages and disadvantages, strength, and durability, upkeep and cleaning, fire and building code considerations.
Strength and Durability
When building a bathroom, you want a durable bathroom partition to maintain value for years to come with any stress thrown at them. This amount includes holding up against scratches, dents or any impacts hazards. The longer the partitions can withstand these damages, the longer they will last.
Stainless steel bathroom partitions sure look great. However, one of the downsides of a stainless steel partition is they are known to dent and scratch easier than other options, such as solid plastic. Stainless steel bathroom partition materials are highly flame and smoke retardant. FastPartitions' stainless steel partitions keep a high-quality appearance while being crafted by some of the most durable materials in the industry.
When looking specifically for bathroom partitions that will hold up against scratches, our solid plastic or powder coated metal partitions have the superiority over stainless steel bathroom partitions.
Upkeep and Cleaning
Stainless steel partitions are resistant to the damages of chemical cleaners which helps promotes a sanitary bathroom environment for high and low volume traffic. Stainless steel caters well for public restrooms as well as high-end offices or commercial buildings.
Our solid plastic bathroom partitions are perfect for high-volume buildings such as schools. Given their durability and damage-proof materials, FastPartition's solid plastic partitions are highly resistant to scratching and impact and can sustain hot, cold, wet or dry environments without the risk of becoming odorous or rusty. Solid plastic partitions have a much longer lifespan than their counterparts and come in a variety of colors to match any bathroom scheme.
FastPartition's powder coated metal not only guarantee variety but quality craftsmanship and durability. Powder coated metal offer an easy installation, and easy reparability for minor scratches and defacements while staying environmentally friendly. Our powder coated metal partitions are mainly fire and rust resistant, ideal for low-traffic environments such as churches, restaurants, and businesses.
Fire Code Considerations
Within the United States, standards pertaining to fire safety and construction are regulated by the National Fire Protection Agency (NFPA) and the International Code Council (ICC). These considerations are not mandatory until adopted by your specific county, state, city, and federal governmental jurisdictions. While not completely mandatory, adherence to these codes are critical within the United States, many corporations require compliance regardless of governmental policy.
Relating to bathroom partitions, the most relevant and mentionable building codes are the International Fire Code (IFC) and International Building Code (IBC). Others include the NFPA 101, NFPA Fire Code, as well as the Life Safety Code. While specific jurisdictions have changed over the years, which means these standards may not be the exact law for some within the United States, wise architects, and specifiers smartly still adhere to them.
Architects, specifiers and interior designers should always request complete test compliance documents from partition manufacturers for a proper and responsible build.
Building Code Considerations
Without considering anything else, the building code can provide somewhat of a baseline for choosing your suitable bathroom partition material. These considerations will be based on the facility is a heavy-traffic building, a standard-use building, or a prestige building.
Heavy traffic buildings include K-12 schools, recreational facilities, transportation centers, shopping malls, and amusement parks. These buildings' restrooms see heavy use and often see high vandalism rates, meaning material durability and ease of cleaning are critical considerations.
Standard-use buildings include healthcare centers, hospitals, manufacturing plants, and commercial office facilities. Standard-use buildings will typically see moderate to heavy foot traffic and may see vandalism. Durability, ease of maintenance and cost are especially important when considering bathroom partitions for standard-use buildings.
Prestige buildings are those including class-A offices, major universities, civic centers, and corporate headquarters. Bathrooms in prestige buildings will typically see moderate to low traffic. In prestige buildings, architectural design and material quality can be prioritized.