Bathroom Partitions: Everything You Wanted to Know (and More)
Bathroom partitions are interesting because they partition or divide areas in a bathroom. 
Ok, maybe they're not really that interesting. But they are essential if you prefer to do your business in private.
Bathroom Partition Walls
The main function of a bathroom partition is to provide privacy, except for those little gaps in the door. Those gaps are for ventilation. Ventilation is important.
What Are Toilet Stall Partitions?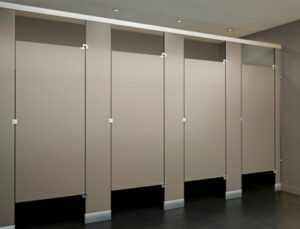 Toilet stall partitions usually come with two side panels and a door to fully enclose toilets in public restrooms. Partitions come in different types with many materials to choose from.
Commercial Toilet Stalls vs Home Bathroom Partitions
Commercial toilet stalls have to meet minimum requirements such as materials, dimensions, and quantity. Most commercial partitions are made from powder-coated steel because it is durable and affordable. 
The price for commercial stalls can be as low as $275 and can go as high as $900 per stall.
Home bathroom partitions are typically used to separate the toilet from the sink and shower area. They can be in the form of a wall, half-wall, or folding divider. They can be made from all different kinds of material and do not have to meet the same requirements as commercial partitions.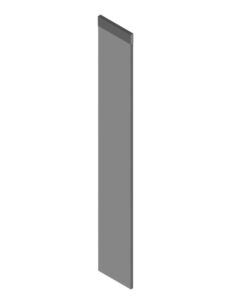 Home bathroom partitions range anywhere from $150 to $2000, not including installation.
ADA Toilet Stall Layout
The ADA stands for Americans with Disabilities Act which prohibits discrimination against people with disabilities. Any facility that offers public accommodations must comply with ADA requirements. This includes commercial toilet stalls. 
All toilet partitions, urinal screens, and other commercial restroom accessories must meet federal guidelines. Failure to do so may result in paying thousands in fines.
Read this article to find out more information on ADA guidelines about toilet stalls.
Glass Bathroom Partitions
Glass partitions in public restrooms wouldn't be appropriate for obvious reasons, but glass is a highly valued material for interior design in home bathrooms.
Glass partitions are perfect if you are looking to close off certain areas without restricting natural light and lines of sight.
Glass Shower Partition
A shower glass partition is an alternative to a shower curtain. A shower can be sealed off from the rest of the bathroom while allowing more of a natural and sleek flow to the room.
Glass shower partitions are easier to clean, allow natural light to come in, and add a modern design. They can be either something simple and easy to install or custom made. 
Glass shower partitions come in several different styles. 
Framed: A thinner glass is used because it is supported by a frame, making this the most affordable option.

Semi-Framed: Usually the middle option in price, this partition is supported by a frame on the top and bottom, with the middle being frameless.

Frameless: The most expensive option as it doesn't feature a frame but small pieces of hardware that connect panels of glass.
Toilet Glass Partition
Toilet stall glass partitions are usually seen in high-end hotels and restaurants. Glass stalls add an extra touch of elegance to an establishment.
These stalls are made with enamored tempered glass, so they are aesthetically pleasing, easy to keep clean, and highly durable.
Give us a call to get more information on bathroom glass partitions.
Half Wall Glass Shower Partition
A half-wall of glass is a great way to make a room feel bigger while adding a "spa-like" feel.
This is an excellent choice if you want to give a bathroom a makeover on a budget. A half-wall glass shower partition can give a quick uplift and is a popular option for steam showers.
Glass half walls are made with tempered glass, so they won't shatter. Like glass shower partitions, half walls can be made with different textured and colored glasses.
Glass Bathroom Dividers
Glass bathroom dividers use glass panels and metal to create walls that mark off different areas without making a space feel cramped and small.
An open concept is a very sleek, modern, and popular home design option. An open concept can also apply to a bathroom to make it feel bigger and brighter. Glass bathroom dividers can either be installed for a whole wall or a half wall.
Bathroom Partition Materials
The most popular bathroom partition materials are plastic, laminate, powder-coated steel, phenolic, and stainless steel. The material most often used for commercial bathroom partitions is powder-coated steel because of its durability at an affordable price.
Plastic Bathroom Partitions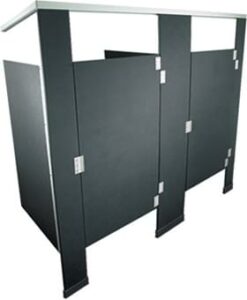 Solid plastic is a great option if you want something especially durable and easy to clean. This material doesn't have to be maintained frequently, and you can easily wash away things like graffiti.
Plastic partitions are also non-porous, so they don't hold moisture and can withstand heavy chemicals.
Solid plastic is mid-range in price and usually starts at around $400 per stall. 
If you need something that can take a beating, withstand vandalism, and doesn't need to be checked on frequently, solid plastic might be the right choice for you.
Laminate Bathroom Partitions
Laminate is a worthy choice if you want an endless amount of color and pattern choices to adorn your restroom. 
Laminate works best in an environment that is not prone to a lot of moisture, but it is fairly easy to clean. This material will give any bathroom a clean and polished appearance.
Choose from patterns such as paisley and granite or colors like mocha and gray. There is a laminate design for every bathroom. It also comes at an affordable price, starting at around $350 per stall.
If you are looking for partitions with a large selection of different colors and patterns, a clean look, and an affordable price, laminate bathroom partitions might be for you.
Phenolic Bathroom Partitions
Phenolic is made by alternating layers of resin and other materials like cloth or paper. It is heated and pressurized, which forms a thermoset plastic material. 
Phenolic is moisture and germ resistant, very durable, and comes in a variety of color options. It has a higher price point of around $700 because it combines the rigidity of solid plastic with the color customization of a laminate. 
Phenolic may be the right choice if you want your bathroom partition to last and look good for a long time.
Metal (Steel) Bathroom Partitions
Powder-coated steel is the most popular choice in the bathroom partition space, and for good reason. This material option is great if you are looking for something very affordable and dependable.
The powder coating helps prevent rust and deterioration, while the wax sealant prevents moisture and further corrosion. 
Steel bathroom partitions come in several different colors and offer a clean, quintessential look that works well in any business setting. 
Powder-coated steel is extremely affordable, with a starting price of around $250 per stall.
Stainless Steel Bathroom Partitions
Stainless steel is a fantastic option because it is germ resistant, easy to clean, and has a sleek and timeless look. They can also withstand high traffic and have a long life span.
While they last a long time, they are also better for the environment compared to their plastic competitors. The benefits you receive from stainless steel means it comes at a higher price point, starting at around $700.
Stainless steel bathroom partitions are a great option if you are environmentally conscious, need something easy to maintain, want something that goes with everything, and will last a lifetime. If you don't mind paying a higher price for these benefits, stainless steel might be right for you.
Bathroom Partition Manufacturers
Finding a company that works with respectable manufacturers is important if you want to ensure that you are getting excellent and quality products. 
The top manufacturers in the industry are Hadrian, Bradley, ASI Accurate, and Global Washroom.
Hadrian Toilet Partitions
Hadrian has been in the partition business since the early 1980s, and they have truly perfected their craft. They have developed their material to withstand graffiti and have made improvements in stall privacy. 
They offer solid plastic, stainless steel, and powder-coated steel. Their product is known for its high-quality and clean corners. They use a honeycomb material that is flame resistant, and they satisfy ADA requirements.
They are most well-known for their solid plastics, which they have been selling since the 80s. Their solid plastic bathroom partitions can hold up under extreme wear and tear, such as moisture, high traffic, vandalism, mildew, cleaning agents, and rust. 
Bradley Toilet Partitions
Bradley has been improving commercial bathrooms since 1917, and they don't plan on stopping anytime soon. They are committed to innovation and are continuously improving on their privacy partitions.
They offer phenolic, stainless steel, tempered glass, and powder-coated steel. Bradley toilet partitions are known for their focus on privacy. They believe that privacy is one of the most important aspects of designing a public restroom.
They've used European influence to design their floor-to-ceiling partitions. This stall style is growing in popularity as it provides maximum privacy for the user. There are no cracks or gaps. The user is fully enclosed.
Bradley is also known for its elegant and sleek partitions, perfect for hotels and restaurants.
ASI Accurate Toilet Partitions
ASI Accurate is one of the most successful and well-known toilet partition manufacturers in the country. They have been in business since the late 1950s and have only grown and enhanced since then. They are innovators in ADA compliance and working with recycled materials.
ASI Accurate offers phenolic, laminate, solid plastic, powder-coated steel, and stainless steel. They are known for their wide selection and uncompromising quality and standards. 
No matter what material option you decide to go with, ASI Accurate is a great option. Their stainless steel is just as indestructible as their solid plastic. It depends on your aesthetic preferences and price point.
Global Washroom Partitions
Global toilet partitions have been in business for over 50 years and are leaders in the business. Global is known for its sustainability practices and is committed to helping your company meet its building objectives.
Global washroom partitions offer stainless steel, powder-coated steel, phenolic, laminate, and solid plastic. Global uses recycled material in all of its products as part of its goal to sustainable supply.
Global and Accurate were bought by ASI in the 1990s, both are under their umbrella as of today. 
Final Points
The purpose of a bathroom partition may be for privacy, but there are many different options to achieve this. There are commercial bathroom partitions and home bathroom partitions. Options like glass shower and toilet partitions are usually reserved for home bathrooms and potentially spas and resorts, as well as the half wall glass shower partitions and glass bathroom dividers.
There are several different options to choose from for partition materials: solid plastic, laminate, phenolic, powder-coated steel, and stainless steel. Each option has its benefits and works in some environments better than others. 
The most popular partition choice is powder-coated steel because it is extremely durable, low maintenance, and the most affordable option. The most expensive options are stainless steel and phenolic materials. 
Phenolic is pricey because it combines the best of multiple materials. It is durable like plastic but has many design choices like laminate.
Stainless steel is one of the most expensive because it provides a sleek, modern, and high-end look. They are also easy to clean and better for the environment.
There are plenty of high-quality manufacturers to choose from for your bathroom partition. The top manufacturers include Hadrian, Bradley, ASI Accurate, and Global Washroom. All companies have been in business for decades and have been perfecting their craft for a long time. 
Whatever your commercial bathroom partition needs are, we are committed to delivering your stalls fast with all of the hardware you will need!