ADA Compliant Bathroom: Sinks and Restroom Accessories
Creating an inclusive and accessible environment is crucial in today's world, and commercial restrooms are no exception. Ensuring that your restroom meets ADA (Americans with Disabilities Act) compliance standards is not only a legal requirement but also a commitment to providing a welcoming space for everyone, regardless of their abilities. In this blog post, we'll focus on ADA requirements for sinks and various bathroom accessories, offering insights and tips to help you design a truly accessible commercial restroom.
ADA Sink Height and Clearance: The ADA sets specific standards for sink height and clearance to accommodate wheelchair users and individuals with various disabilities.
Key requirements include:
Clear Floor Space: At least one sink in an ADA compliant bathroom must have a clear floor space of 30 inches x 48 inches, excluding knee and toe clearances. Proper installation of sinks into countertops and insulation of exposed surfaces are also emphasized.
Faucet Controls: Faucets must comply with ADA standards for operable parts and reach ranges. Controls should be centered for both left and right-hand operation, and hand-operated, self-closing faucets are permitted if they remain open for at least 10 seconds.
Toe and Knee Clearance: Adequate toe and knee clearances underneath the sink are crucial. Toe clearance should be at least 9 inches above the finished floor, extending the full width of the clear floor space. Knee clearance, defined between 9 and 27 inches above the finished floor, must also meet specific depth requirements.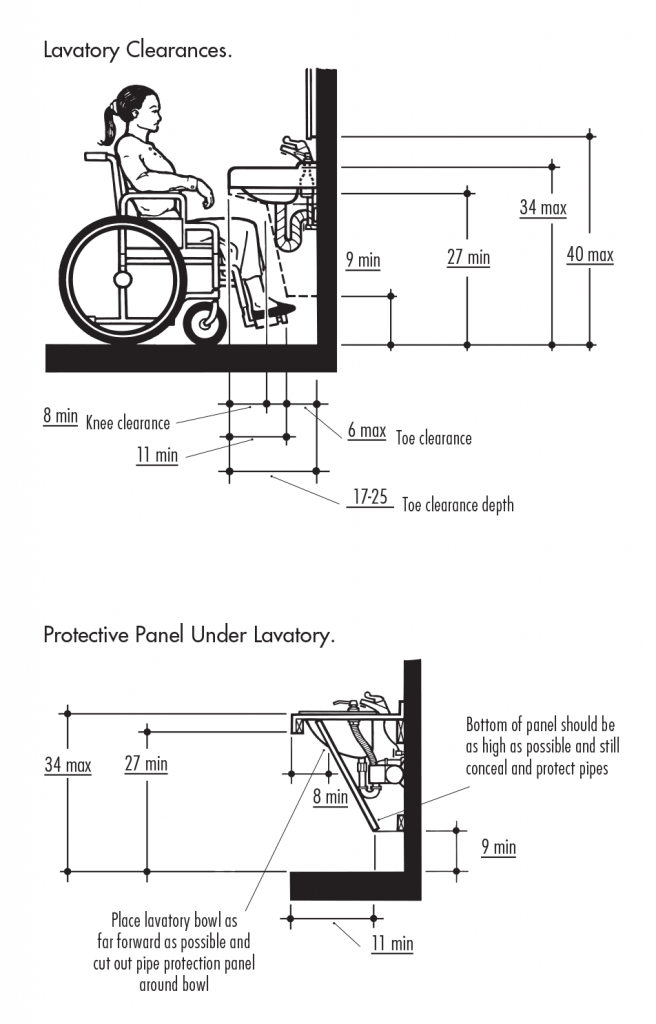 ADA Reach Ranges and Mounting Heights: Wall-mounted accessories play a significant role in ADA compliance. Consider the following standards when installing accessories such as soap dispensers, paper towel dispensers, waste receptacles, and hand dryers:
Forward Reach: The operable parts of accessories must be mounted between 15 and 48 inches above the finished floor for an unobstructed forward reach. The height may vary when reaching over obstructions of different depths.
Side Reach: Side reach requirements are similar, with variations for unobstructed and obstructed spaces. Obstructions should be considered when determining the mounting height for ADA compliance.
ADA Restroom Accessories: To ensure universal accessibility, ADA recommends specific guidelines for restroom accessories:
Mirrors: Mirrors installed above sinks or countertops should have the bottom edge of the reflective surface no more than 40 inches above the finished floor. Installing at least one full-length mirror in each restroom is recommended.
Soap Dispensers: ADA-compliant soap dispensers must be mounted to accommodate reach ranges, ensuring convenient access without interference with other fixtures.
Paper Towel Dispensers, Waste Receptacles, and Hand Dryers: These accessories, whether mounted above obstructions or not, must meet ADA reach range requirements. It is advisable to install them adjacent to accessible sinks for ease of use.
Baby Changing Stations: The BABIES Act of 2016 mandates the inclusion of baby changing tables in both male and female public restrooms in federal buildings. These stations must adhere to ADA requirements for various aspects, including clear floor space, mounting height, and controls.
Designing an ADA compliant commercial restroom goes beyond meeting legal requirements; it's about creating an inclusive space that caters to the needs of everyone. By following the ADA guidelines for sinks and accessories, you contribute to the creation of a universally accessible environment. At Fast Partitions, we offer a wide range of building specialties to help you achieve ADA compliance in your commercial projects. Together, let's build spaces that welcome and serve everyone.
ADA Bathroom Requirements: Toilet Height, Grab Bars, Stall Accessories & More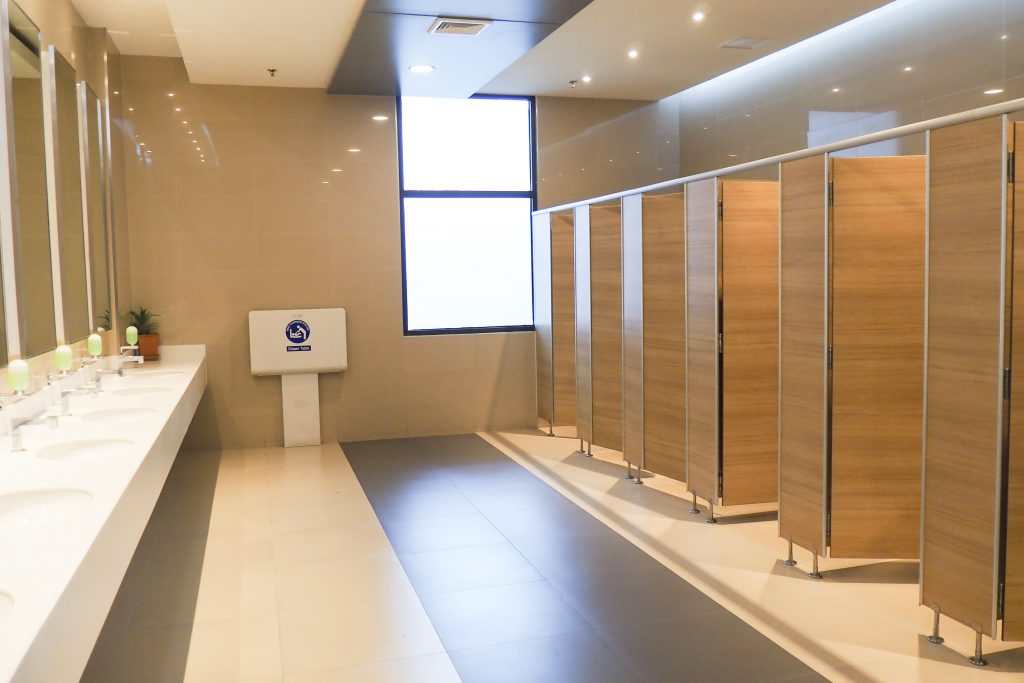 Creating inclusive and accessible commercial bathrooms is crucial to accommodating a diverse range of users with varying needs. At Fast Partitions, we recognize the importance of adhering to the 2010 ADA Standards for Accessible Design to ensure that every aspect of your restroom, from toilets to accessories, is accessible for all. In this guide, we'll delve into the specifics of ADA restroom requirements, covering key elements such as toilet height, flush controls, stall accessories, grab bars, and more.
ADA Toilet Height and Flush Controls:
Toilets in accessible bathrooms must meet specific ADA standards to ensure usability for all individuals. The ADA toilet height is set at 17-19 inches above the finished floor (AFF), measured to the top of the seat. Flush controls must be operable with one hand, require no more than five pounds of force, and should not necessitate tight grasping, pinching, or twisting. Meeting ADA requirements for reach ranges is crucial, with controls ideally located toward the open side of the toilet for maximum accessibility.
Stall Accessories:
All restroom accessories, including hardware and essentials, must comply with ADA standards. In accessible stalls, it's recommended to place accessories on the wall or partition closest to the toilet. Projections from the wall or partition should not interfere with maneuvering spaces or grab bar access. Specific guidelines regarding the placement and dimensions of accessories, such as toilet tissue dispensers, ensure a user-friendly environment for everyone.
ADA Grab Bar Height, Length, Size, and Placement:
Grab bars are a vital component of accessible toilet stalls. The ADA outlines requirements for grab bar height, length, size, and placement. Bars should be installed horizontally, 33-36 inches above the finished floor, with specific dimensions for circular and non-circular cross-sections. Sidewall and rear grab bars should be strategically placed to enhance accessibility, with careful attention to spacing between the grab bar and the wall.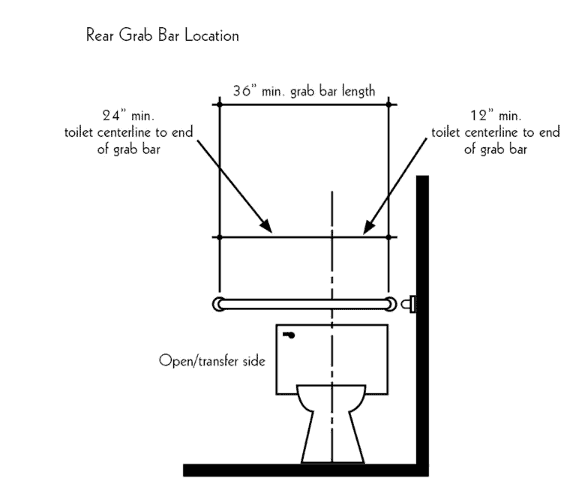 Roll Toilet Tissue Dispensers:
ADA mandates the installation of roll toilet tissue dispensers in all accessible toilet compartments. These dispensers should not control delivery or allow for continuous paper flow. Specific guidelines regarding the centerline position ensure convenience for users with varying needs.
Sanitary Napkin Disposals and Toilet Seat Cover Dispensers:
While not mandatory, these accessories are recommended in women's toilet compartments for added convenience. ADA guidelines specify the reachability and mounting requirements for sanitary napkin disposals and toilet seat cover dispensers, ensuring their accessibility for all users.
Creating an accessible restroom space in your commercial facility is a commitment to inclusivity and user comfort. By adhering to ADA restroom requirements, you not only meet compliance standards but also contribute to a positive and accommodating experience for all users. Fast Partitions is here to assist you in supplying a wide range of building specialties to help you achieve an inclusive and accessible restroom design. Together, let's create restroom spaces that cater to the needs of everyone.
Elevate Your Restroom Experience with Bradley's Lucent Series Glass Bathroom Stalls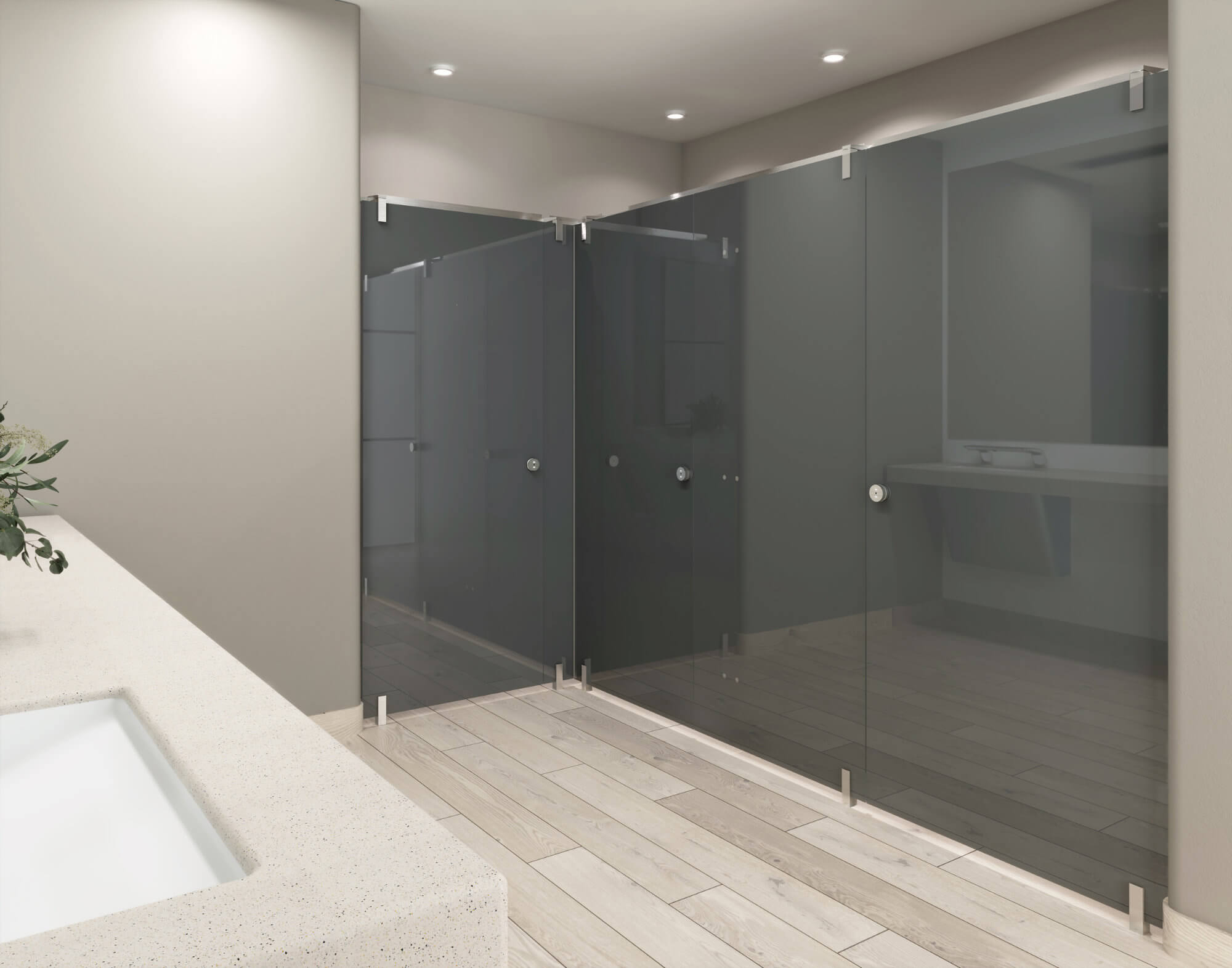 When it comes to creating a sophisticated and upscale restroom experience, every detail matters. From the choice of materials to the design aesthetics, the elements you choose contribute to the overall ambiance of the space. Fast Partitions provides Bradley's Lucent Series Glass Bathroom Stalls to stand out as the epitome of luxury and functionality, offering a seamless blend of modern design and durability. In this blog post, we'll delve into the exceptional features of the Lucent Series and explore why it is the top choice for high-end applications in various commercial settings.
Elegant Design and Exclusive Features:
At the heart of the Lucent Series is the enameled tempered glass that transforms restroom partitions into pieces of architectural beauty. The glass not only brings in natural light but also creates an open, airy, and elegant atmosphere, making it an ideal choice for high-end hotels, restaurants, and office buildings. The modern minimalist design adds a touch of sophistication, ensuring that these partitions seamlessly integrate into upscale environments.
One standout feature of the Lucent Series is its exclusive door hinge and hardware operation. The 180° gravity slow-close hinge ensures a quiet and maintenance-free experience, eliminating the need for constant adjustments. This hinge, designed for optimal functionality rather than just finger protection, adds to the overall premium feel of the partitions. For those seeking additional options, there is also an available hydraulic hinge, providing even more flexibility in design and usage.
Durability Without Compromise:
While the Lucent Series exudes elegance, it doesn't compromise on durability. The partitions are crafted from tempered glass, known for its strength and safety. This glass is not only resistant to breakage but also easy to clean and graffiti-resistant, ensuring a pristine appearance even in high-traffic areas. The vitreous enamel paint adds an extra layer of protection, making the partitions scratch-resistant and designed to withstand the wear and tear of commercial use.
Maintenance-Free Operation:
Facility managers will appreciate the maintenance-free operation of the Lucent Series. The gravity slow-close hinge not only ensures a quiet closing but also minimizes the need for constant adjustments. This feature is particularly valuable in busy commercial spaces where restroom maintenance is a regular concern. The flush surface construction adds to the ease of maintenance, creating a seamless and easily cleanable surface.
Architectural Beauty in Commercial Bathrooms:
The Lucent Series doesn't just offer functionality; it adds a distinct architectural beauty to commercial bathrooms. The opaque glass partitions, reflective and visually stunning, contribute to an open and airy aesthetic. The carefully polished smooth edges enhance safety and appearance, making these partitions not only practical but also a visual delight.
Customization Options:
Bradley understands that every architectural vision is unique. Therefore, the Lucent Series offers a range of customization options. In addition to nine elegant standard colors, virtually any RAL custom color can be achieved, allowing you to match the partitions precisely to your design vision.
Bradley's Lucent Series Glass Bathroom Stalls redefine restroom aesthetics, combining elegance, durability, and functionality seamlessly. Whether you're managing a high-end hotel, restaurant, or office building, these partitions elevate the restroom experience for both facility managers and patrons. The Lucent Series is a testament to Bradley's commitment to providing top-of-the-line solutions that not only meet but exceed expectations. Transform your commercial restroom into a sanctuary of unparalleled sophistication – contact a representative today and discover the endless possibilities awaiting with the Lucent Series Glass Bathroom Stalls from Fast Partitions. Elevate your space, redefine expectations, and make every restroom visit an experience to remember.
Elevate Your Commercial Bathroom with Sleek, Heavy-Duty Stainless Steel Partitions from Fast Partitions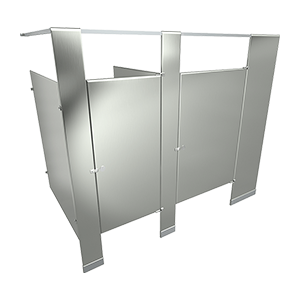 Commercial bathrooms see a lot of traffic and require facilities that can stand the test of time. At Fast Partitions, we offer stainless steel bathroom partitions that provide unmatched durability along with a modern, stylish aesthetic.
Stainless steel partitions not only look great but also offer important advantages like fire resistance, low maintenance, and exceptional hygiene. Constructed entirely from high-grade stainless steel, these partitions meet class A fire rating standards for improved safety. Their non-porous surface also resists bacteria growth and simplifies cleaning routines in high-traffic restrooms.
When you choose stainless steel bathroom partitions from Fast Partitions, you'll benefit from rapid turnaround times on top-notch products delivered directly to your commercial site. Our partition kits include durable stainless steel divider panels, pilasters, and doors, plus all the necessary mounting hardware for quick DIY installation.
With their brushed stainless steel finish, these partitions lend an upscale look perfect for hotels, restaurants, offices, and more. Their graffiti-resistant surface retains its original sheen for years, providing a reliable return on investment.
Stainless steel partitions aren't just visually appealing either - they are engineered to outlast traditional plastic and powder coated metal partitions. Seamless welded corners add structural strength while a reinforced honeycomb interior panel lends exceptional rigidity.
These sturdy partitions also incorporate convenient features like ADA-compliant thumb turn levers, emergency access latches, and anti-grip headrails. Choose from polished or brushed finish pilaster shoes and coat hooks to complete the refined look.
When you select stainless steel bathroom partitions from Fast Partitions, you gain the following advantages:
Contemporary style perfect for modern commercial spaces
Superior durability against wear, stains, and corrosion
Easy cleaning and disinfecting for improved hygiene
Class A fire rating for added safety
Non-porous surface that resists mold, mildew, and bacteria
Graffiti-resistant finish stays looking new for years
Reinforced door panels offer maximum rigidity
ADA-compliant levers for easy accessibility
Rapid shipping ensures quick project turnaround
For contractors and builders, stainless steel partitions are a go-to choice to elevate commercial bathrooms with unparalleled quality. You'll benefit from straightforward installation and unmatched longevity that keeps maintenance costs down. Compared to plastic laminate or powder coated metal partitions, stainless steel delivers benefits to satisfy both owners and users for years to come.
At Fast Partitions, our stainless steel bathroom partitions check every box:
Withstand heavy traffic and rigors of public use
Resist corrosion, bacteria, and typical wear and tear
Provide easiest cleaning and maintenance
Offer the most stylish, modern aesthetic
Meet ADA accessibility guidelines
Provide greatest durability for long-term savings
Trust Fast Partitions as your source for premium stainless steel bathroom partitions at the most competitive prices around. Contact us today to request a quote and get your order delivered in record time!
The Ultimate Guide to Laminate Toilet Partitions by Fast Partitions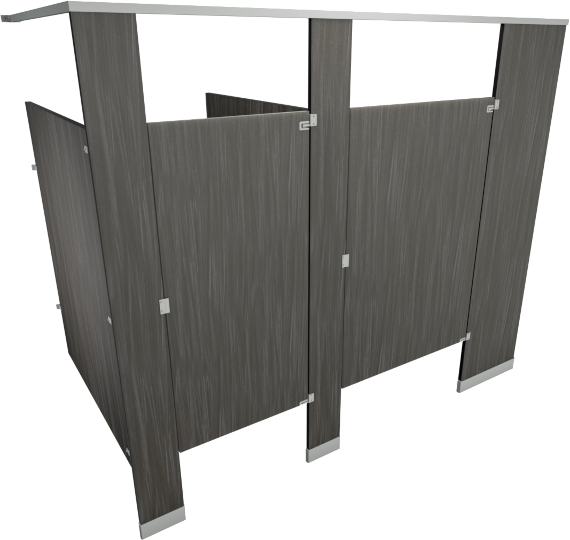 When it comes to restroom facilities in commercial spaces, aesthetics, durability, and functionality are of utmost importance. Fast Partitions offers a comprehensive range of Laminate Toilet Partitions that not only meet but exceed these expectations. In this blog post, we'll delve into the world of laminate toilet partitions, exploring their features, benefits, and the wide array of options available from Fast Partitions.
Why Choose Laminate Toilet Partitions?
Laminate Toilet Partitions, often referred to as High-Pressure Laminate (HPL) partitions, are an excellent choice for a variety of commercial settings. They provide an attractive and cost-effective solution for creating private restroom spaces in offices, churches, schools, and more. Here's why they are an exceptional choice:
Value-Focused Pricing: Fast Partitions' HPL toilet partitions offer a wood-grain style without breaking the bank. This cost-effectiveness makes them a popular choice for budget-conscious projects.
Versatile Color and Pattern Options: With a vast selection of colors and patterns available, you can customize your restroom space to match your interior decor or branding. Whether you're aiming for a classic, modern, or unique look, there's an option for you.
High-End Features: These HPL partitions are equipped with advanced features that enhance both functionality and aesthetics.
The Most Advanced Toilet Partition Features
Their range of laminate toilet partitions includes products from industry leaders such as ASI (Accurate Partitions) and Bobrick. Let's explore some of the outstanding features:
1. ASI MoistureGuard Laminate:
Fast Partitions offers ASI MoistureGuard laminate, which comes with an industry-leading 5-year warranty. This laminate boasts seamless beveled edges and enhanced moisture resistance compared to standard laminates. It's an excellent choice for restrooms where water exposure is a concern.
2. ASI Standard Laminate:
If you're looking for a wide range of color options, ASI's standard legacy laminate is your go-to choice. You'll find one of the broadest color palettes available in the market. This allows for extensive customization to match your design preferences.
3. Bobrick AccentSeries HPL:
AccentSeries HPL from Bobrick features a stainless steel edge trim that not only adds a premium aesthetic to the laminate partitions but also acts as a heat sink, protecting the panel and door edges. This combination of form and function is a win-win for your restroom.
4. Bobrick MetroSeries HPL:
Fast Partitions offers Bobrick's MetroSeries HPL partitions, which are a remarkable 20% lighter than traditional metal partitions. This reduced weight makes installation and maintenance easier while still providing durability and strength.
5. Bobrick ClassicSeries HPL:
Exclusive to Special-Lite, Bobrick's ClassicSeries HPL includes pilaster shoes that are anodized after fabrication, ensuring supreme corrosion resistance. This feature is crucial in high-traffic restrooms.
6. Bobrick TrimLineSeries HPL:
Fast Partitions presents Bobrick's TrimLineSeries HPL, one of Bobrick's premium lines. These partitions come with a 5-year warranty, stainless edging, and steel-core stiles, ensuring their longevity and durability.
7. Bobrick DesignerSeries HPL:
Bobrick's DesignerSeries HPL incorporates steel-core stiles for added strength and structural rigidity. These partitions are a perfect choice for high-traffic areas where durability is paramount.
Additional Information
Fast Partitions provides a wealth of additional information to assist you in selecting the perfect laminate toilet partitions for your project. Their resources include color charts, elevations, and specifications, allowing you to make informed decisions about the color, design, and features that best fit your space.
What Is Plastic Laminate?
Plastic laminate, also known as High-Pressure Laminate (HPL), is a composite material used in toilet partitions. It consists of a particle board core covered by a decorative surface protected by a melamine overlay. This protective layer ensures the durability of the laminate, making it suitable for high-traffic restrooms.
What Is Plastic Laminate Made Of?
Plastic laminate is made from a polymer-matrix composite. It begins with a decorative kraft paper that is impregnated with thermosetting resins, typically melamine or phenolic resin. This impregnated paper is then polymerized under high pressure and heat, resulting in a durable, wear-resistant material. The term "high pressure" refers to the intense force applied during the production process, typically between 1,200 to 2,000 psi, ensuring a strong and robust final product.
Fast Partitions offers a wide selection of laminate toilet partitions that combine affordability, durability, and customization. With a spectrum of color and pattern choices, as well as a range of high-end features, these partitions are an excellent choice for creating stylish and functional restroom spaces in commercial settings. Whether you prioritize moisture resistance, a vast color palette, or premium aesthetics, Fast Partitions has the solution that fits your needs.
Maximizing Space and Functionality: A Practical Guide to Alcove Restroom Design for Commercial Settings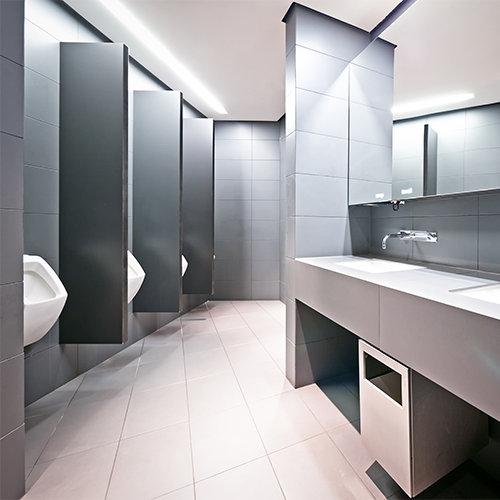 In the world of commercial architecture and design, the efficient use of space is paramount. Commercial restrooms, in particular, present a unique challenge due to their limited square footage. However, with strategic planning and innovative solutions, it is possible to create an alcove restroom that optimizes space while maintaining functionality and aesthetics. In this comprehensive guide, we will explore the key principles and practical strategies for designing an alcove restroom in commercial settings, ensuring that every inch is utilized effectively.
Understanding the Alcove Restroom Concept
An alcove restroom is a design approach that involves creating a partially enclosed or recessed space for the restroom area. It often utilizes existing building structures or corners to carve out the restroom alcove, making it a versatile solution for maximizing space. The alcove concept allows for better space management, improved privacy, and seamless integration with the overall architectural design.
Space-Saving Techniques and Layout Ideas
2.1. Utilize Wall Niches and Recesses
When designing an alcove restroom, architects can take advantage of existing wall niches and recesses to allocate space for fixtures and accessories. Recessed shelving or storage cabinets can be incorporated into the walls, freeing up valuable floor space while providing additional storage options for restroom users.
2.2. Compact and Multi-Functional Fixtures
Opt for compact and multi-functional restroom fixtures, such as combination sink-toilet units, wall-mounted toilets, and space-saving urinals. These fixtures not only save space but also contribute to a modern and streamlined aesthetic.
2.3. Layout Considerations
Careful consideration of the layout is crucial in an alcove restroom design. Placing fixtures strategically to minimize congestion and ensure ease of movement is essential. Creating clear sightlines and optimizing traffic flow can enhance the overall user experience and reduce waiting times during peak hours.
Innovative Storage Solutions
One of the challenges in designing a commercial restroom is providing ample storage without compromising space. Incorporating creative storage solutions, such as recessed wall cabinets, wall-mounted shelves, and under-counter storage, can keep the restroom clutter-free while maximizing space efficiency.
Balancing Privacy and Openness
While alcove restrooms offer a degree of privacy by design, finding the right balance between privacy and openness is crucial. Opt for visually appealing partition systems that allow for adequate privacy between stalls while still maintaining an open and welcoming atmosphere within the restroom area. Utilizing frosted glass or decorative panel options can create an elegant and contemporary look while providing the necessary privacy.
Smart Lighting and Ventilation
Proper lighting and ventilation are essential in any restroom design. Alcove restrooms can benefit from natural light sources, such as skylights or well-placed windows, to create a bright and inviting environment. For areas with limited natural light, energy-efficient LED lighting solutions can enhance visibility and reduce energy consumption. Adequate ventilation is also crucial to ensure a comfortable and odor-free restroom experience.
Accessibility and ADA Compliance
Designing an alcove restroom that is inclusive and accessible to all individuals is of paramount importance. Complying with the Americans with Disabilities Act (ADA) ensures that the restroom is usable by individuals with varying mobility levels. Incorporating ADA-compliant features, such as accessible stalls, grab bars, and sinks with appropriate clearance, ensures that the alcove restroom is welcoming and functional for everyone.
Material Selection and Finishes
The choice of materials and finishes plays a significant role in the overall aesthetics and durability of the alcove restroom. Opt for high-quality, easy-to-clean materials that can withstand heavy use and frequent cleaning. Durable partitions made from materials like powder-coated steel, stainless steel, or solid plastic can offer longevity and ease of maintenance, ensuring the restroom remains in pristine condition over time.
Designing a functional and space-efficient alcove restroom for commercial settings requires thoughtful planning, innovative solutions, and a focus on user experience. By understanding the concept of an alcove restroom, implementing space-saving techniques, and prioritizing accessibility and privacy, architects and designers can create restrooms that optimize every square foot. With the right material selection, finishes, and lighting, the alcove restroom can become an integral part of the commercial space, offering comfort and convenience to users while elevating the overall design aesthetics.
At Fast Partitions, we understand the unique challenges and requirements of commercial restroom design. Our high-quality partition systems are designed to complement alcove restroom layouts, providing stylish and durable solutions that enhance the functionality and aesthetics of any space. Contact us today to explore our range of partition options and discover how we can help you create the perfect alcove restroom for your commercial project.
Revamp Your Commercial Restroom: The Essential Accessories You Can't Ignore!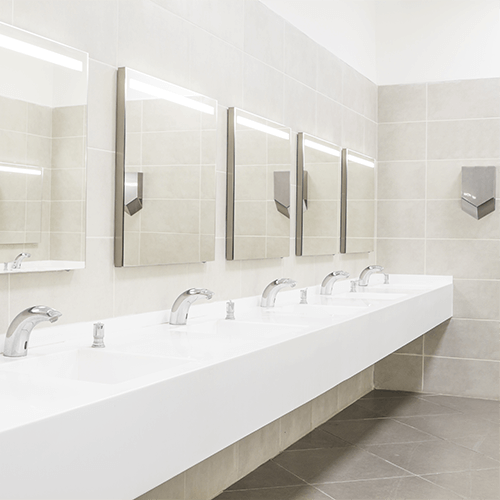 When it comes to designing a commercial restroom, functionality, aesthetics, and user experience are paramount. Beyond the basic fixtures, the right accessories play a vital role in transforming a mundane restroom into a welcoming and well-equipped space. Whether you own a bustling restaurant, a chic boutique, or a corporate office, investing in top-quality accessories can significantly enhance the overall appeal of your restroom. In this blog post, we'll explore a curated selection of essential accessories that will help you revamp your commercial restroom and leave a lasting impression on your clients and visitors.
Stylish and Functional Mirrors
Mirrors are a staple in any restroom, but in a commercial setting, they go beyond mere functionality. A well-placed, stylish mirror can visually expand a small restroom, create a sense of openness, and add an element of luxury. Opt for mirrors with anti-fog and LED lighting features to ensure they remain clear and well-lit even during peak hours. Additionally, consider investing in custom shapes and frames that align with your brand's aesthetics, making the mirrors a statement piece in themselves.
Touch-Free Faucets and Soap Dispensers
Hygiene and convenience are top priorities in a restroom, and touch-free faucets and soap dispensers are a game-changer in this regard. These sensor-activated accessories minimize contact with surfaces, reducing the spread of germs and promoting a cleaner environment. Besides the obvious health benefits, touch-free fixtures exude a modern and high-tech vibe that resonates with visitors and communicates your commitment to their well-being.
Smart Hand Dryers
Bid farewell to paper towel mess and wastage with smart hand dryers. Investing in energy-efficient, high-speed hand dryers not only saves on operating costs but also demonstrates your dedication to sustainability. Look for models with adjustable speed and heat settings, as well as low noise levels for a more pleasant restroom experience. With quick drying times and touch-free activation, smart hand dryers are a win-win addition to your commercial restroom.
ADA-Compliant Grab Bars and Handrails
Accessibility should be a priority in every commercial space, and the restroom is no exception. Installing ADA-compliant grab bars and handrails provides extra support and safety for individuals with mobility challenges, making your restroom more inclusive and welcoming. Choose sleek and modern designs that seamlessly blend with your restroom's overall aesthetic, proving that accessibility can be both practical and stylish.
Aesthetic Waste Receptacles
While waste receptacles serve a practical purpose, they need not be eyesores in your restroom. Invest in aesthetic and hygienic waste bins that complement your restroom's decor. Look for options with hands-free openings or foot-operated lids to maintain cleanliness and prevent unpleasant odors. These well-designed waste receptacles will not only keep your restroom tidy but also contribute to a more refined and sophisticated atmosphere.
Cozy and Durable Mats
Don't underestimate the impact of floor mats in your restroom. Cozy and durable mats can provide a welcoming touch while keeping your floors clean and dry. Opt for slip-resistant, water-absorbent mats that can withstand heavy foot traffic. Additionally, consider custom logo mats that showcase your brand and elevate the overall aesthetic of the space.
Ambient Lighting Fixtures
Lighting sets the mood in any space, and your commercial restroom is no exception. Consider incorporating ambient lighting fixtures that create a relaxing and inviting atmosphere. Dimmable LED lighting can be an excellent choice, as it allows you to adjust the brightness according to the time of day or the desired ambiance. Elegant pendant lights or wall sconces can also add a touch of sophistication and personality to your restroom.
Transforming your restroom into a sophisticated and functional space is easily achievable with the right accessories. From stylish mirrors and touch-free fixtures to ADA-compliant additions and ambient lighting, each accessory contributes to a well-rounded and welcoming environment. By investing in these essential accessories, you communicate your commitment to hygiene, aesthetics, and overall user experience, leaving a positive and lasting impression on your clients and visitors.
Remember that the key to a successful commercial restroom revamp is thoughtful planning and attention to detail. Identify the unique needs and preferences of your clientele, and tailor the accessories accordingly. With a well-designed restroom that prioritizes both function and style, you'll elevate your establishment's image and provide a delightful experience for everyone who steps inside. Contact Fast Partitions for more information today.
The Future of Hygiene: Touchless Faucets Revolutionize Commercial Bathrooms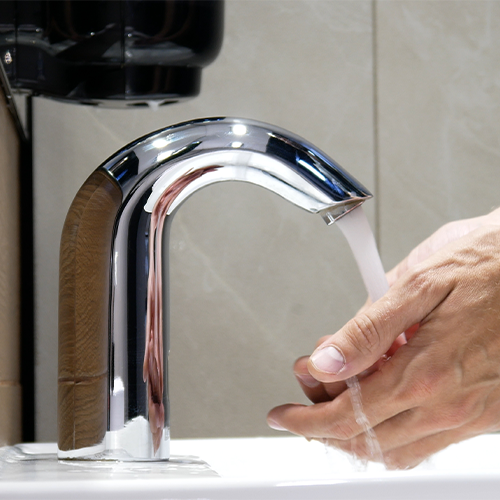 In an ever-changing world, technological innovations have extended their reach into every aspect of our lives, including restroom facilities. A fundamental part of public spaces, commercial bathrooms play a crucial role in maintaining hygiene and sanitation. With growing concerns over the spread of germs and viruses, businesses and organizations are actively seeking solutions to enhance restroom cleanliness while promoting an eco-friendly approach. Enter touchless faucets – a cutting-edge technology that is revolutionizing commercial bathrooms and transforming hygiene practices. In this blog post, we will explore the benefits and impact of touchless faucets in commercial bathrooms, with a specific focus on the innovative solutions provided by Fast Partitions.
The Touchless Faucet Revolution
Traditional faucets with handles have been fixtures in restrooms for decades, but they have always had their limitations. With frequent usage, these fixtures can quickly become breeding grounds for harmful bacteria and viruses. The introduction of touchless faucets has provided an elegant solution to address these concerns. These faucets utilize motion-sensing technology to detect the presence of hands, triggering water flow without any physical contact. This simple yet effective mechanism has become a game-changer in the world of commercial restroom design.
Benefits of Touchless Faucets
Enhanced Hygiene: One of the primary advantages of touchless faucets is their ability to reduce the transmission of germs. Since users do not need to touch any handles or levers to activate the water flow, the risk of cross-contamination is significantly minimized. This feature is especially crucial in high-traffic commercial spaces where maintaining hygiene is paramount.
Water Conservation: Touchless faucets are equipped with smart sensors that control the water flow based on hand movement. This smart functionality ensures that water is only used when necessary, thereby reducing water wastage and promoting sustainable practices. Businesses can see a considerable decrease in their water bills while contributing to the global efforts to conserve this precious resource.
User-Friendly Experience: Touchless faucets offer a seamless and convenient experience for restroom users. The ease of operation appeals to people of all ages, making them a user-friendly option for commercial establishments. The absence of handles or knobs also eliminates potential maintenance issues, further improving the user experience.
Fast Partitions and Touchless Faucets Integration
Fast Partitions, a leading provider of high-quality restroom partitions and accessories, has embraced the touchless faucet revolution to offer innovative solutions to commercial establishments.
Hygienic Partition Materials: Fast Partitions understands that maintaining hygiene goes beyond touchless faucets. Their range of partition materials, such as solid plastic and solid phenolic, are non-porous and easy to clean, ensuring a hygienic and germ-resistant restroom environment.
Touchless Faucet Compatibility: Fast Partitions' designs are equipped with the necessary infrastructure to accommodate touchless faucets seamlessly.
Customizable Designs: Fast Partitions offers a wide range of customizable restroom designs to suit the unique needs of each commercial establishment. From color schemes to layout configurations, businesses can create a space that aligns perfectly with their brand identity while embracing modern touchless technology.
As businesses and organizations prioritize the health and safety of their customers and employees, the adoption of touchless faucets in commercial bathrooms has become more than just a trend - it's a necessity. The benefits of these faucets, from enhanced hygiene and water conservation to user-friendly experiences, are undeniable. By integrating this cutting-edge technology into their restroom designs, establishments can project a forward-thinking image while fostering a cleaner, more sustainable future.
Fast Partitions' commitment to providing innovative solutions, ensuring that businesses can elevate their restroom facilities to meet the demands of the modern world. Embrace the touchless faucet revolution today and take a step towards creating safer, more hygienic, and environmentally-friendly commercial bathrooms.
The Fascinating Journey of HDPE: From Polymers to Privacy in Restroom Partitions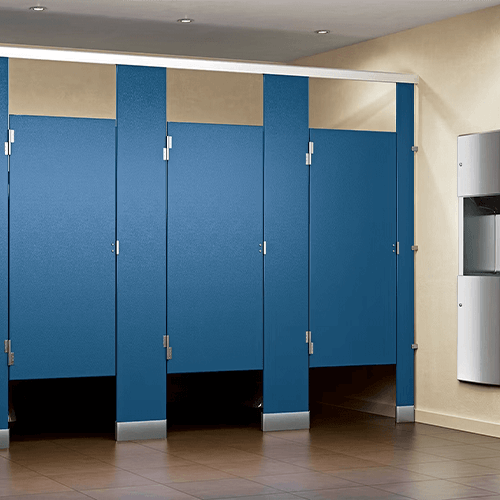 Restroom partitions are essential components of public and commercial bathrooms, providing privacy and functionality to users. Among the various materials used in partition manufacturing, High-Density Polyethylene (HDPE) stands out for its exceptional qualities. In this blog post, we will embark on a captivating exploration of HDPE's manufacturing process and its pivotal role in creating durable and reliable restroom partitions. Join us as we uncover the fascinating journey of HDPE, from its origins as raw polymers to its transformation into the sturdy privacy solutions that enhance our restroom experiences.
The Genesis of HDPE
High-Density Polyethylene (HDPE) is a thermoplastic polymer derived from ethylene monomers through a complex process known as polymerization. It begins with the extraction of ethane or natural gas, which undergoes cracking to produce ethylene gas. This ethylene is then polymerized under specific conditions of temperature and pressure, resulting in long chains of HDPE molecules. The polymerization process can be tailored to achieve different properties, such as density and molecular weight, ensuring the desired characteristics for restroom partitions.
HDPE Manufacturing: From Pellets to Panels
Once the HDPE polymers are produced, they are transformed into usable forms for partition manufacturing. The first step involves melting the HDPE pellets and extruding them into continuous sheets or panels. These sheets are then cooled and cut to the desired dimensions, forming the foundation of the restroom partitions. The panels can be further processed to include features such as hardware attachments, edge banding, and decorative finishes.
The Strength and Resilience of HDPE
One of the remarkable qualities of HDPE restroom partitions is their outstanding strength and resilience. HDPE is known for its high impact resistance, making it capable of withstanding frequent usage and potential physical stress. Furthermore, HDPE partitions exhibit excellent moisture resistance, rendering them impervious to water and humidity. This inherent durability ensures a long lifespan, reducing the need for frequent replacements and offering cost-effective solutions for restroom design.
Design Flexibility and Aesthetics
HDPE partitions go beyond functionality and durability; they also offer a wide range of design possibilities. HDPE comes in an array of vibrant colors and finishes, allowing restroom designers to create visually appealing and modern spaces. Customization options, such as engraved logos or patterns, add a personal touch and reinforce brand identity. The versatility of HDPE ensures that restroom partitions can seamlessly integrate into any architectural style, enhancing the overall aesthetics of the facility.
Hygiene and Maintenance Benefits
Maintaining cleanliness and hygiene in public restrooms is of utmost importance. HDPE partitions excel in this regard, thanks to their non-porous surface. Unlike other materials, HDPE does not promote bacterial growth, making it easier to clean and sanitize. Additionally, the smooth surface of HDPE makes graffiti removal a breeze, ensuring that the partitions remain aesthetically pleasing even in high-traffic areas. With HDPE restroom partitions, facility managers can prioritize hygiene and streamline maintenance practices, ultimately providing a safe and comfortable restroom experience for users.
The journey of HDPE from raw polymers to privacy solutions in restroom partitions is nothing short of fascinating. With its manufacturing process rooted in precision and innovation, HDPE showcases exceptional strength, durability, and design versatility. Moreover, its hygiene benefits and low maintenance requirements make it an ideal choice for public and commercial bathrooms. By embracing the remarkable qualities of HDPE, restroom designers and facility managers can create spaces that prioritize privacy, aesthetics, and user satisfaction. As we continue to witness advancements in partition manufacturing, HDPE remains at the forefront, shaping the future of restroom design. Contact Fast Partitions today for more information or to order your HDPE partitions today.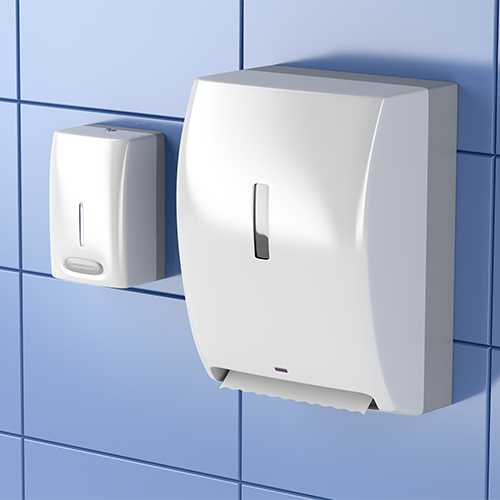 Commercial restrooms play a crucial role in shaping the overall impression of your business. A well-designed and properly equipped restroom not only enhances the comfort and convenience of visitors but also reflects your commitment to providing a positive experience. In this blog post, we will explore the top commercial bathroom accessories that can elevate the functionality, aesthetics, and hygiene of your restrooms. From stylish and durable fixtures to innovative technologies, these accessories will transform your commercial restrooms into spaces that leave a lasting impression on guests.
High-Efficiency Hand Dryers
One of the key commercial bathroom accessories that can significantly improve the restroom experience is a high-efficiency hand dryer. Gone are the days of wasteful paper towels. High-efficiency hand dryers offer a sustainable and hygienic solution for drying hands. These powerful devices utilize advanced technology to provide rapid drying times while conserving energy.
When selecting hand dryers, consider models that combine sleek design with efficient performance. Look for features such as adjustable settings for airspeed and heat, noise reduction, and built-in air filtration systems. This ensures that your restroom visitors can dry their hands quickly and comfortably, while also contributing to your sustainability goals.
Touchless Faucets and Soap Dispensers
In today's hygiene-conscious world, touchless faucets and soap dispensers have become essential commercial bathroom accessories. These hands-free devices minimize the spread of germs by eliminating the need for physical contact. Touchless faucets use sensor technology to activate water flow when hands are detected, providing a more hygienic and efficient handwashing experience.
Similarly, touchless soap dispensers dispense an appropriate amount of soap without the need for pressing a button or pump. This helps maintain cleanliness and reduces the risk of cross-contamination.
When choosing touchless faucets and soap dispensers, look for models that offer reliable sensor technology, adjustable settings, and durable construction. Opt for easy-to-maintain options with accessible battery compartments or power sources. These accessories not only promote better hygiene in your restrooms but also convey a sense of modernity and care for your visitors.
Stylish and Durable Toilet Partitions
Toilet partitions are an essential element of commercial restroom design, providing privacy and functionality. Choosing stylish and durable partitions can enhance the overall aesthetics and user experience in your restrooms.
Look for materials like phenolic or stainless steel for their durability, resistance to moisture, and ease of maintenance. Phenolic partitions are known for their high-density composition, making them resistant to impacts, scratches, and vandalism. Stainless steel partitions offer a sleek and modern appearance while providing excellent durability and resistance to corrosion.
Consider customizable options that allow you to select colors, textures, and hardware finishes to match your overall restroom design. This creates a cohesive and visually appealing space that aligns with your brand image and leaves a positive impression on restroom users.
Automatic Air Fresheners
Maintaining a fresh and pleasant atmosphere in your commercial restrooms is essential for visitor satisfaction. Automatic air fresheners are a convenient and effective solution for keeping your restroom smelling inviting at all times. These devices release fragrance automatically at regular intervals, ensuring a consistent and pleasant scent.
Look for air fresheners that offer programmable settings, adjustable fragrance intensity, and long-lasting refill options. Programmable settings allow you to customize the fragrance release schedule to align with peak restroom usage times. Adjustable fragrance intensity ensures that the scent is not overpowering but rather enhances the restroom experience.
Choose air fresheners with long-lasting refills to minimize maintenance requirements. Additionally, consider models with built-in air filtration systems that help neutralize odors and improve air quality.
By ensuring a pleasant scent, you create a more enjoyable restroom experience for visitors and demonstrate your commitment to cleanliness and attention to detail.
ADA-Compliant Grab Bars and Handrails
Accessibility is a crucial consideration in commercial restrooms. Installing ADA-compliant grab bars and handrails provides safety and support for people with disabilities or limited mobility. These accessories should be strategically placed near toilets, urinals, and sinks to offer stability and assistance.
When selecting grab bars and handrails, ensure they comply with the guidelines set forth by the Americans with Disabilities Act (ADA). ADA-compliant bars and rails have specific height, length, and diameter requirements to accommodate individuals with diverse needs.
Choose grab bars and handrails made from durable materials such as stainless steel or phenolic, ensuring long-lasting performance and resistance to wear. These materials are also easy to clean and maintain, contributing to the overall hygiene of your restrooms.
By incorporating ADA-compliant grab bars and handrails, you create a welcoming and inclusive environment that prioritizes the safety and comfort of all restroom users.
Elevating your commercial restrooms with top-quality bathroom accessories can make a significant impact on the overall experience of your visitors. By incorporating high-efficiency hand dryers, touchless faucets and soap dispensers, stylish toilet partitions, automatic air fresheners, and ADA-compliant grab bars and handrails, you create restrooms that prioritize hygiene, convenience, and aesthetics. These accessories not only enhance the functionality and visual appeal of your restrooms but also convey your commitment to providing a modern and welcoming environment. Partner with Fast Partitions to discover a wide range of commercial bathroom accessories that will elevate your restrooms to new heights and leave a lasting impression on everyone who walks through your doors.