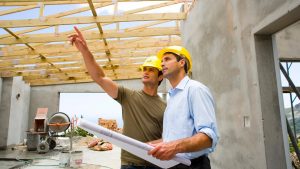 Whether you're about to start a home construction project or a commercial building, the first time is always challenging. For this reason, there are many great benefits to choosing an experienced contractor or construction firm to partner with.
In order to save time and energy, you'll want to plan for the smoothest project possible. When you're looking for a firm or contractor there will always be challenges, if only because of all the options available. To help you narrow down the choices, here are a few key areas to focus on.
Thoroughly Plan Your Budget Beforehand
The first step here is to identify the type of building you wish to build. For example, there will be variations from a restaurant, church, office building or a first home. There will be idiosyncrasies within each type of project. You can eliminate potential errors by choosing a contractor who works within your specific realm of need. Look for historical data on their work and pricing models.
There are a wide variety of commercial construction projects. The closer you can nail down the type and details of your project, the easier a definitive pricing chart will be. Knowledge is power and in this case, money. Develop a wealth of knowledge in your particular city and the square foot building estimates. This will give you a point of reference when comparing different contractor pricing. For example, retail construction in Chicago or Miami would vary greatly from Nashville or other smaller cities.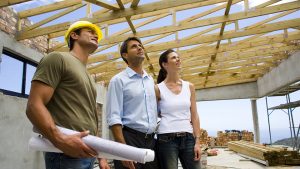 Research Your Local Building Market
As mentioned earlier, different towns will present different price ranges and potential project challenges. However, there are additional building process factors to consider which vary from market to market. Even if you have the exact same project to build in two different locations, you'll want to do your research.
UNIONS: Is this a union or a non-union town? If this information is not easily found, try inquiring after an experienced national firm. They'll likely have a wealth of experience working in markets across the country.
REGULATIONS: Be sure to check out the local jurisdiction, building codes, and other governmental factors. This is potentially one of the most overlooked factors in first time builders. Schedule a meeting with a local building inspector to get the low-down on potential restrictions.
ENVIRONMENT: When you're eyeballs deep in drawings and sketches, the weather or traffic conditions of a town are easily forgotten. However, the environment can have a huge impact on needed building materials. Be sure to choose a contractor with experience building in these specific environmental factors.
Anticipate Problems, Identify Unknown Kinks
No matter how detailed your blueprints, there will always be unknown factors. Whether it's your first project or you're just overwhelmed with drawings and designs, expect the unexpected. The right construction firm will know to ask a variety of searching questions. With the right questions, your partners can more deeply understand the ideas and concepts for collaboration.
The questioning process provides a great reference point for choosing. Top notch contractors will be able to elicit all of the necessary information and take it a step further. After reviewing your plans and ideas, they may have brand-new concepts and that you'll love. They will also be able to help point out potential challenges. The contractors who anticipate problems will always provide the most cost-efficient services.
Avoid Mistakes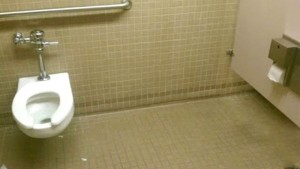 Bathrooms can be intense, especially in commercial businesses. There is a series of stalls with minimal spacial privacy and even less noise isolation. The plastic, metal or steel stall dividers have one job: protect users from onlookers.
However, when you don't take time to install them properly… bad things happen. Whether it was a first-time operation, the measuring stick was a bit off, or the installer was in a bit of a rush, the result is still the same: Mission Incomplete. Here are a few examples of such failures: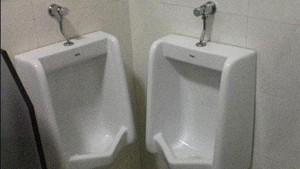 URINAL BUDDIES
If you're like most men, I'm sure you typically head to the bathroom in pairs. You ask your buddy at the restaurant if he also needs a bathroom break. Then you skip hand in hand to the facility. At this point, you're both more than delighted to see a duo urinal corner, right?
Wrong. Unlike most women who enjoy chatting and sharing make-up tips in the restroom, men commonly prefer to make this visit alone. Perhaps this handyman has a skewed view of the male population. Or maybe this project wasn't well thought out. Regardless of the causation, this photo is real. While these two urinals will never serve the dual usage for which may have been intended, they do provide excellent entertainment value.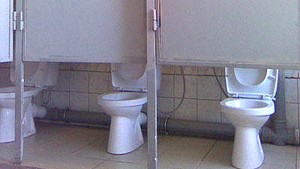 PEEK-A-BOO STALLS
When you look at this photo, the childhood game "peak-a-boo" may come to mind. While it's all well and good for 5-year-olds to goof off, adults may not feel the same when it comes to their restroom privacy. While the image is comedic, its actuality will cause numerous issues for the business owner. This stall failure is a peeping tom paradise.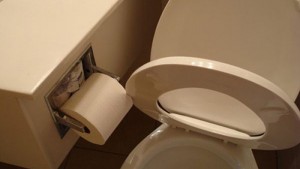 THE JIG-SAW PAPER PUZZLE
Hopefully all of the visitors are of a slender build, or else they're not fitting here. Aside from the obvious issue of a toilet paper stopper, just imagine how tiny this potty space must be. There are two ways to view this image. Either it's the result of measuring error or perhaps the designer wishes to engage users in a jig-saw puzzle. In this scenario, each guest gets the privilege of problem solving.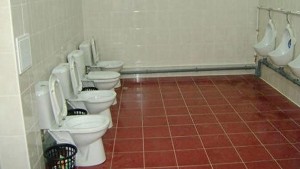 THE PRISONER LINE-UP
When it comes to selling a product or service, customer service is key. Many business tycoons will often use the phrase, "Customer is King." Establishing good report and loyalty with your guests begins with properly caring for their most basic needs.
This facility manager must not have gotten the memo. This prison-like scenario could be avoided with some excellent toilet partitions. Fast Partitions has developed affordable commercial bathroom stalls. We provide commercial toilet partitions in three quality materials: plastic, metal and stainless steel.
For schedule convenience and a happy wallet, Fast Partitions provides fast and free delivery. In addition to stress-free local delivery, we provide complete package deals on all partitions. This includes divider stalls, pilasters, doors, and all necessary installation hardware.
THERE SHOULD BE A STALL HERE
There should be a stall here. Following through with details will not only increase environment morale but also will improve privacy, safety, happiness, and ultimately company sales. Your coworkers, team members and potential clients are likely to utilize the facilities. Save everyone's rear end and buy quality toilet partitions.
Manage Claims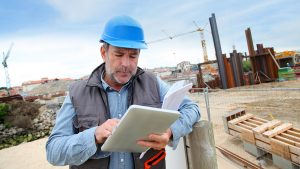 Construction projects are huge. There are often many details to consider. Many expectations need to be met. Keeping track of each moving piece can be difficult, and it's rarely a foolproof process.
When things go awry and money is involved, thorough construction claims are necessary. In order to justify claims for more time or money, keep comprehensive records. Below are five key elements to track in your daily construction reports.
CORRESPONDENCE FILES
Don't play a game of "he said, she said." Instead, keep thorough files of written correspondence. Think emails, texts and paperwork. Be sure to keep additional copies and organized files accessible. All memoranda to and from DOT or subcontractors are especially important.
Consider utilizing collaboration technologies such as Slack Software or the popular construction app Raken. This will save you from sorting through messy piles of handwritten documentation.
ALL DOCUMENTATION
When you're in court or heated discussion, evidence is key. Bring more fuel you bring to the battle, and you'll be more capable of proving your case.
Meeting Minutes: If there's a meeting to account for, note what happens. Track important decisions made, attendees, representatives, and all relevant matters.
Subcontractor and Supplier Files: Keep an organized trail of paperwork with any agreements between your subcontractors and suppliers. This will help to clear up miscommunication and hold each party accountable.
Job Cost Records: Know your budgets thoroughly. Make sure all costs are understood before contracts are signed. If any pricing changes, be sure to provide justifying evidence.
Miscellaneous Evidence: Think charts and accident reports. Always expect the unexpected. When it happens, document it.
PLANS AND SPECIFICATIONS
Clear details are the name of the game in construction. That's why blueprints are so important. All amendments, details, clarifications, and owner options are needed here. All relevant charts and graphs are important as well.
SCHEDULES
There are often multiple phases, especially for larger projects. Note details of the timeline. Know who and what is needed at each stage. Include all the updates, agreements and paperwork in daily reports.
JOB PHOTOS AND VIDEOS
All additional evidence you can gather is more fuel to your fire. A picture is worth a thousand words, and video evidence is even better. For this reason, it's a great idea to install a construction camera. With many high-pixel options available, it would be a worthwhile addition to your project site. Choose from several affordable choices on the market.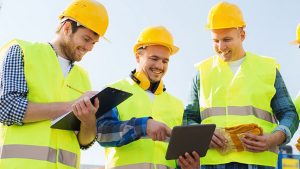 Be picky about who's on your team. Dependable teamwork is crucial when projects unfold. Consider how you feel about each new team member and notice your initial instincts. This helps to building trustworthy relationships.
Set the example with great communication, and know that respect is key. Show respect, and others will follow. Make all paperwork processes as easy as possible. Always be dependable to pay full amounts on time, and you'll establish solid rapport.
Ideally, a mutually beneficial relationship unfolds between all parties. Aim to keep everyone happy and provide satisfactory results. However, problems inevitably arise. Thorough reporting will help.  Avoid costly confusion and discontent with and prepare for possible construction claims.