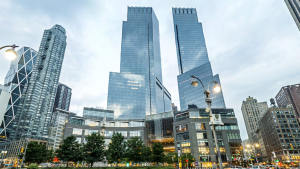 Exploring new cities can be quite exciting, until nature calls and there's no restrooms in sight. Outside of cleanliness factors, finding any public restrooms can be difficult and become a big issue.
Not only is the situation uncomfortable but could also be dangerous. For many special populations, finding a bathroom promptly when the need arises can be crucial. Pregnant women, children, and people with Crohn's disease are just a few examples.
Additionally, most commercial restroom designs should consider accommodation of transgender privacy needs. For those who take stake in this growing national concern, single-occupancy restrooms are an excellent solution. 
BUSINESSES WITH BATHROOMS
When the urge arises, it's important to have a strategy. If you're someone who can't stand gross gas station restrooms, there are still plenty of clean options for relief. But if you're visiting the bathroom while traveling to unfamiliar places, you may run into some major inconveniences. Some of the most common and best bets are going to be Starbucks and Barnes & Nobles. In big cities like NYC, there's a Starbucks at just about every street corner. If you're rushing and embarrassed to potty without purchase, Barnes and Nobles provide a more secretive option. Some other good retail options include: Old Navy, Bed, Bath & Beyond, Saks Fifth Avenue, Bloomingdale's SoHo, and Plaza Food Hall.
Despite being highly walkable, if you're touring NYC it can be difficult to find a public restroom. some city-specific restroom stops include Bryant Park (located near the library on 42nd Street between 5th and 6th avenues), Grand Central Station, NYU Buildings, Angelica Film Center, and Rockefeller Center.
For any big city or town, here are a few good options that you can easily find. Not a common thought for potty options are Police Stations. Though a bit unusual, they will happily let you use the restrooms in safety, and they're located throughout most cities. Hotel restrooms are a great option as well. They'll almost always have an immediately accessible and clean bathroom in their ground-floor lobby.
If you're a commercial business owner looking for bathroom stalls in Chicago or toilet partitions in Los Angeles, Fast Partitions provides fast local delivery options. Additionally, the national urinal stall provider supplies to many U.S. metro cities.
RESTROOM AVAILABILITY SOLUTIONS
Many restaurants and businesses require purchases for usage. Several even employ hostile signs such as: "public restrooms for paying customers only." Fortunately, some great strategies for improved accessibility are evolving.
There's an App for That
For people with special health concerns, seconds can make a huge difference.
to secure a location when the urge arises. Whether you have special needs or just hate being uncomfortable, timely access matters.  Like many things, there's an app for that. Check out some developing apps such as "Sit or Squat" and "Where to Wee" by typing in your zip code. These apps calculate options based on your location. They include extensive databases for nearby pit stops.
Check Out Toilet Maps
Places like Australia have a national public toilet map and more trails are creating rest stop icons to include in the brochures. The Australian government provides information for over 16,000 public toilets. It includes information operational hours and facility inclusion (i.e. showers and baby-changing stations).
Public restrooms are a public health issue. Starting with places like national parks and trails, designers are gravitating towards more access and awareness. Locational icons on brochures go a long way in helping guests quickly discover nearby options.
Pay-to-Pee or Poop in Private?
In many European countries, they utilize an alternative solution often referred to as "50p to pee," which stands for 50 pence. While that may sound absurd to most Americans, this small fee could go a long way to keeping restrooms safe and clean. As cheap as 50 cents for usage would be feasible for greatly improving the situation in many public spaces of U.S. cities. At least it would be more accessible.
In New York City, the startup Posh Stow and Go has taken the public restroom problem to the next level. They decided to meet the growing need with a luxurious solution. The facilities include power rooms, soundproof stalls, and digital lockers. Not only can you relieve yourself in peace, but also you have the option to store your shopping bags or luggage in safety.
FUTURE RESTROOM STRATEGIES
Having easy access to restrooms makes cities more tourist-friendly. When the transaction goes smoothly, people's overall city experience increases. Even if it's subconscious, getting core needs taken care of resonates with visitors.
Outside of visitors, using a great bathroom system can improve life quality for citizens. For this reason alone, business owners and politicians should take note of the situation. Knowledge and to public restroom access encourages the use of public spaces, which leads to more community interaction and happier people.