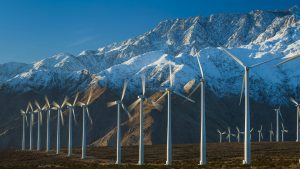 For nearly half a century, the Environmental Protection Agency has worked to protect human and environmental health. The EPA has been the driving force behind environmental regulations such as the Clean Air Act, the Clean Water Act, and the Clean Power Plan. In 2010 alone, over 160,000 people in the U.S. didn't die from air pollution as a result of their efforts.
Along with our new president has come a change in national priorities. The EPA has entered the political spotlight with talk of reduction and even abolition. The agency is like a deer caught in the headlights, forced to redefine its value.
It's clear that President Trump does not hold the EPA in as great esteem as President Obama did.
Myron Ebell, who has led President Trump's EPA transition team, has indicated that climate education might be withdrawn from the EPA along with 10% of their federal funding.
Despite the declining political opinion of the EPA, a recent Reuters study revealed that over 60% of Americans would like to see an increase in the agency's power. Only 19% wanted to see it "weakened or eliminated."
THE ENVIRONMENTAL PROTECTION AGENCY
The EPA is a regulatory authority that works to decrease national pollutant emissions such as lead, carbon monoxide and nitrogen dioxide. Since their founding in 1970, the EPA has successfully decreased the national average by 70%. Along with their overall accomplishments, the EPA has implemented three acts to help with different environmental sectors: air, water, and power plants.
The Clean Air Act has been cutting pollution for over 45 years, all while the economy has been steadily growing. While the GDP has been rising, the aggregate national emissions of the six most common pollutants has dropped by 70%. Its programs have successfully decreased levels of toxic air pollutants such as particles, ozone, lead, carbon monoxide, nitrogen dioxide and sulfur dioxide.
The CAA has also made great progress in cleaning the mess of mobility emissions. They managed to phase out lead usage in motor vehicle gasoline. This significantly cleaned up the airborne pollution which has been a widespread health concern. In lowering the air pollution, our environmental ecosystems are healthier. That includes plants, long-term forest health, soil nutrients, and other food chain toxins, such as fish and aquatic life forms. When it comes to landfill pollution, private sector companies have been pulling their weight by introducing creative means of recycling. One of our favorite examples of this is recycled HDPE plastic bathroom partitions which combine sustainable thinking with practical and affordable products.
The Clean Water Act has worked to regulate the discharge of pollutants into the water since its founding in1972. While protecting our nation's water might sound like common sense, it hasn't always been so. Implementing tough pollutant standards was original and radical at the time of its origin.
Through the CWA billions of dollars have been allocated to construct and upgrade publicly-run sewage-treatments around the nation. The CWA has also made great progress in preventing industrial pipes from dropping its waste into the water. In 1969 before the CWA started cleaning up, one river (the Cuyahoga) had literally burst into flames. Though not all U.S. waters are fishable or swimmable, at least they're not flammable.
Less than two years ago President Obama and the EPA announced the Clean Power Plan. This was a huge step in history towards climate change. While the others focus on air and water, the CPP directs its efforts to reduce carbon pollution from power plants.
Power plants are currently the nation's largest source of carbon pollution. Fossil fuel-fired power plants release 31% of the nation's greenhouse gas emissions. The CPP was the first ever set of national standards that addressed this issue.
The CPP was propelled into action by some record-breaking hot years. In 2014 we experienced the hottest year ever recorded. In the 21st century we've already witnessed 14 of the 15 hottest years in history. Many environmental scientists believe this is a direct result of excessive CO2 emissions. For this reason, the CPP provides crucial strategies to clean up our environment.
UNITED STATE PROGRESS IN SUSTAINABLE ENERGY
Aside from the efforts of the EPA, our national renewable energy efforts have made great headway as well. As the second-largest clean energy investor, the U.S. hit $44.1 billion in 2015. That encompasses the efforts of both public and private sectors.
In efforts to provide up-to-date national energy market statistics, a national factbook has been released. The Bloomberg New Energy Finance compiled data for the Business Council for Sustainable Energy to create the 2017 Sustainable Energy in America Factbook. Natural gas and renewable energy generation has gone up from 38% to nearly 50% in the last 5 years.
To top it off, our household energy spending has hit a record-breaking low in 2016. With a significant drop, the average household now spends less than 4% of annual incomes towards energy expenditure.
PRIVATE SECTOR EFFORTS, COMPANY INITIATIVES
In addition to our national efforts, many big businesses are creating mission statements with the goal to use 100% renewable energy. Starting this year, the sprawling data centers and offices of Google will use 100% renewable energy. Google's recent wind and power investment will account for all their global electricity needs.
The tech giants of Apple and Facebook have also been running the race to 100% clean energy. Apple was able to hit 93% in 2015. Several well-known companies have followed suit in green energy initiatives. They're ready to get in on the wave rolling through the nation.
Each renewable investment and green energy company initiative represents a milestone in the journey to a cleaner environment. As more and more business leaders join the wave, the sustainable energy momentum grows.