Elevating Restroom Aesthetics: The Customization Journey with Hadrian Toilet Partitions by Fast Partitions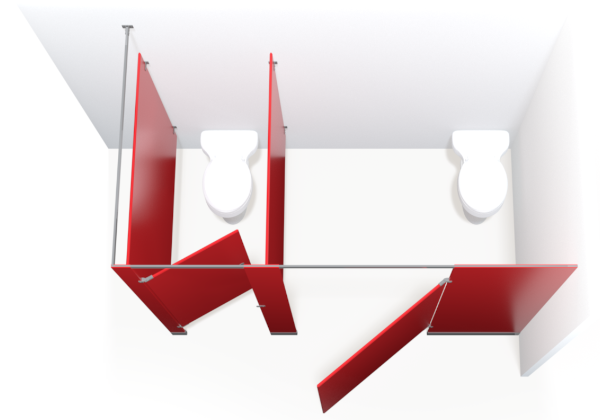 In today's world, the importance of aesthetics and branding cannot be underestimated. Every touchpoint with customers is an opportunity to leave a lasting impression, and surprisingly, one of the most overlooked areas in this regard is the public restroom. Fast Partitions, a leading provider of commercial restroom solutions, recognizes the significance of a well-designed and customized restroom experience. In this blog post, we explore the journey of turning restroom concepts into reality through the exceptional customization options offered by Hadrian Toilet Partitions, brought to you by Fast Partitions.
The Power of Personalization
Gone are the days of cookie-cutter restroom designs that fail to capture the essence of a business or organization. Today, establishments are seeking ways to differentiate themselves, even in the smallest of spaces. Hadrian Toilet Partitions, in partnership with Fast Partitions, allows businesses to express their identity through customizations that go beyond the ordinary.
Tailored Colors and Textures: One of the primary ways Fast Partitions helps clients achieve a unique restroom aesthetic is by offering an extensive palette of colors and textures for Hadrian Toilet Partitions. Whether a business wants to match its brand colors, create a calming ambiance, or make a bold statement, the options are virtually limitless. From earthy tones to vibrant hues, the customization journey begins with selecting the perfect color palette.
Branding Integration: A restroom is no longer just a functional space; it's an extension of a brand's identity. Fast Partitions takes this notion to heart, enabling businesses to seamlessly integrate their logos, slogans, or artwork onto Hadrian Toilet Partitions. Imagine walking into a restroom and instantly recognizing the establishment based on its unique branding elements.
Material Selection: Fast Partitions understands that different businesses have different needs. That's why they offer a range of materials for Hadrian Toilet Partitions, each with its own aesthetic and functional benefits. Whether it's the sleek and modern look of stainless steel, the warmth of wood, or the durability of powder-coated steel, clients have the freedom to select the material that best aligns with their vision.
The Customization Process
Turning these customization dreams into reality involves a seamless process that Fast Partitions has perfected over years of experience.
Consultation and Conceptualization: Every customization journey begins with a thorough consultation. The experts at Fast Partitions work closely with clients to understand their brand identity, aesthetic preferences, and functional requirements. Whether it's a restaurant aiming for a cozy ambiance or an upscale hotel striving for elegance, the team ensures that every detail is accounted for.
Digital Mockups: To provide clients with a clear visualization of their customized restroom design, Fast Partitions utilizes cutting-edge technology to create digital mockups. These mockups allow clients to see how their selected colors, textures, and branding elements will come together in the final design. This step ensures that any adjustments can be made before production begins.
Craftsmanship and Precision: Once the design is approved, Fast Partitions collaborates with Hadrian Toilet Partitions to bring the concept to life. Craftsmen with an eye for detail meticulously work on each partition, ensuring that the colors are accurate, logos are perfectly integrated, and the final product meets the highest standards of quality.
Installation Excellence: Fast Partitions doesn't just stop at crafting the partitions; they ensure that the installation process is smooth and efficient. The experienced installation team ensures that every partition is securely placed, aligning with the approved design and ensuring a seamless look.
A Lasting Impression
In the world of business, every interaction matters, and every opportunity to leave a lasting impression should be capitalized upon. Customized Hadrian Toilet Partitions offered by Fast Partitions extend this philosophy to the often-overlooked realm of restrooms.
Enhanced Customer Experience: A thoughtfully designed and customized restroom contributes to an overall positive customer experience. When patrons step into a restroom that aligns with the establishment's identity, they feel a deeper connection, and that connection translates into loyalty.
Memorable Moments: The restroom doesn't have to be a forgettable space. With customized Hadrian Toilet Partitions, businesses have the chance to create memorable moments for their customers. Whether it's the artistic incorporation of a logo or a unique color scheme, these small touches can make a big impact.
Social Media-Worthy Spaces: In the age of social media, aesthetics matter more than ever. Restrooms that are visually appealing and Instagram-worthy become shareable content, giving businesses an organic marketing boost.
The journey from concept to reality is a transformative one, especially when it comes to designing and customizing restrooms with Hadrian Toilet Partitions by Fast Partitions. As businesses recognize the potential of every touchpoint to make an impression, this partnership ensures that the restroom experience aligns seamlessly with the overall brand identity. Fast Partitions' commitment to quality craftsmanship and innovative design, combined with Hadrian's renowned toilet partitions, results in restrooms that are more than functional spaces – they are reflections of a brand's personality, values, and dedication to excellence. Embark on the customization journey with Fast Partitions and discover how a simple restroom can become a powerful tool for elevating your establishment's image and leaving an indelible mark on your patrons' minds.